The festive season is almost around the corner and you are yet to zero in on the gift to buy for your little one? And if it is her first Christmas, you would definitely wonder what to buy for baby's first Christmas and want to make it all that special, right? And though my little one is in her teens, I too am pegged down with the same problem since I have to buy a Christmas present for my six-month-old niece.
With my experience and research, I can tell you that the options are innumerable and uncountable. But, these can be narrowed down into some broad categories like décor, bedding, activity toys and definitely personalized gift items and typical Christmas items to help you choose easily and correctly.
So, read on and find out what to buy for baby's first Christmas.
All Time Christmas Gift for baby
Since we are speaking of Christmas, the first choice naturally would be typical Christmas presents like the reindeer snuggler or a baby Santa Hat.
And no Christmas is complete without the Christmas stockings, ugly sweaters, knit hat, and pajamas.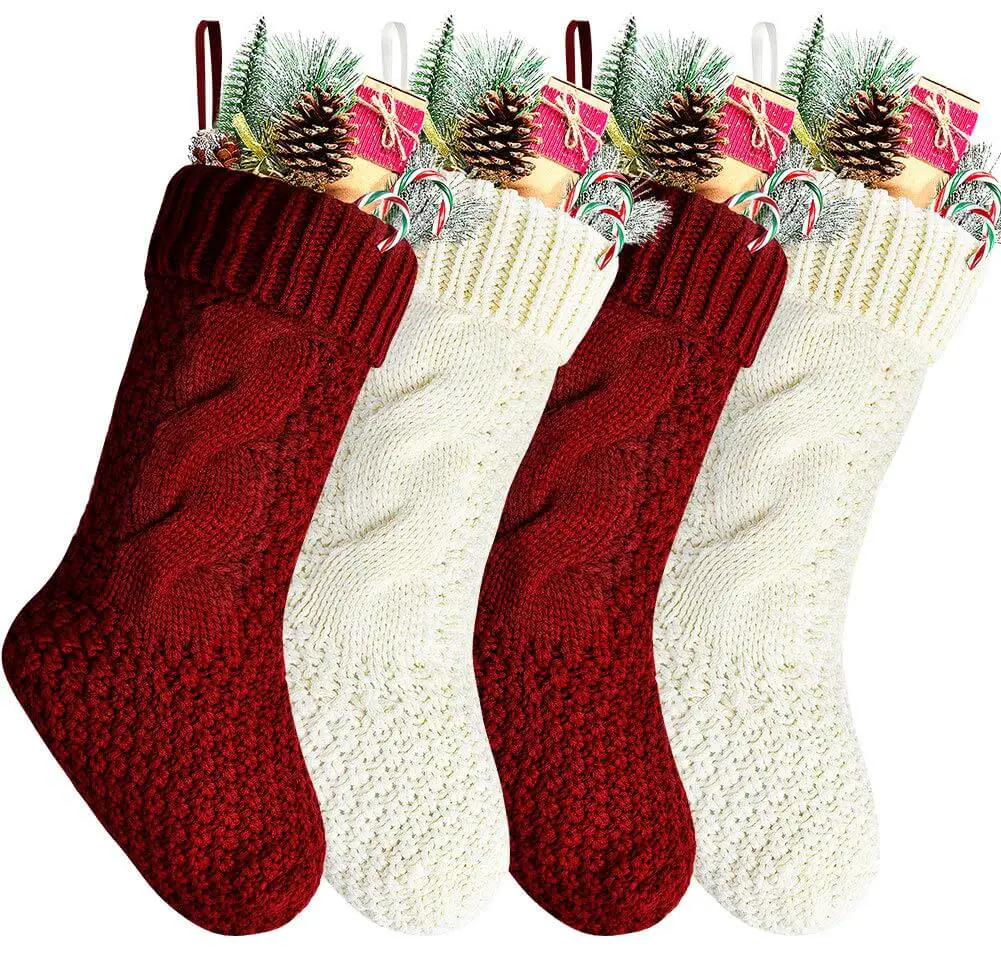 And the first Christmas Tree is probably a must as not only you but the child will also treasure it the rest of her life; so gift her one. And don't forget to buy baubles when talking about what to buy for baby's first Christmas.
Nursery Décor Gift
Want to add something more to the nursery this Christmas to make it look and feel more comfy and secure? Well, here we go.
You can make the nights more peaceful and secure for your child by buying a night light projector for her this Christmas.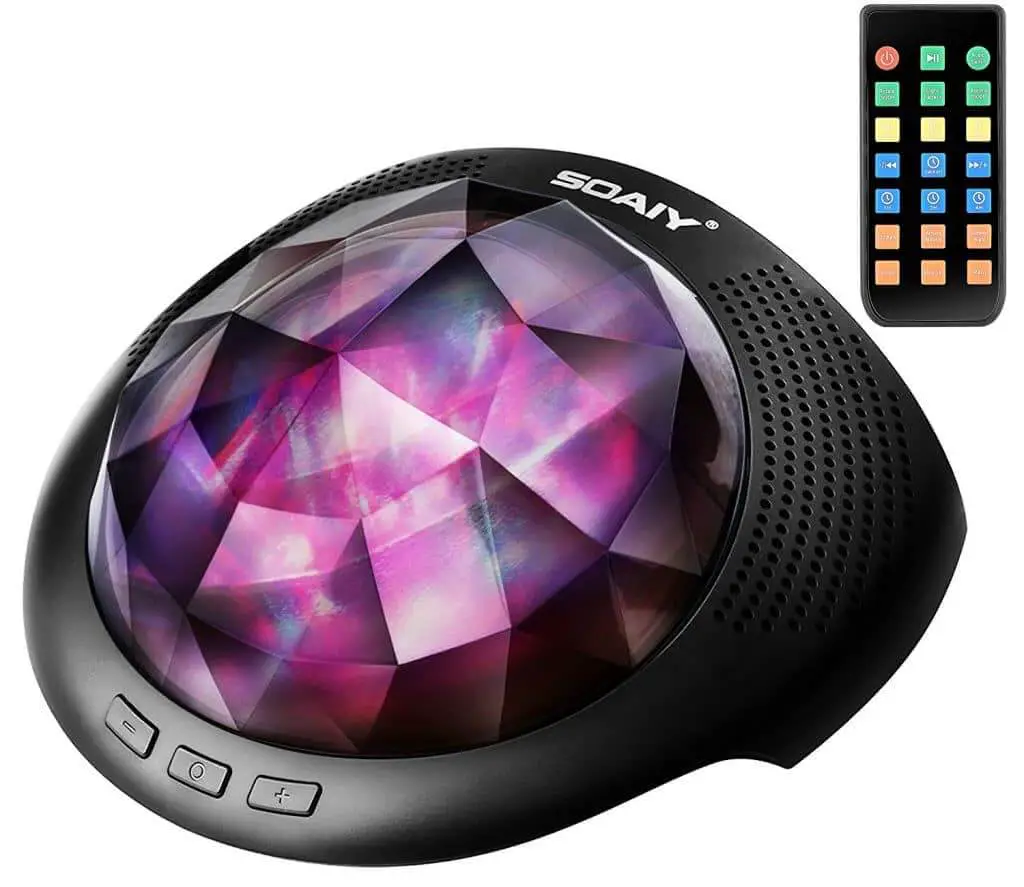 This will not only help her fall asleep more easily but also keep her occupied if she wakes up during the night. Moreover, you will not require turning on.
Transform the ceiling of the nursery into a starlit night sky with Space party and ceiling stars.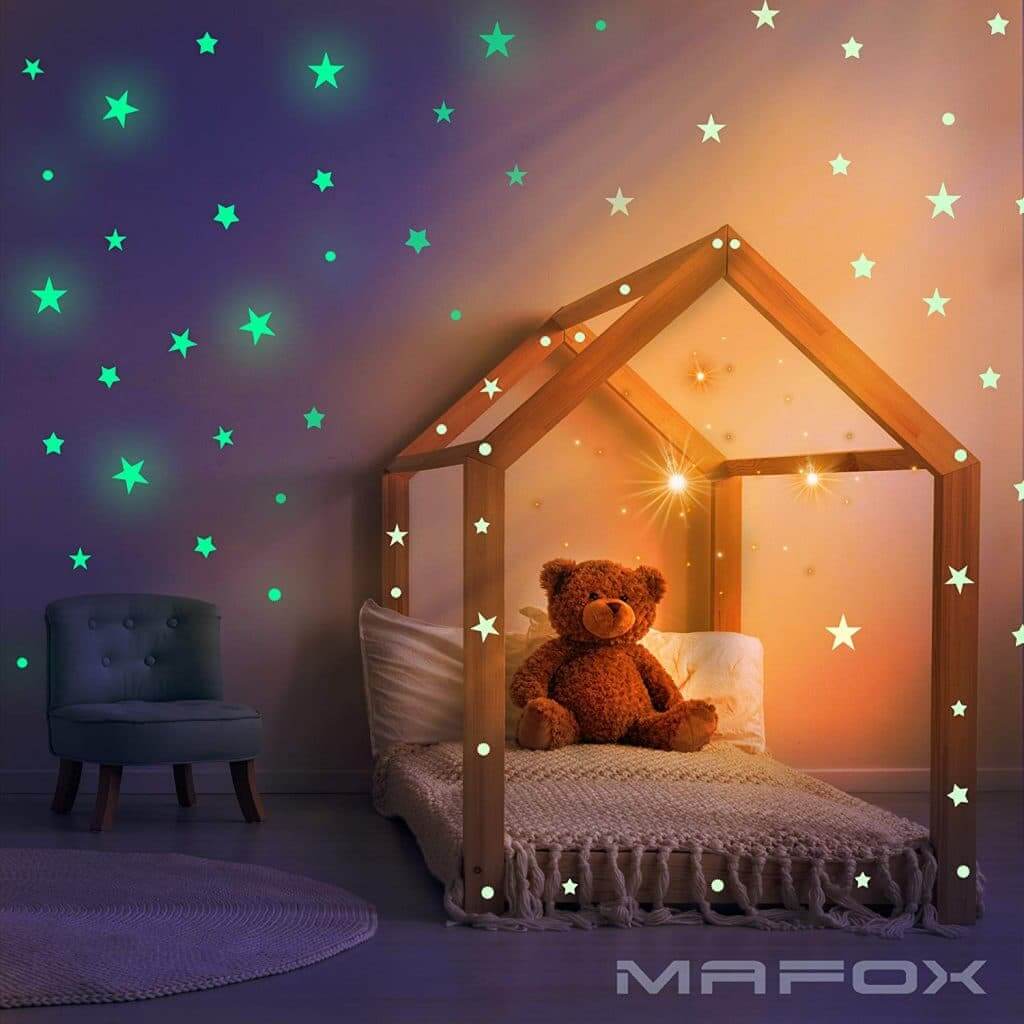 Baby Bedding Gift
Well, it might be so, that you have already bought bedding sets for your little one. But, then again, Christmas is around the corner and she is gaining height with the ongoing months. So, you can settle for any of the following items as her present.
The long winter months might make the purchase of a Baby Blanket imminent to protect her from the chill and to give her that cozy feel. One other interesting purchase for her bedtime can be a fun pillow that will help her to go to sleep smiling and giggling. Isn't her smile priceless?
Do you intend to make these blankets or pillows more special? Go for the personalized varieties and see these become the treasured items not only for you but for your kid in the years to come.
Also, you can opt for bedding sets with mosquito net.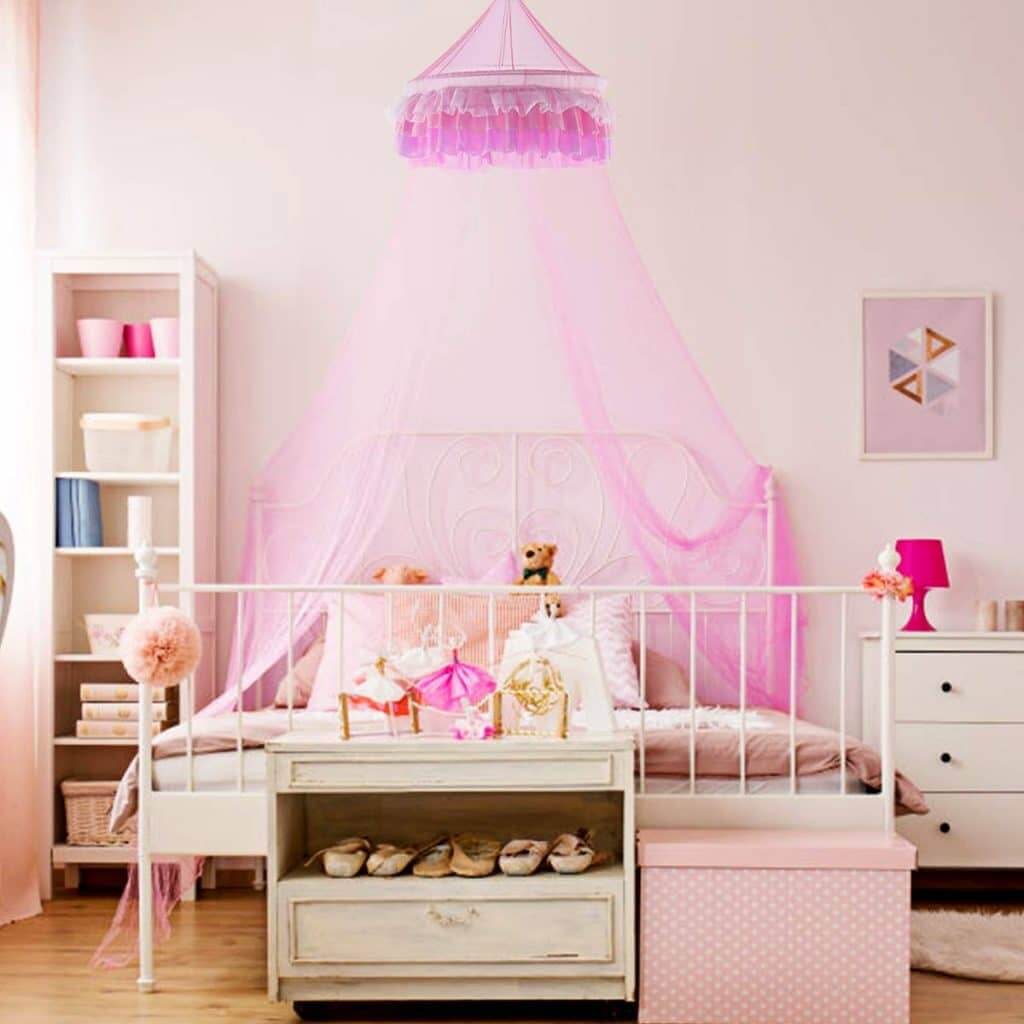 If you are planning a trip sometime soon, a bed cum sleeping bag can be the ideal gift for both of you.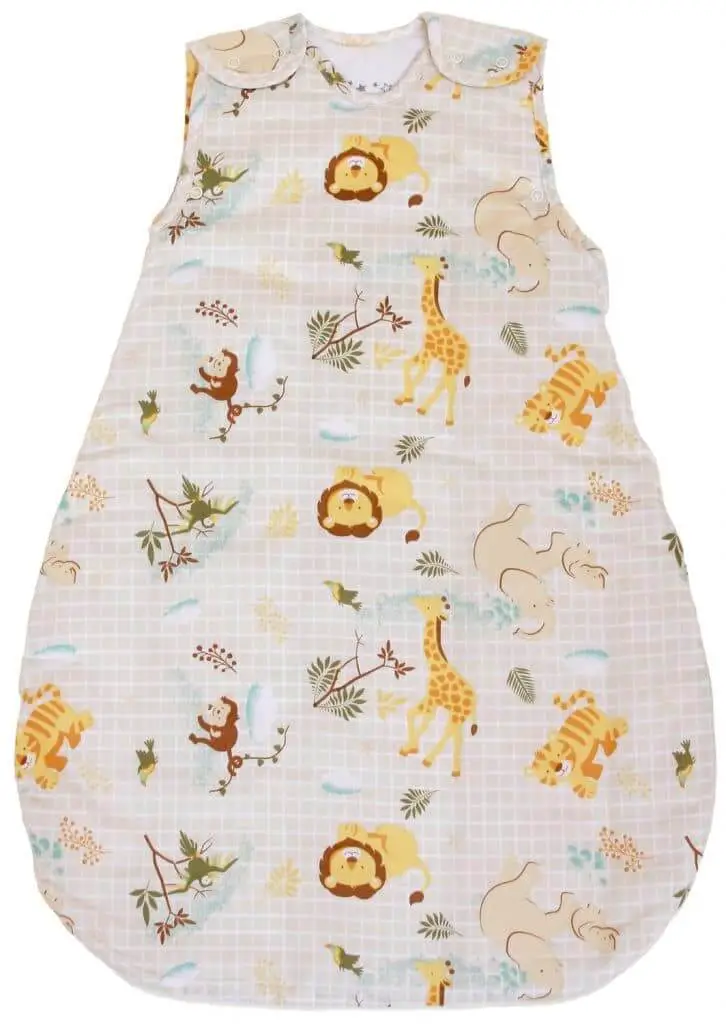 What to buy for baby's first Christmas – Baby Toys
When it comes to toys, the variety is enormous and you are spoilt for choice. But then you can always narrow down and figure out your buy depending on the need of your child.
If she is barely a couple of months old, rattles or clutching toys can be a good choice as along with entertainment, it will help her learn to grasp and hone her motor skills and hand-eye coordination while she holds and shakes. Wooden beads strung together with elastic also aid in developing her grasping and motor skills.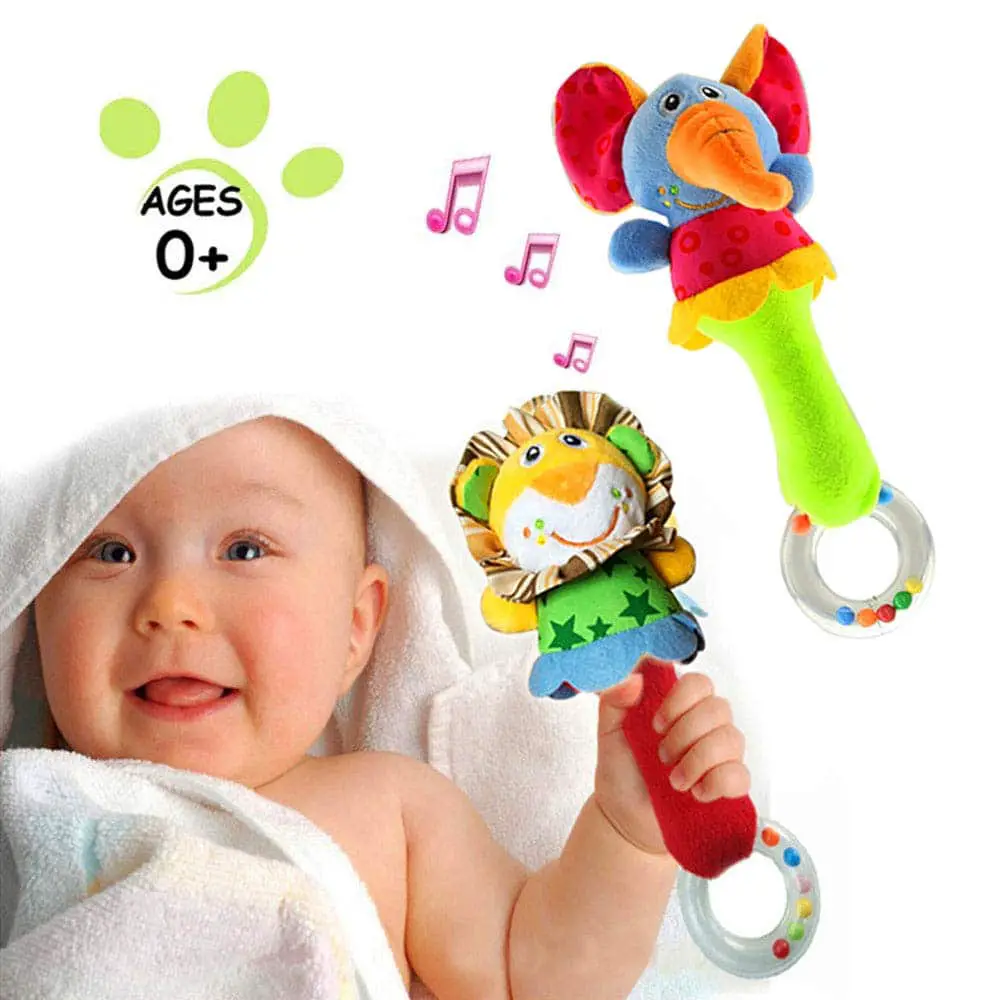 Another option though quite common is stuffed or soft toys; but, then, you can never negate their popularity amongst the kids as they enjoy the feel of the new textures and these toys aid in the development of emotional, social and sensory skills.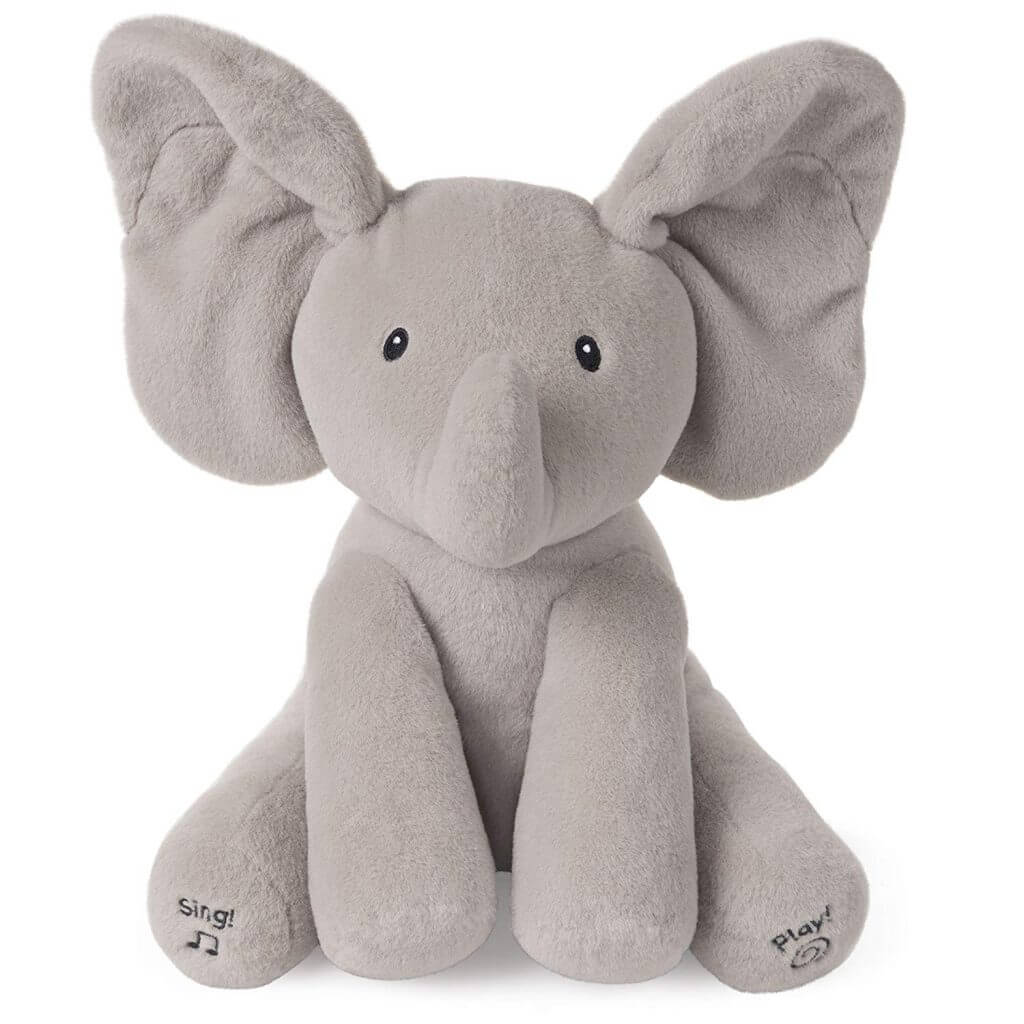 Some of these toys are equipped with music while some others with glow and soother. Just choose the right one depending on your child's age and definitely keep the safety factor in mind while you purchase.
If your child is around 4 – 6 months old or has just started showing signs of teething, teethers might be just the thing when you think about what to buy for baby's first Christmas. It will give her gums much-needed comfort. Again there are lots of options here but my research says that the organic variety is the best as you would not like to compromise on your child's health, would you?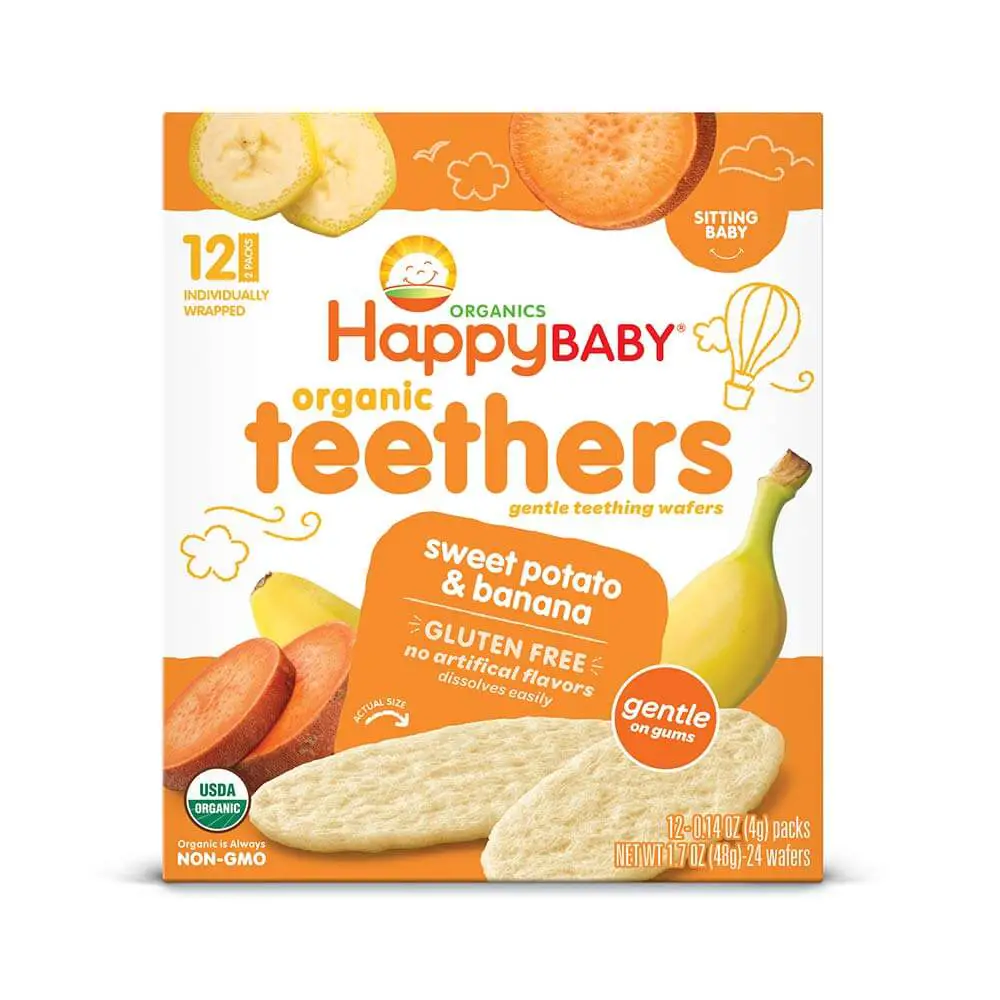 Some moms opt for teething necklaces for the same purpose, but my suggestion is to avoid these as cases of choking and strangulation are quite often found to occur.
Toys for physical development – Riding Toys
Children love motion and this is what they get from riding toys. They also learn to balance, develop their motor skills and physicality. One such toy which has been popular since eons is the rocking horse.
But, Rudolph the rocking reindeer might be just the perfect riding toy to gift this Christmas.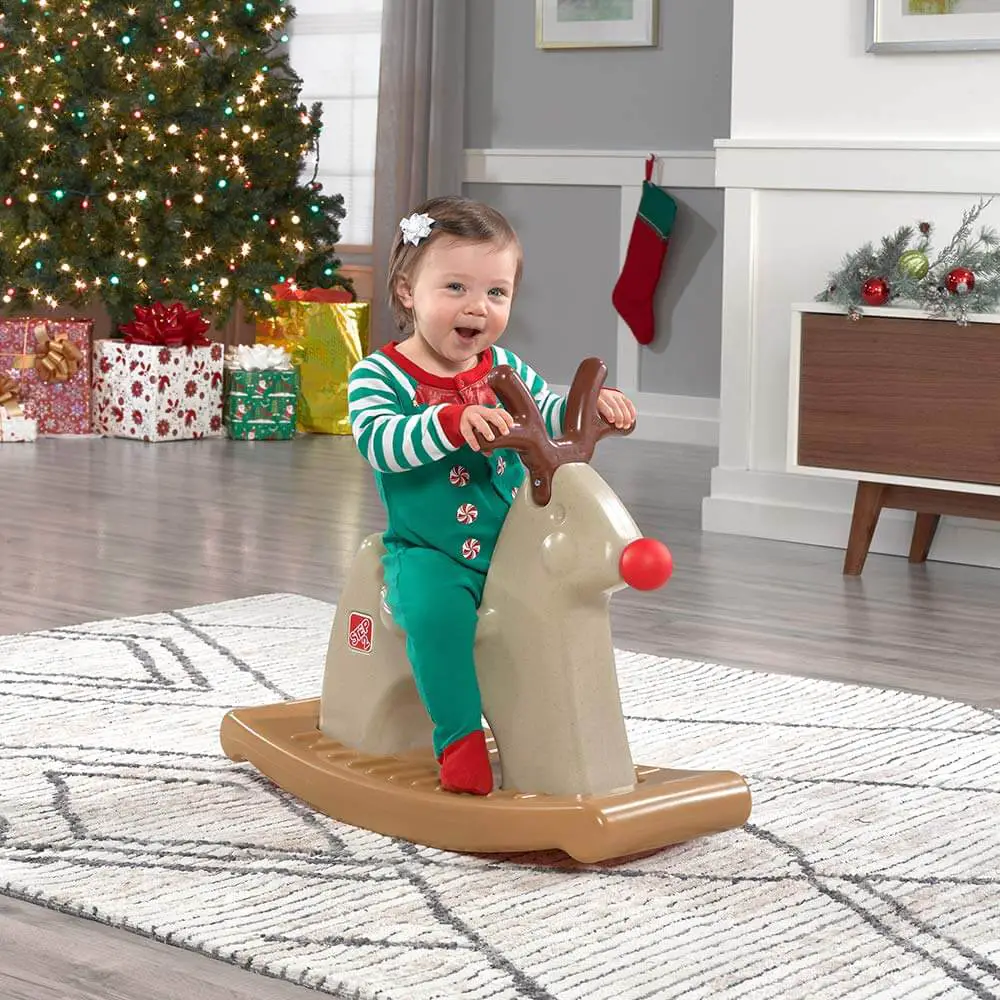 Rockers, bouncers, gliders, and jumperoos can be another choice as these are always well-equipped to aid and add in the learning of the kid along with the joy these provide.
If you are focusing on block toys, my personal choice is Soft Block Toys.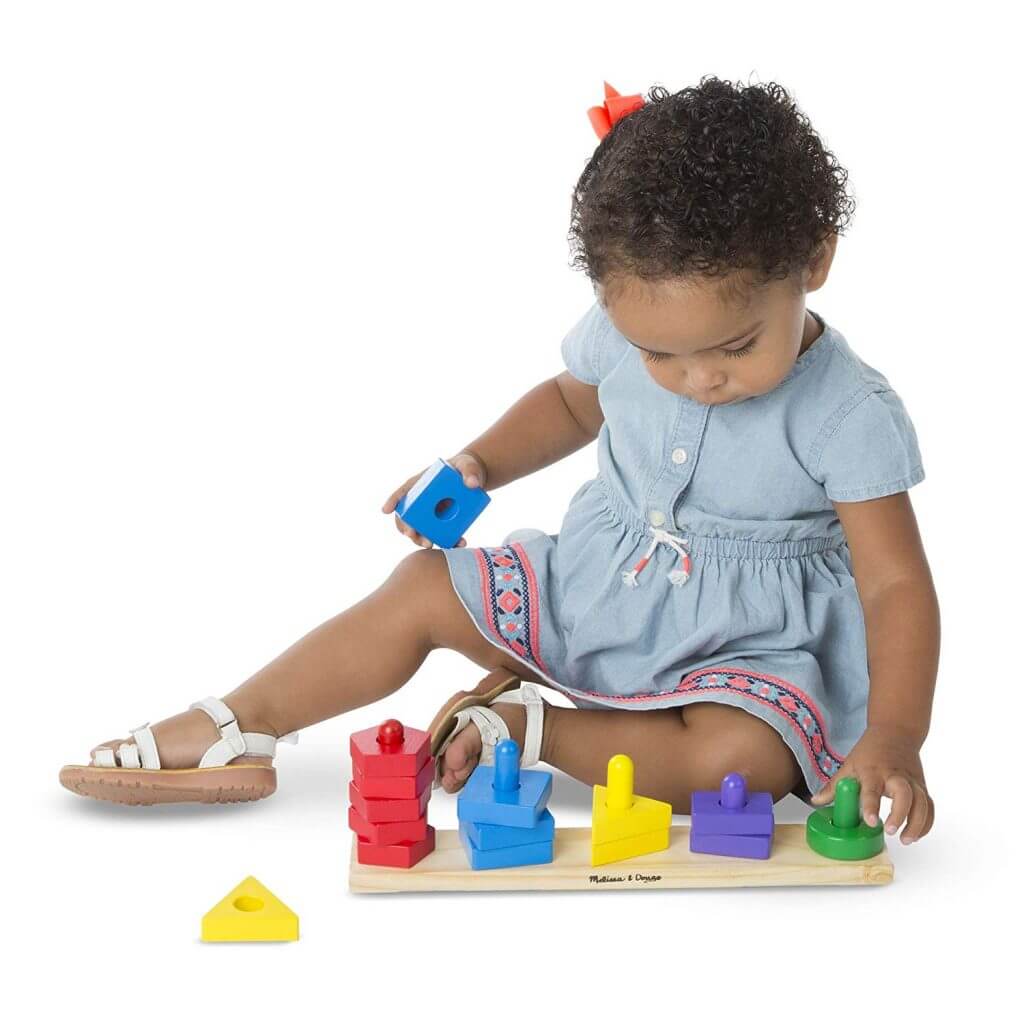 The kid will learn numerals, shapes, animals and much more while she plays and it will assist in her growth and all-round development.
If your child has reached the landmark of nine months, buying toys like trucks, pop and push car or pull back vehicles is not a bad option when you are unable to decide what to buy for baby's first Christmas.
Toys for visual and auditory stimulation, basic color stimulus and pattern recognition
In this category, first comes the Musical Toys. You may have often noticed your child sway to the tunes or her eyes sparkle on hearing music. As listening is amongst the first senses to develop, your child can hear the tunes, beats, and rhythms even while she is in your womb and it helps in the development of her language skills, emotional development, and memory and sparks her creativity.
When it comes to musical toys you may choose from piano to guitar to xylophone.
An accordion toy is one other musical toy that might pique the interest of your kid. Though these are a tad too big for one-year-olds, they can always play with these once they grow up.
One other musical toy, the rotating music box soothes the child and stimulates her development and natural abilities.
You can also try a musical cube to stimulate her brain development and enhance her memory, patience, hand-eye coordination and much more while she enjoys the melodies.
A musical hammer is one other option as the emanating lights and music will provide her with the right kinds of stimulation.
Activity Toys
With activity toys, playtime is not just fun time but also learning time. Your child's creativity, cognition, imagination, and problem-solving ability get boosted. If you have decided this is what your baby needs, you may settle for an activity spiral.
If sensory, intellectual and social development of the child is your primary concern, then opt for educational toys like the ball pit.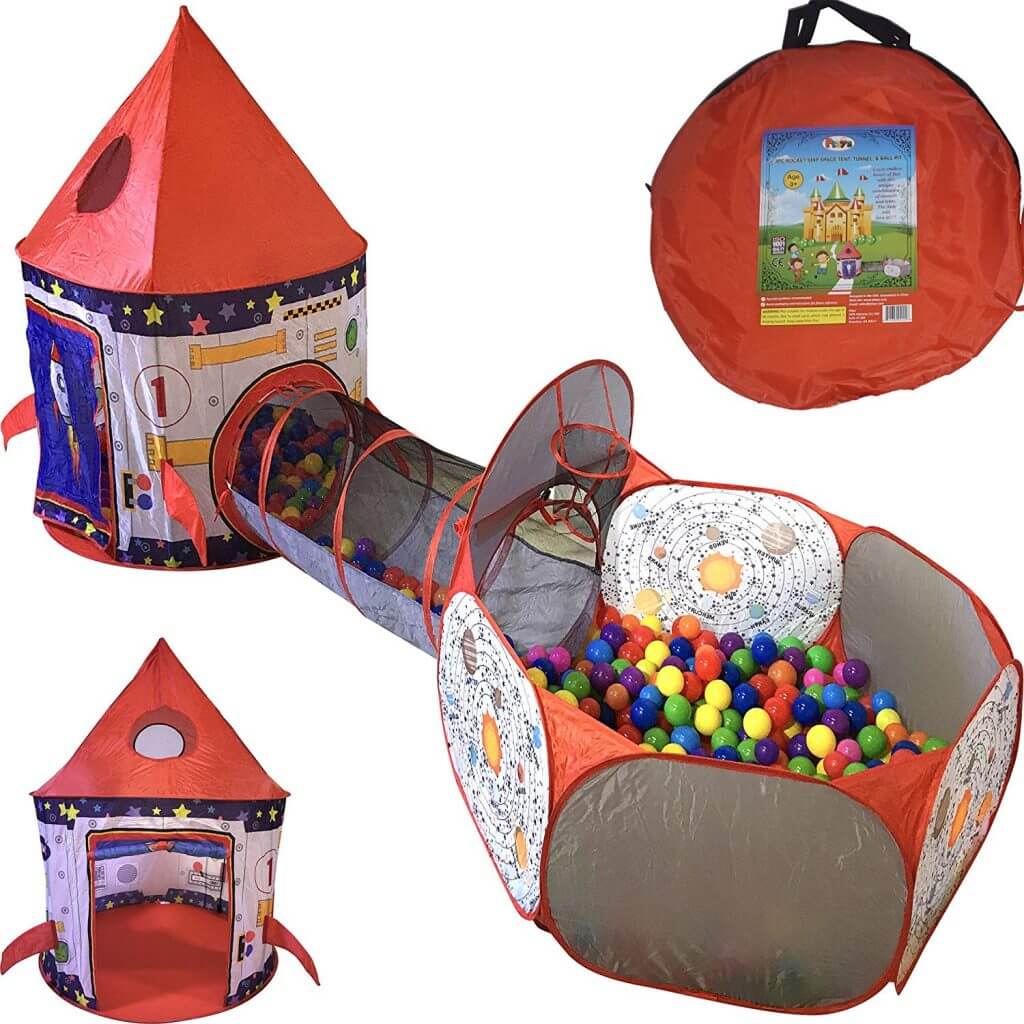 The shape sorter is one other toy you can gift your child this Christmas and see her learn shapes and colors in no time. This toy also increases her motor dexterity, observation power, and hand-eye coordination.
The names may be many – Play Mat, Play Space or Play Gym – but the purpose is the same. These help the baby grow while she plays and the growth includes the development of recognition, motor skill and hand-eye coordination. She gets encouraged to explore and learns to appreciate music.
Activity Boards and activity centers can also be the Christmas gift your kid will cherish. Have a look…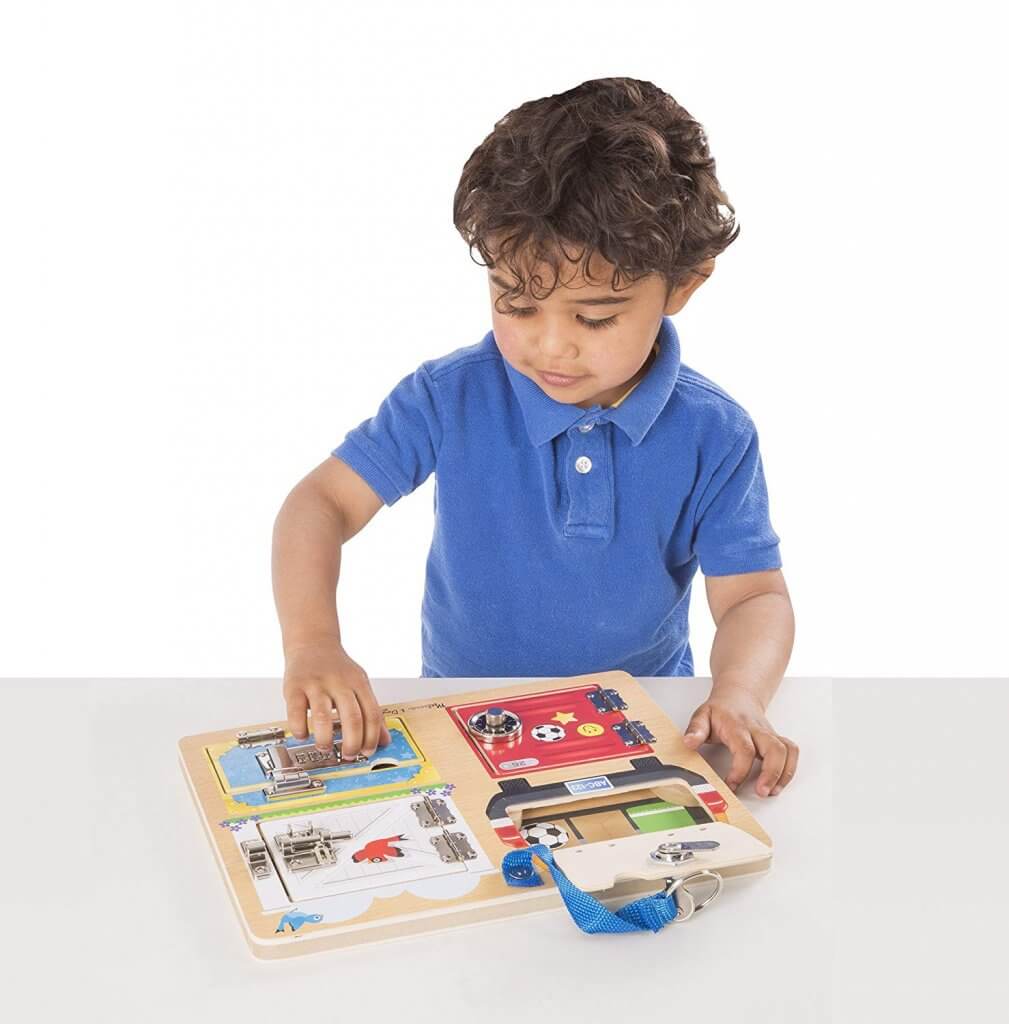 If you would like your kid to start with learning numbers now, go for toys like the Touch and Feel Numbers and the magic unfolds within a few days. Buy an Animal Farm, get her acquainted with the various animals and let her feel at home with her surroundings. This will help you to decide what to buy for baby's first Christmas.
Now if you feel that your little one is already blessed with too many toys and need no more but requires a little bit of organization, then go ahead and buy a toy organizer and teach her to keep her belongings organized.
What to buy for baby's first Christmas? Is it Baby Utility Items?
Gifts need not necessarily be funny or fluffy. A few utility items can take their place in your child's Christmas gift hamper.
One such item definitely is a soother or pacifier. It satisfies the kid's necessity to suck and helps her to settle down at bedtime or naptime. Further, it lessens the risk of SIDS – sudden infant death syndrome.
Wouldn't you want to make your kid's bath time fun? You can achieve that simply with the aid of bath toys. Not only do they add mirth, but they also enhance hand-eye coordination and motor skills and help them explore as they play. But be careful to clean these regularly to avoid molds.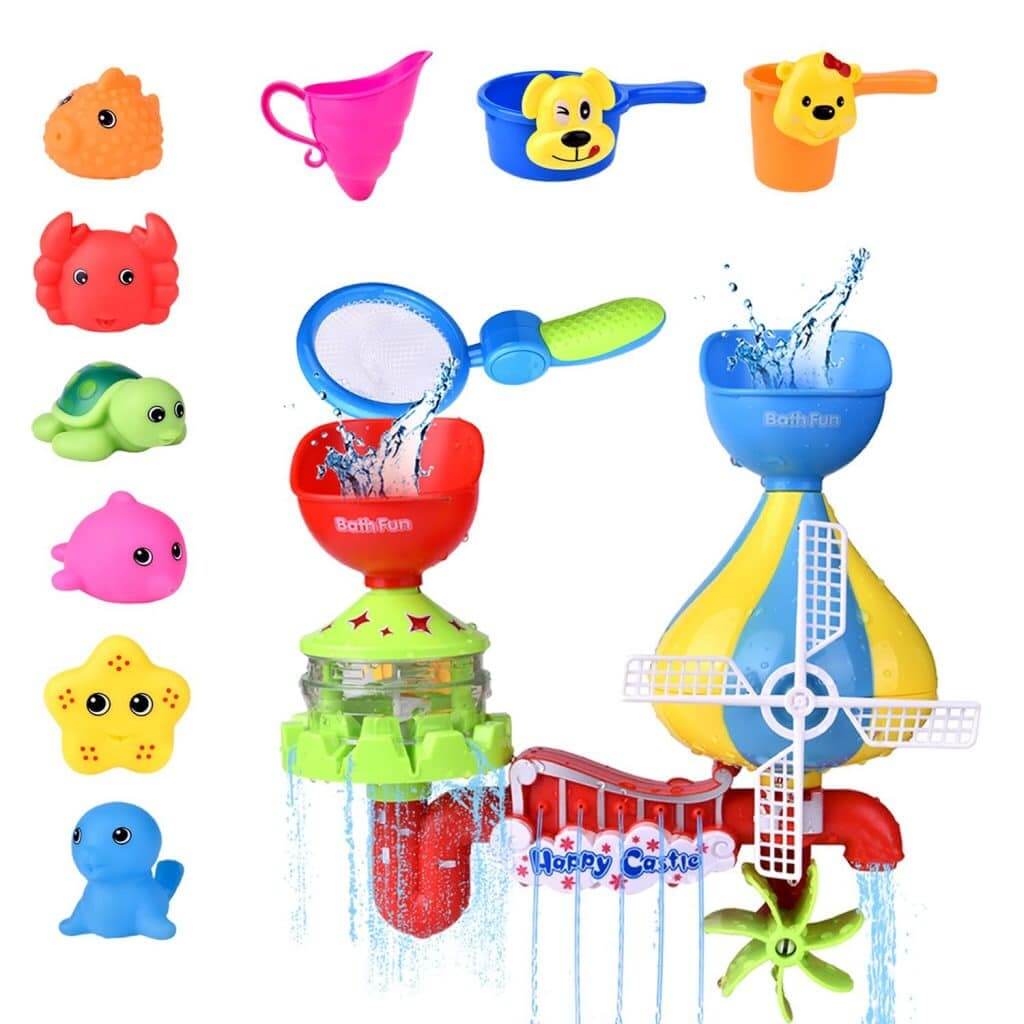 Are you wondering what to buy for baby's first Christmas? How about buying a soft, cozy, hooded towel for the little one this Christmas? She needs it very badly with the winter months knocking at your door to protect her from the chill and provide the much-needed comfort.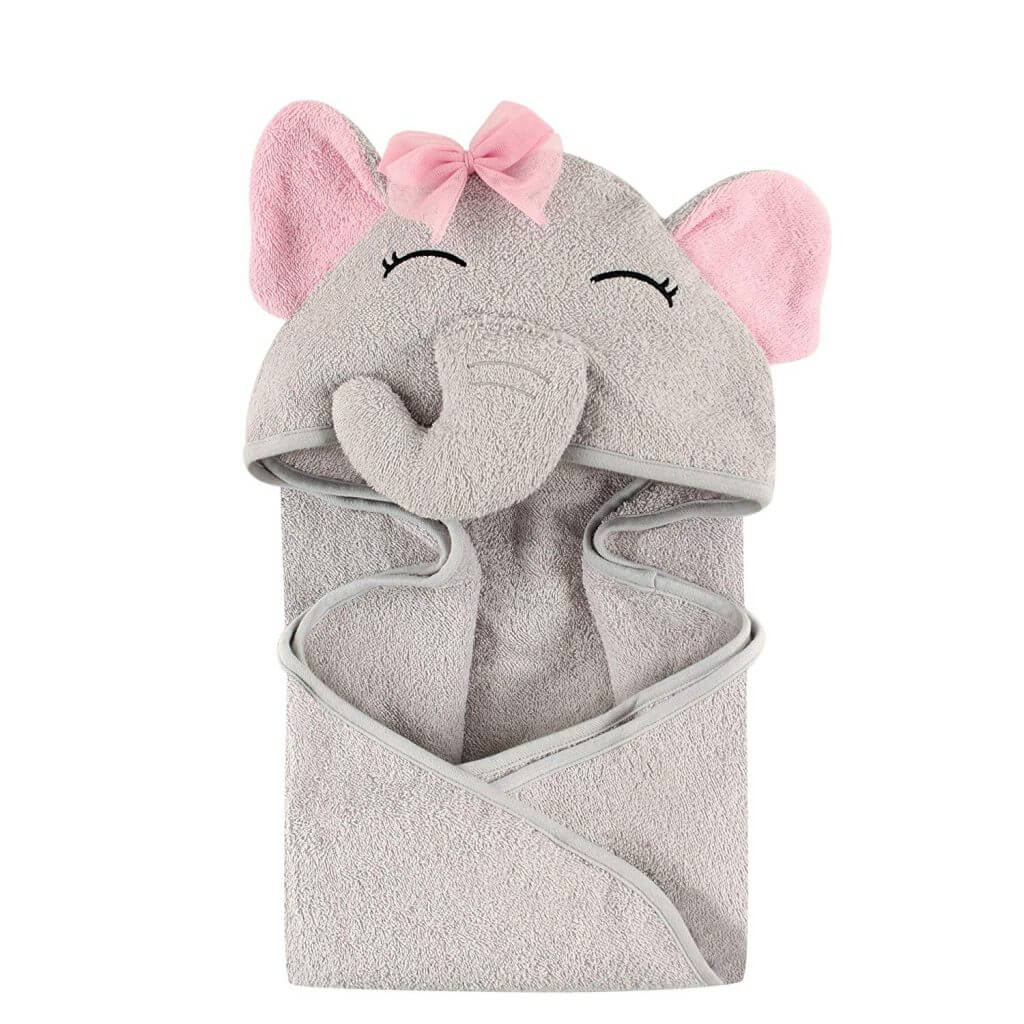 How about a tummy time activity toy to ease the effort on both your parts? The comfort of this toy will make tummy times easier, fun-filled and smoother and soon she'll start looking forward to her meals.
How about a floor mirror to engage your child, arouse her curiosity and develop her vision? Have a look at these choices.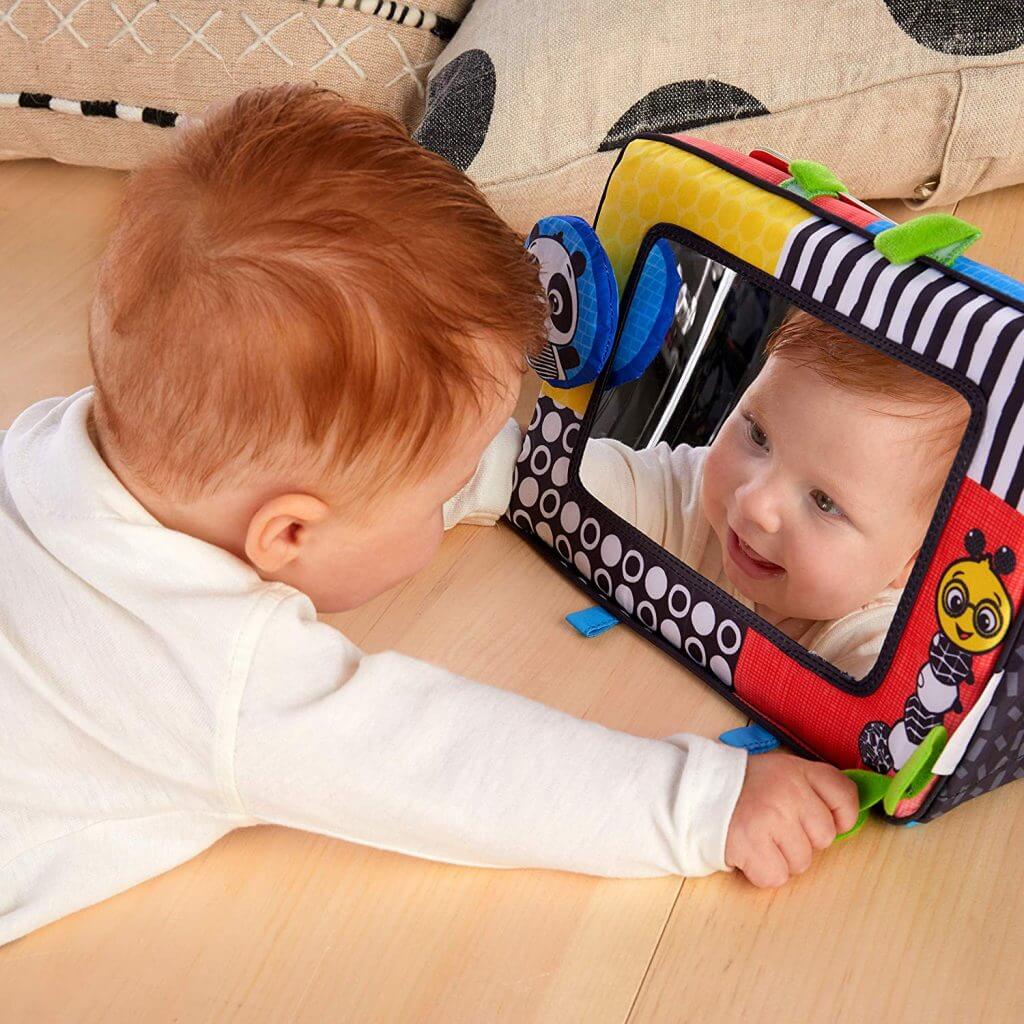 Other utility items that can pose as gifts are a baby toothbrush, a bath brush or maybe drool bibs. These are necessities that get exhausted and need to be replenished from time to time.
Baby Clothes
Well, this is a must and can always accompany anything else you buy. As the child grows she outgrows her dresses. Now it's your choice whether you will opt for a onesie or a romper or maybe a plush robe.
Books when stuck with what to buy for baby's first Christmas
Well, for me, books are the best gift items anytime and always when you can't decide what to buy for baby's first Christmas. So, this Christmas, you can either opt for an activity book, a musical rhymes book, a cognize book or simply an interactive storybook for your kid. These will foster their imagination and the colors, patterns and pictures will help them step into a new world. So, go ahead and choose the right one keeping her age in concern.
Baby Travel
If you are intending to travel with your child, equip yourself this Christmas so that traveling comes easy to both of you.
Herein fits in the take-along chair or maybe a take-along swing & seat.
Baby carriers and infant car seats can be considered to make your travel smooth, hassle-free and safe.
And if you want your child to learn to walk on her own and unable to choose what to buy for baby's first Christmas, buy her a baby walker and do your research well before you venture into buying one.
Personalized Gift items
These are always special and precious being treasured by the kid in her years to come. We have already touched upon such blankets and pillows. How about a bangle bracelet with her name engraved on it?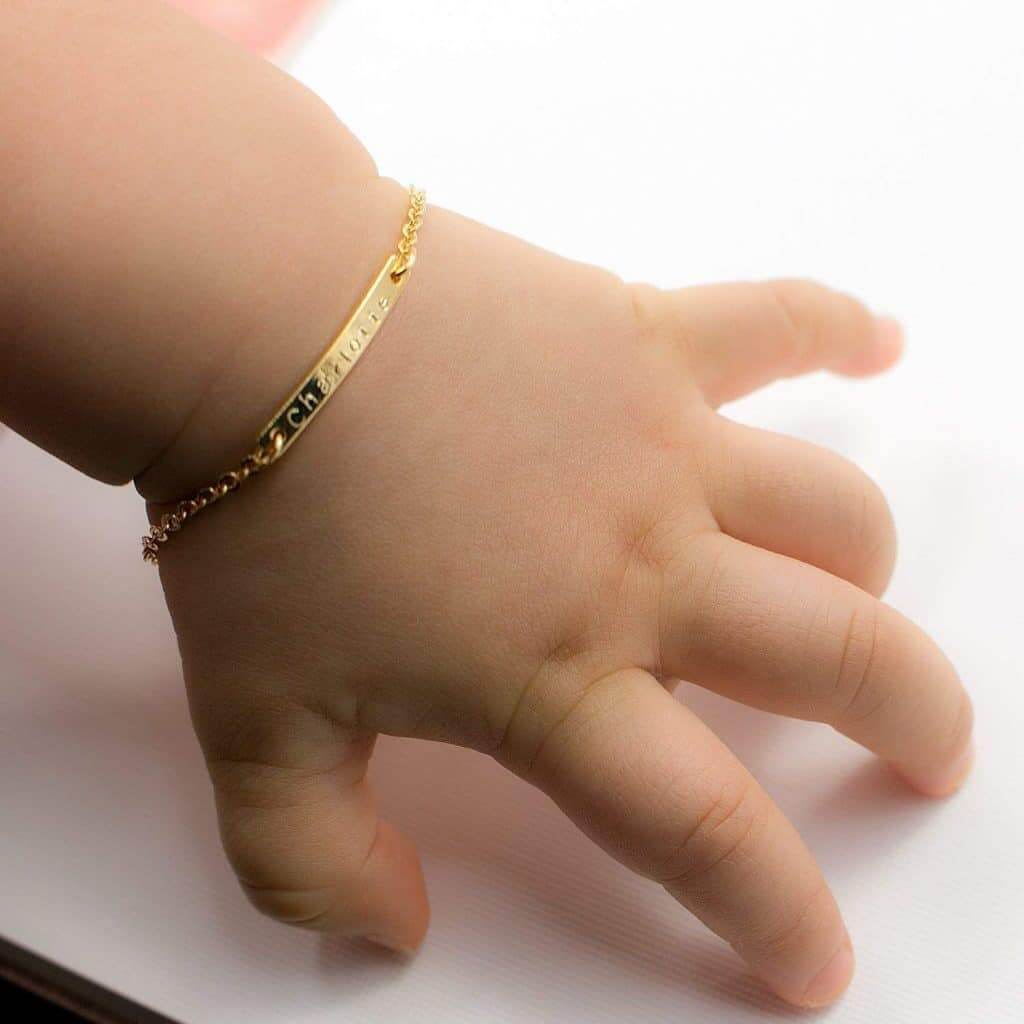 Or maybe a Twelve-month frame? This first-year frame will preserve and protect your treasured memories.
How about a keepsake kit? It will preserve her handprint and footprint on clay and will be priceless memorabilia.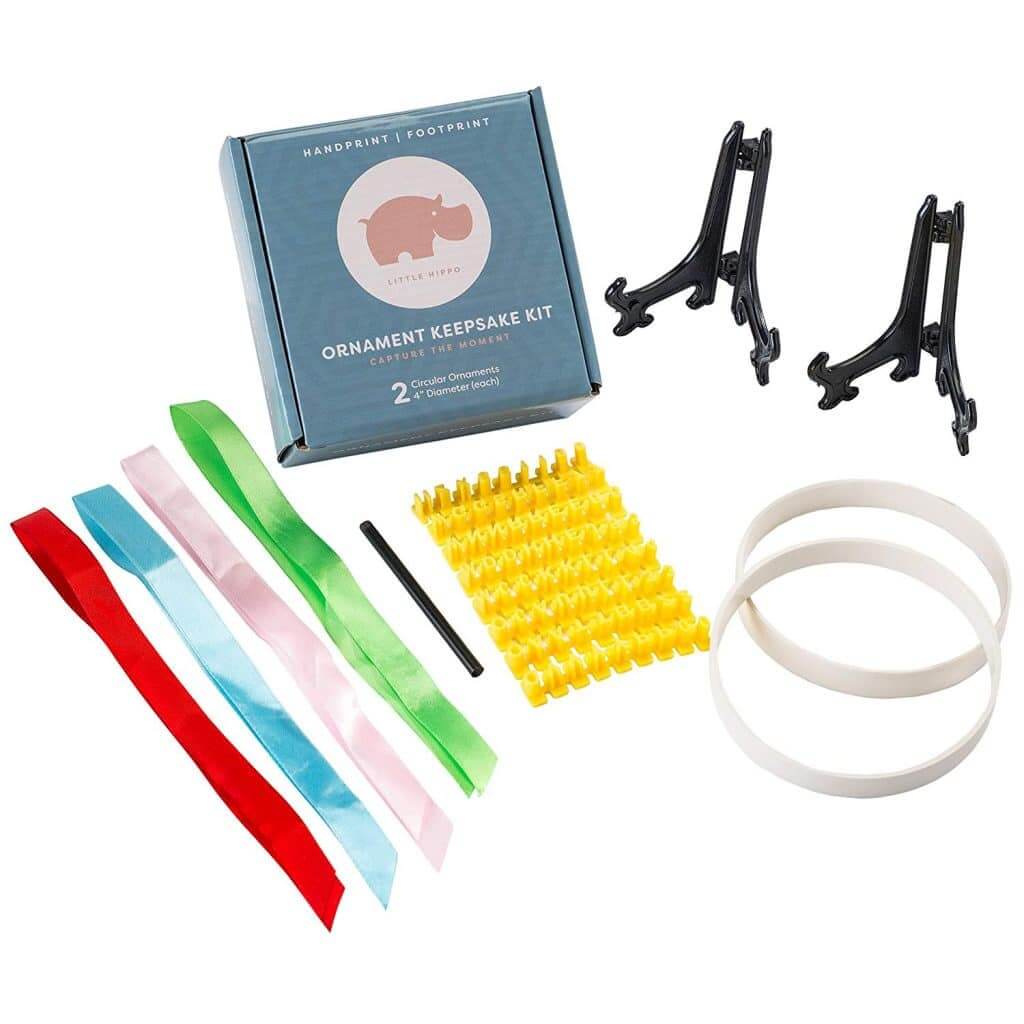 Why don't you make her first book special by buying a personalized one? She will love it, I can assure you. If you have decided on such gifts, "Letters to my Baby" will be a good Christmas gift idea when you are stuck with what to buy for baby's first Christmas. It will give you the opportunity to write now and read later and treasure forever.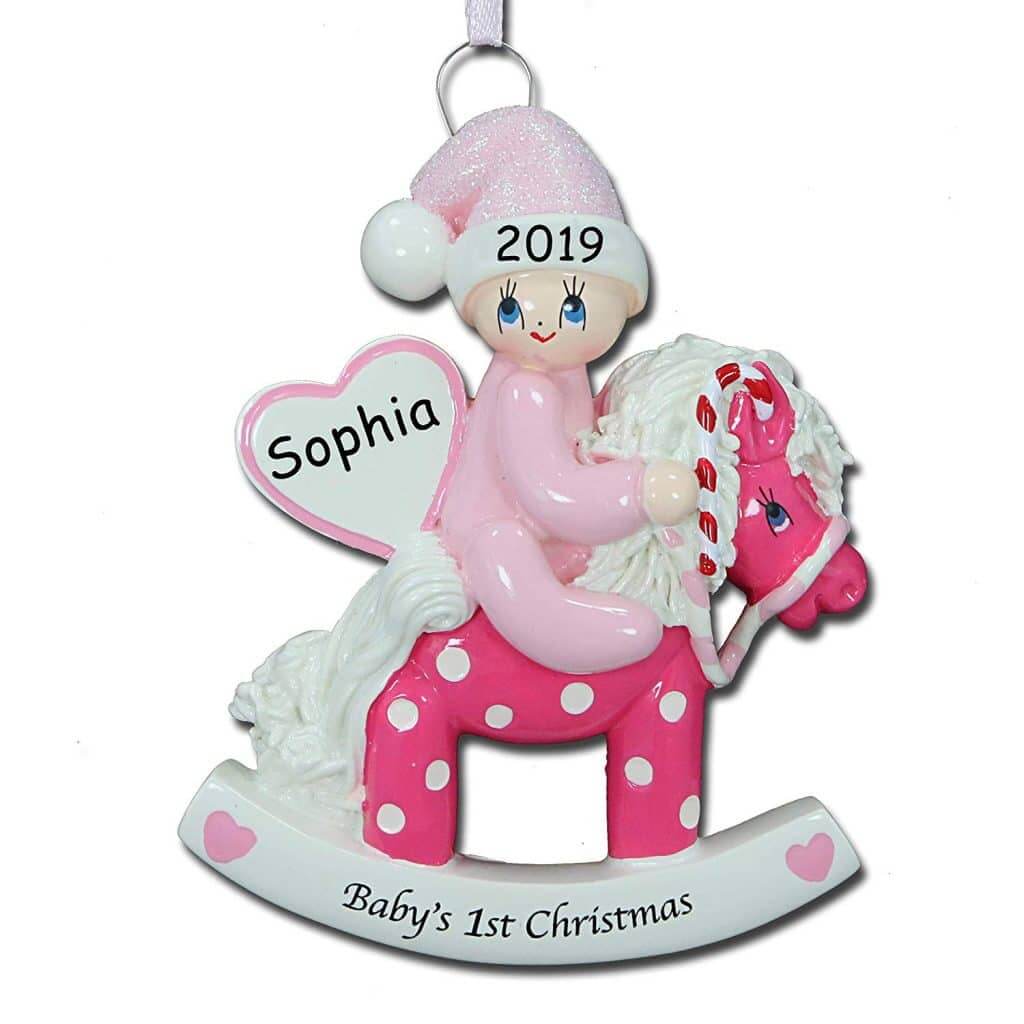 A personalized ornament just made for her can be hung on the Christmas tree year after year. It will be a keepsake and she will learn to value tradition.