If you are a new mom or a would-be mother, your primary concern will be your child's feeding. And it was the same with me a couple of years back. So, here I am, with my experience and research, to tell you that a rocking chair is a piece of furniture that is absolutely necessary for your child's nursery. Why?
A rocking chair should be an integral part of any nursery as it's to and fro motion gives both the mother and the child the relaxation and comfort they so much require while nursing. The calmed and soothed baby gets the feel of being in the womb will take her feed better and once done will soon fall asleep smoothly. This will automatically lessen the mother's task and put an end to frantic feeding sessions.
Is rocking Chair good for babies? (Do do you need a rocking chair for nursing?)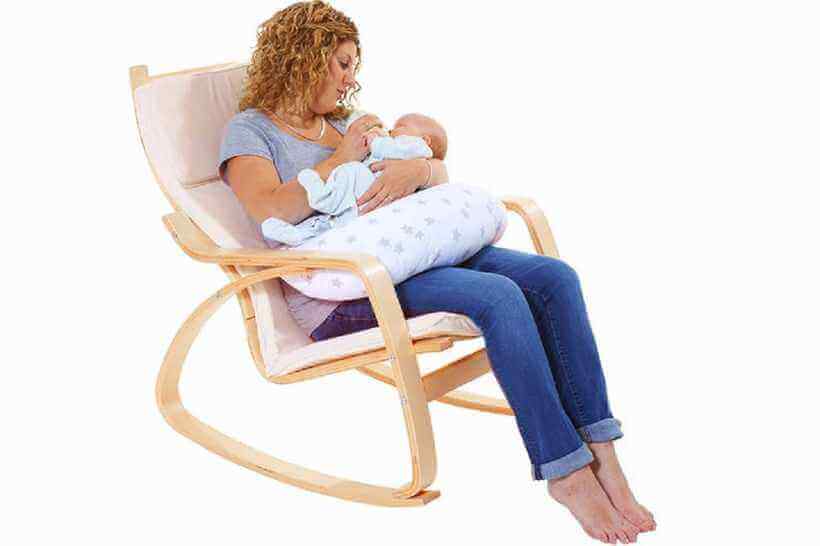 Why do babies love rocking? Is a rocking chair necessary in the nursery? Rocking gives them the same feel they used to get while inside the womb of their mothers.
So, naturally, rocking aids a baby to fall asleep smoothly and is thus relaxing for the parent too. The rhythmic movement of rocking helps the child to sleep naturally and deeply. Also, for some parents cuddling, singing or rocking her child to sleep is "good parenting."
Actually, babies love movement – it may be in the rocking chair, your arms, bouncing in a carrier, or moving in a stroller or car. The vibration, swinging or rocking motions soothe the children.
But, there is "a but" in this practice of rocking. Rocking a child to sleep lessens the burden of the parent until she is a few months old. But with her growing age, it can cause a difficulty called sleep association. Rocking, singing or nursing the baby to sleep will become a habit and she will expect the same routine every time you try to put her to sleep or whenever she wakes up in the midst of the night, or else she might feel helpless or alone. And that can pose a problem.
But that does not mean you will exclude rocking altogether. It would be advisable to rock the child till she is drowsy, but still awake and then put her in the crib. This will teach her to sleep by herself. And she will not feel anxious or lonely on waking up in the midst of the night. But don't do away with rocking altogether; otherwise, you both will miss the relaxation.
Rocking develops the muscles of the child and allows his bones to stretch along with his muscles. This aids in his proper growth and development.
Rocking induces sleep as it has a soothing effect by relaxing us and lowering our heart rate and comforts our brain.
Can rocking a baby cause brain damage?
If a baby is shaken violently and with force, it can cause serious brain damage which is referred to as "shaken baby syndrome," or "shaken impact syndrome," or "whiplash shake syndrome," or "abusive head trauma." This happens as the soft brain of the child hits the skull repeatedly, bruising it. The weak neck muscles, thin blood vessels, and bones bear the brunt too.
But this kind of trauma hardly happens when the child is bounced or rocked in a playful mood; but rather happens when she is shaken in anger or frustration. Thus rocking a baby can never be the cause of brain injury unless intended. So whatever be the reason for your frustration, don't vent it out on your little one.
Is Rocking Chair good for posture?
Before we come to any conclusion on this question, let us first concentrate on the benefits of a rocking chair or is a rocking chair necessary in the nursery?
A rocking chair provides a good amount of exercise that your body needs and simultaneously relaxes your mind and soul. But, how? When you rock, your respiration slows down and blood pressure drops. Thus it relaxes your mind. Again since your body weight is being shifted back and forth continuously, you lose energy and it provides exercise to your body, toning your muscles.
If you are for any reason confined indoors, shift yourself from your bed or chair to a rocking chair. It will help your body exercise, lose weight and do away with stress and depression.
If you are pregnant and suffering from back pain, the rocking chair is ideal for you. You must have been advised to choose a chair that supports your back with feet slightly raised. Most rocking chairs have cushioned back supports that will provide you with the necessary relief.
Also it would prevent the development of varicose vein as rocking stimulates circulation and tones your muscles.
Again, rocking regularly for ten minutes a day from your tenth week of pregnancy will aid in the better development of your child's nervous system in the pre-natal stage.
If you have undergone a C-section, a rocking chair can reduce your stay at the hospital. Such chairs provide rest to your feet and exercise your muscles as you utilize your weight to get back up. Also, it helps in practicing good posture.
Many mothers after delivery develop digestive issues like formation of gas in their bellies. Also the stress factor builds up post-delivery. Rockers help mums relax in these conditions.
But rocking chairs are best suited for children. A crying child will soon calm down and start smiling as the motion soothes her. It will enhance deeper sleep. The spacious seat and high armrest make a rocking chair ideal both for bottle and breastfeeding.
The to and fro movement of the rocking chair not only helps in the motor development of a child but it also aids her social and emotional build-up as the attachment of the child with her parents to develop here. Such children have been found to be more social and well-balanced.
For people who have lost the ability to walk, such chairs help them remember their past memories of muscular movements and soon they are able to make small motions.
If you are suffering from chronic lower back pain, rocking chairs are what you should go for. This is so because the repetitive to and fro motion of a rocking chair makes you more aware of your body and the location of its various parts, especially those in the lower parts and the spine. President Kennedy used to have rocking chairs placed in all places he went, including on aircraft, to provide him relief from his chronic back pain ailment.
Lumbar support with a tailbone pillow or seat cushion can be fitted to your rocking chair to provide you with the ultimate comfort and relief.
Well, with all this, the question as to whether rocking chairs are good for posture is aptly answered.
 Is a rocking chair necessary in the nursery?
A rocking chair is made by fitting two curved wooden bands, known as rockers, to the bottom of the legs of a chair. The chair remains in contact at two points with the floor and thus you can rock back and forth sitting on it just with the use of your feet. So you must include this in the nursery.
Are rocking chairs good for nursing?
What are your primary concerns while choosing a nursing chair?
Though your primary concern during nursing is whether your child is latching properly or not and is having a good feed, yet there are other things you should concentrate on. Both the mom and the child should be comfortable.
So, the nursing chair should be comfortable and cozy. Moreover, it should be such that it provides you with enough support to help you stand up conveniently once you are done with nursing, without disturbing your little one.
The nursing chair should be such that you don't need to bend too much, your back is at ease and your bottom does not hurt even after sitting for long periods.
Nursing chairs should preferably have padded armrests as these will help position your child better while nursing so that she gets a proper and convenient latch. Also, your hands need this support. Footrests are another essential feature. They will relieve your back and aid you in resting in the chair more easily.
Well, you will get all these and much more in a good rocking chair. It will provide you with comfort and almost everyone has different position settings to choose from to provide maximum comfort to both your baby and yourself. And the rocking attribute of this chair will soothe and relax the child and the parent.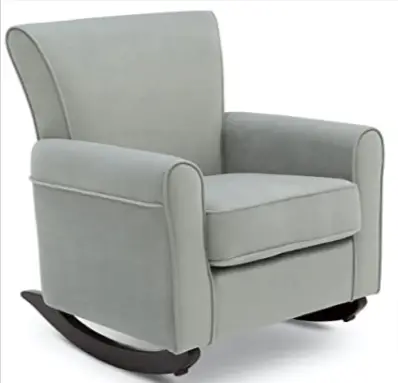 Click To check this Budget Nursery Rocking Chair 
It will make the job of the mother, less laborious. This cozy and cuddly place will soon become her settling-down zone. A rocking chair is a must for mums who have undergone C-section as it helps them position themselves better than on a sofa or bed and also aids in their healing.
Under these circumstances, though there are many other options for nursing like sofa, different kinds of chairs, glider, pillow with chair, recliner or bed, rocking chair are possibly the best alternative.
How to choose the ideal Mom Rocking chair?
The choice of a rocking chair is a personal one, and every mother has a different idea of what she wants. If you're planning on nursing in your rocking chair, then there are several factors to consider. For one thing, you might want to choose a model that is sturdy or that can be easily adjusted to give the right support at various levels. It also pays to make sure the design will accommodate your body type and size.
While you choose your rocking chair, here are the attributes to consider :
Height and size – The dimensions of a rocking chair can vary from 37 to 45 inches tall, 32 and 37 inches deep and 26 to 30 inches wide. It could weigh around 15 to 45 lbs depending on the type of material. For shorter people, lower seat heights are recommended so that getting in and out of the chair does not become a huge task. Also, be sure the height of the chair is such that you can rest your head and arms properly.
Seating – The seating should be contoured and provided with necessary accessories to help you rest, relax and relieve stress. It should be padded and not be too firm or too soft as you need the softness for your bottom but too much softness will make you're standing up after nursing a tough task.
Space – It should be spacious enough for you to relax with your child for a long time.
Style – When it comes to style, there are umpteen options to choose from. It is for you to decide what suits you best. But be careful that it is fitted with padded armrests to comfort your arms.
Color – For the wooden varieties, your color options get limited, unless you paint them. But with HDPE lumber or plastic, you have varied alternatives and again it's your personal choice.
Material – It should preferably be made of oak or other kinds of wood or maybe wicker as these will stand the test of time. This is because the utility of a rocking chair does not end with the nursing child; she will come back to it again and again as she grows up since it is her comfort zone – be it to read books, listen to music or just to spend her "me" moments. So the material should be durable, look good, easy maintenance, resilient to weather, light-weight and comfortable.
The various options for material –
Pinewood/Softwood – Though inexpensive and abundant, they are not resistant to weather, get dented or scratched easily. They require regular maintenance like varnishing.
Oak/Hardwoods – They are more durable and resilient but then also need regular maintenance, especially if kept outdoors. But they stand on the bit expensive side.
Teak – Best of all the hardwoods as it is also resistant to all weather conditions. But the singular color and costliness are its downsides.
Wicker – It can get damaged easily especially if kept outside. The plus side is its lightweight. But cleanliness becomes an issue with this material.
HDPE Lumber – It is very easy to maintain and durable, having medium weight and is resistant to all weather conditions. It is comfortable and found in various colors. It can be recycled.
Injection-molded plastic – Though it is cost-effective, it definitely is not luxurious or comfortable. It is light, weather-resistant, low maintenance, available in various colors and durable. But the color and brightness are short-lived.
Accessorize your rocking chair
Pillows and cushions may be added to provide some extra padding to the seat of the rocker. Choose the support pillow before you purchase your chair to be sure whether it fits aptly with your chair. A side table may be added to complete the setup. Lumbar support is also a good idea to get rid of the backaches.
A most essential accessory can be an ottoman. It is a footstool to rest your legs on. It is most helpful if you have short legs. Once you put your legs up, you can feel the comfort and are in a better position to feed your young one.
Is it ok to rock in a rocking chair while pregnant?
Not only is it ok to rock in a rocking chair during pregnancy, but it also has certain benefits. The rhythmic motion of the chair comforts and relaxes the child and the mum; it helps improve the immune system, nervous system and the breathing of the fetus significantly.
Also, there is marked improvement in blood circulation and so overall a more healthy child is born. Again during this time, the back pain of would-be mothers becomes excruciating. The rocking chair provides her relief from the persistent backaches.
Which is better as a nursing chair – rocker, glider or recliner?
Rocker – The best part about this kind of nursery chair is its rocking facility which comforts and soothes the baby while she feeds and is also helpful for putting her to sleep. It provides comfort to the mother also.
Glider – The main difference between a rocker and a glider is that the latter slides back and forth instead of rocking to and fro in an arc.
Recliner – The special attribute of this variety is it reclines; some of these move from right to left.
Thus, as you can well see, the rocking chair is probably the most suited. However, combinations of the above kinds are also available like glider rocker, swivel recliner and many more.
Drawbacks of a rocking chair
The only drawback that comes to mind is that, at times, feet, tails or paws may get caught under these chairs. It may result in pinching of small toes or fingers.
What is the Best rocking chair for nursing?
Now that you have poured through whatever you need to know about a rocking chair, it is time to choose one for your darling. If you would like to go by my choice, then you may settle for the Naomi Home Swivel Rocker Recliner Mocha/Microfiber.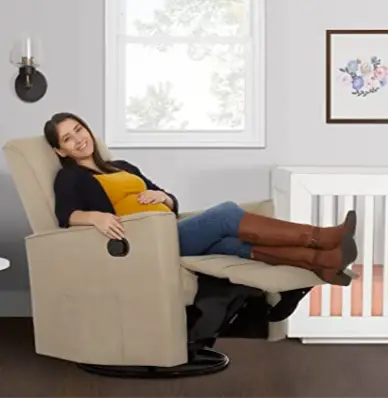 It is comfort personified. The sturdy frame combines with the foam-filled seat and soft, plush cushions – good quality fabric – to make you feel both secure and cozy.
The padded footrests and armrests will give your weary arms and feet the comfort they need so badly. The best part is obviously its all-around swivel motion and the rocking motion is perfectly smooth brought about by the enclosed ball bearing system.
You can easily convert it into a recliner and rest when the baby goes to sleep. The assembling is so easy that you can do it by yourself in a matter of minutes. Nowhere is the style or class compromised to provide comfort. The lever is placed ideally so that you can control the motion of the chair conveniently.
The sturdiness and durability outscore everything. You can use this rocking chair for snuggling your child, reading her stories and obviously feeding her! And once she has grown up, it can be the relaxation station for both of you.
So, enough of thinking about Is a rocking chair necessary in the nursery? just go ahead and make the right choice before the little one arrives!