Changing a new born baby's diaper is a very frequent task that most parents, particularly mothers have to perform. Throughout the day, as well as the night, newborns tend to soil diapers much more frequently than older children. And if you have a changing table that is at the other end of the nursery (or room) then you have to each time pick up your baby from the crib, carry him or her to the changing table, get the supplies, do the change and then bring them back to the crib.
And while for one change or two this doesn't seem like too much – in the long run, it can be back breaking work! So to make life easy for you, NewMomStuff has brought you a few picks for crib and changer combo sets.
A crib and a changing table in one place ensure that you can just lift your baby from the crib and onto the changer, the supplies are already at hand, and once done, you put your baby back to sleep. So, now let's take a look at our recommendations a little more closely…
#1:
Stork Craft Portofino 4-in-1 Fixed Side Convertible Crib and Changer
Here is a crib with a changing table on the side. Now, you may get this for your newborn, but the price is justified due to the fact that it is going to serve you for years to come. You may ask why – well this is because of two reasons:
As your baby grows, the crib converts into a toddler bed, day bed and finally a full size bed.
The changing table is very well built and can be used to store essentials for years. The drawers are a great addition.
So much for its usability and features, now let's take a look at why customers have given it a high rating in the first place:
The crib and table are very well designed and super easy to assemble, including the drawers.
The wood used is of the best quality and free of any odors that may make your baby uncomfortable.
The entire set is sturdily constructed, which means that it will indeed last you for years.
And that isn't all – there are many other reviews with personal experiences and opinions that you can check out before deciding. And once you do, follow this link to order it from Amazon!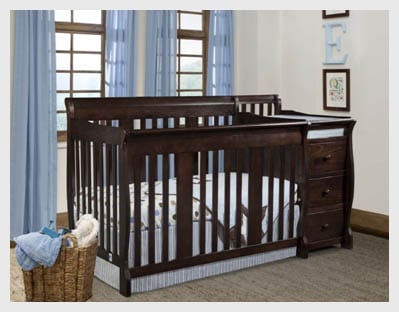 Now we look at our second crib, this one is less expensive than the first…
#2:
Dream On Me 2 in 1 Full Size Crib and Changing Table Combo
This next set is like the first, but since the price isn't quite as high, it isn't all that decorative either. However, when you are watching your budget and need a crib and a changing table – usability is your first concern, not ornamentation. And this one serves the purpose perfectly! As for the USPs:
This crib too converts into a daybed for your baby as he grows into a toddler.
The changing table is detachable and can easily be retained as a functional shelf in the nursery.
And now, as with the last one, we'll take a look at a few snippets from customers to understand what are the things about this crib that make it a favorite with the parents:
Assembly of this crib is also easy, and particularly so because it doesn't come in too many pieces. In fact, many people managed it even without the instruction manual.
This bed is also quite sturdy and well built, something you will definitely appreciate as your baby grows.
Even though it doesn't have any rollers, the entire set is light enough to be shifted easily (minus baby of course!)
So if this is more fitting for your budget, then go ahead and order it today. And if you want some more insight into this crib, you can always go and check out the reviews.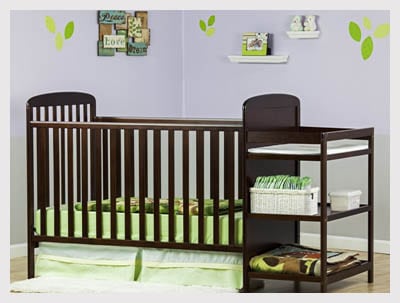 And finally the least expensive of the lot…
#3:
Graco Pack 'n Play Playard with Reversible Napper and Changer
This one may be the least expensive, but that doesn't mean it isn't a good one. In fact, the only reason we can see for the price difference is probably the material. The first two were made of good quality wood – therefore their price. But this one from Graco isn't wooden. It is actually a multipurpose set to have for your baby. It has the following features:
Playard
Bed for infant, newborn and toddler
Napper
Changing pad
In addition to being super affordable and highly convenient, this one is also a big favorite with customers and you can see that here:
Again, a very easy crib and changing pad combo to set up. Most parents were able to assemble it without much trouble.
This one is also very easy to transport with you – even if you are traveling or going for a holiday, since it folds up into a small package!
The changing table comes with special wipe able fabric cover – making it super easy to keep clean.
So, if you want to watch your budget, and yet get a very good quality crib and changing table for your baby, then do consider this. Also, go and read through the reviews for greater information today!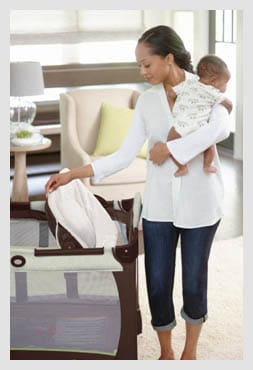 As you saw, there was something in most price brackets, so whether you want to spare no expense, or you are working within a tight budget – there is a crib and changer combo for everyone! So now, you just need to take your pick, order it and then wait for Amazon to bring it to your home!