Imagine a toy that could teach your child about compassion, kindness, and responsibility. Imagine a toy that could help your child develop their fine motor and coordination skills. Imagine a toy that could even help your child learn about the needs of others.
This is what a realistic baby doll can do.
Realistic baby dolls that cry and poop are not just toys for children. They can be powerful learning tools that can help children develop important life skills. In this article, recommend some of the best realistic baby dolls on the market.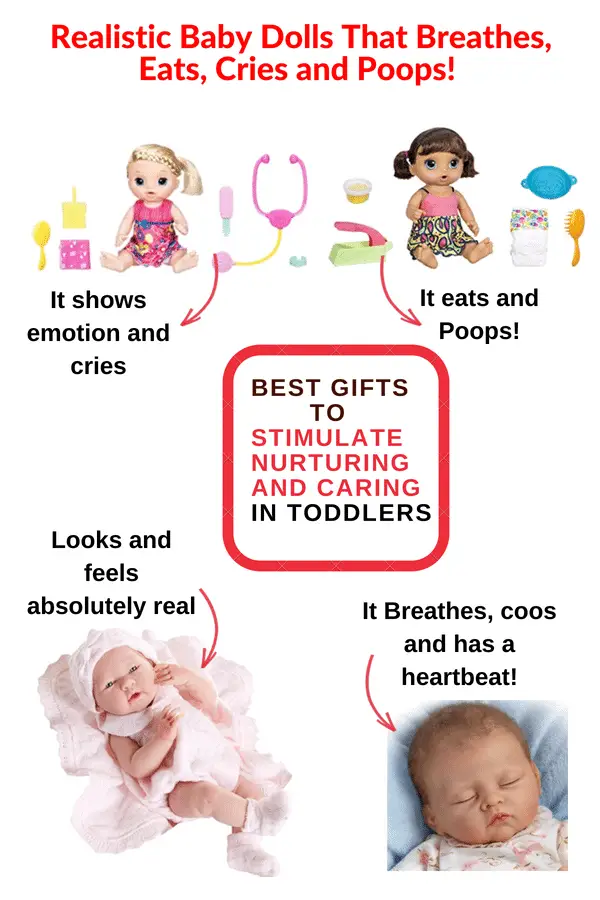 When thinking of buying lifelike baby dolls, these realistic baby doll options come highly recommended.
Realistic Baby Doll That Cry
Tap on your child's nurturing skills and emotional development with the Baby Alive Sweet Tears Baby Doll. This lifelike doll can show emotion and cry tears with the nose lighting up red when feeling sad or emotional which signals for tissue time! A perfect companion for toddlers age 3 and up, it helps to expand their vocabulary skills with more than 35 phrases and sounds in both English and Spanish. The doll comes with a stethoscope, thermometer, bandage, tissue and brush. It also drinks straight from a juice box and needs care when sick. What a way to teach nurturing skills to young tots!
Realistic Baby Doll That Eats and Poops
Another realistic doll that stimulates nurturing skills in a growing child, the Life like Baby Doll is a keeper. It allows one to make "noodles" and feed it to the baby doll. He or she can feed the doll, lull it to sleep, and change diapers when it poops. Yes, it poops! This gives toddlers a sense of nurturing and, in way, helps them to be aware of the needs of others. This brunette realistic baby doll can also make 20 fun sounds and phrases in both English and Spanish. This is truly oodles of fun!
Want to "adopt" a lifelike baby?
Then, this LifeLike Baby Dolls With sweet smile will definitely be an excellent choice. A child can be taught to feed the baby with porridge via a plate and spoon then, let it drink from its own bottle. It can also wet the nappy and go potty. This doll also helps stimulate a child to look forward with bathing time as it can spend time in water. When it cries, a pacifier can be smacked on its pouting lips to lull it to sleep. For every purchase, a birth certificate and a friendship bracelets for the doll and the owner are included. How cute is that!
Newborn baby dolls that look real
This newborn real like bay doll in Pink Knit Set is truly mesmerizing. This baby Doll is designed to be lifelike with anatomical inclusions not seen in other dolls. Face is angelic as an infant and overall material used is durable yet soft to the touch– like real human skin.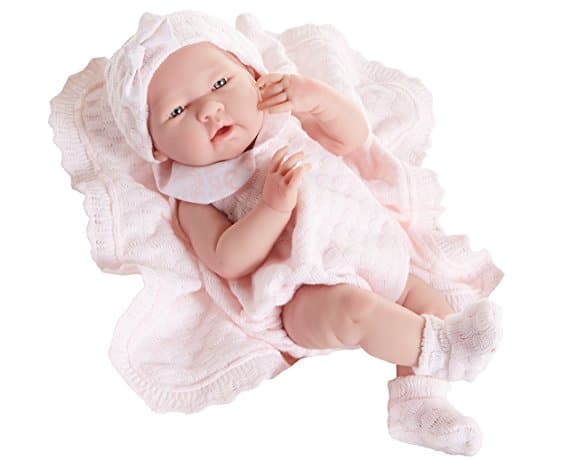 At 15-inch, its lifelike size is complemented with an adorable face and mesmerizing blue eyes. Body parts are also movable and so lifelike. A toddler can learn how to dress it up with a pink knitted romper complete with matching cloche hat and booties when going out and about. At night, it can be put to sleep then swaddled with a matching knit blanket. Definitely, this is one nurturing toy every child should have.
Reborn baby dolls with pacifiers
Another exciting realistic lifelike doll to add to your child's collection is the 21-inch  Baby Boy with pacifier. It's like a newborn baby boy, with soft vinyl skin that's painted naturally is so soft and smooth to the touch. Just like what a newborn baby feels like! It's designed to smell and feel like a baby.
This doll set comes with a feeding bottle, a blanket, a plush neck pillow, a backpack, a belly button band, pacifier with holder, baby socks, 2pcs baby clothes, disposable and cloth diapers, baby plush toy, and a hospital bracelet. You also get to have a birth certificate so your child can name it on their own.
Reborn baby dolls that drinks and wets itself
This reborn baby doll not only is lifelike, it wets itself! . It comes with hand-rooted hair , in a cuddly clothed body and is weighted to feel like a real baby in your arm.
It's not only a realistic doll but is a collection item also. It can be gifted to adults also like one customer bought it for her mother suffering from dementia.
How to Use Realistic Baby Dolls to Teach Children about Life Skills
Parenting: Realistic baby dolls can be used to teach children about the different aspects of parenting, such as feeding, bathing, diapering, and putting to bed. Children can learn how to care for a baby and meet its needs.

Responsibility: Caring for a realistic baby doll can help children learn about responsibility. They will need to learn how to feed, bathe, and change the doll regularly. They will also need to learn how to keep the doll safe and clean.

Self-care: Caring for a realistic baby doll can also help children learn about self-care. For example, they will need to learn how to take care of their own needs, such as eating and sleeping, while also caring for the doll.
How to care for realistic baby dolls:
Cleaning:
Realistic baby dolls can be cleaned using a mild soap and water solution. Avoid using harsh chemicals or abrasive cleaners, as these can damage the doll's skin and hair.
To clean the doll's body, simply wipe it down with a damp cloth. If the doll is very dirty, you can use a mild soap and water solution. Be sure to rinse the doll thoroughly and dry it completely after cleaning.
To clean the doll's hair, use a gentle shampoo and conditioner. Avoid using heat styling tools on the doll's hair, as this can damage it.
Storing:
When not in use, realistic baby dolls should be stored in a cool, dry place. Avoid storing dolls in direct sunlight or in humid conditions.
If you are storing the doll for an extended period of time, it is a good idea to wrap it in a soft cloth or blanket to protect the skin and hair.
Repairing:
If your realistic baby doll is damaged, it is important to repair it as soon as possible. This will help to prevent further damage and extend the life of the doll.
There are a number of ways to repair realistic baby dolls. If the damage is minor, you may be able to repair it yourself using a glue or adhesive that is safe for use on vinyl or silicone dolls.
If the damage is more severe, you may need to take the doll to a professional doll repair service.
Here are some additional tips for caring for realistic baby dolls:
Be careful not to drop the doll, as this can damage its limbs and head.
Avoid pulling on the doll's hair, as this can cause it to fall out.
If you are dressing the doll, be careful not to tear its clothes.
If you are bathing the doll, be sure to dry it completely afterwards.
Avoid storing the doll in extreme temperatures, such as in a hot car or in a cold attic.
By following these tips, you can keep your realistic baby doll looking and feeling its best for years to come.
Without a doubt, realistic baby dolls that cry and poop, eats and wets are awesome pretend play sets to give to your child. This allows them to learn compassion and kindness while stimulating sense of nurturing and caring. It also helps to develop various skills from cognitive to vocabulary, fine motor and organization, and self-help. When introduced with proper guidance, you are bound to raise a socially responsible and emotionally mature child even at a young age.