(Last Updated On: January 8, 2019)
Planning a getaway soon? To new Moms, finding the best travel crib for flying may seem nonsensical. What wit a foldable full-size crib and tons of baby stuffs accumulated then, why add one more. To an experienced Mom, however, a travel crib is heavenly bliss when 1000feet off the ground or staying in a downtown hotel with little wiggle room. These cribs are designed to provide safety and functionality making traveling lighter and hassle-free.
Here are the 2 Best Travel Crib For Flying:
Koalaty 3-in-1 Universal Infant Travel Tote

Scuddles 3 In 1 Travel Infant Bed Baby Diaper Bag & Baby Changing Pad Portable Systems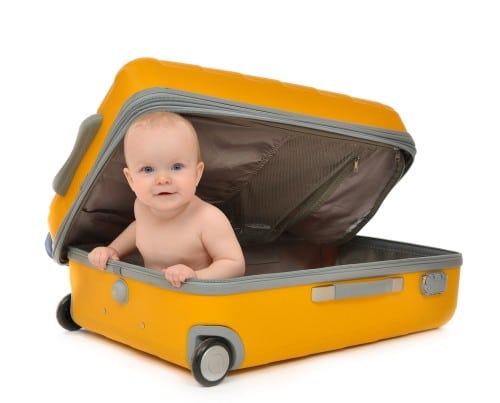 Travel cribs for flying actually also double as changing pads and diaper holders. They resemble tote bags which one can easily slung over the shoulder then, deconstructed when the need arise. It can be set-up on the bed to prevent a baby from falling over or from suffocation or strangulation. Though known for their efficiency, the number of brands flooding the market, can make the search a tad overwhelming. To help, we handpicked a selection of highly recommended ones to get you started.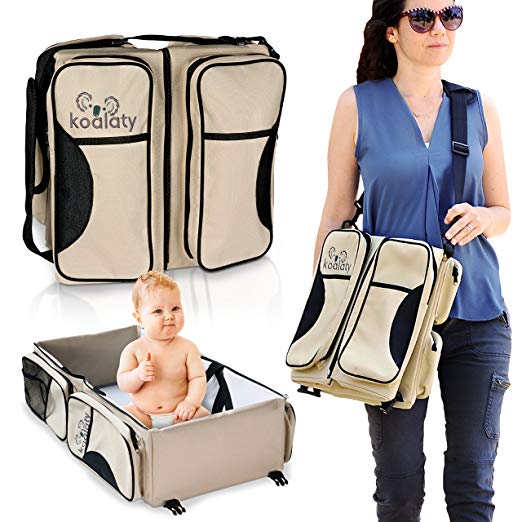 Koalaty 3-in-1 Universal Infant Travel Tote
One of the most popular travel cribs designed for flying, the Koalaty 3-in-1 Universal Infant Travel Tote is indeed, an excellent find. This stylish tote transforms into a bassinet, a diaper bag or a changing pad in just a few twist. It's convenient and comes in tan and black combo making it perfect to hand carry for either Mom or Dad. The bag is made from polyester 600D fabric reinforced with firm cardboard on the sides. Spacious, durable and multifunctional, it also offers added storage with the 4 exterior pockets. To clean, simply wipe clean with wipes or damp cloth. Definitely, this one is a great crib to tow along when visiting grandparents or when on a quick weekend getaway.
Scuddles 3 In 1 Travel Infant Bed Baby Diaper Bag & Baby Changing Pad Portable Systems
Another favorite brand in the travel crib/bed department is Scuddles and it's 3-in-1 offering is no exception. It maintains the same multifunctional vibe which allows one to use it as a diaper bag, changing station and a travel crib. Added storage compartment also makes it convenient for parents to stash away baby stuffs and, most especially, the insulated pocket which can keep baby formula retain its temperature. Made of premium quality 100 percent polyester fabric reinforced with sturdy cardboard edges, its lightweight and compact yet sturdy and comfortable for baby to snuck into. Easy to fold and can be washed in a machine, this takes storage and clean-up convenient and hassle-free. Check for more details here.
Take a pick from these two popular choices for the best travel crib for flying to finally have a handy ally when out and about. In many cases, this crib can even be used as a barrier inside a full-size crib to keep the infant lock and secured. In a way, this helps to guarantee your child's safety and allows for more quality sleep to you and the baby.