If you are planning to bottle-feed, whether with breast milk or formula, it is imperative to learn the importance of proper sterilization. But with the baby's insatiable appetite, you might easily find yourself scrambling for more bottles without much warning. What better way then, to clean your cutiepatotie's bottle than to use an electric steam sterilizer. So, if you are looking for the best bottle sterilizer, this comparative guide will make your selection easier and faster.
Now, let's get to the nitty-gritty of the best bottle sterilizer debacle..
If you have limited kitchen countertop space or perhaps, have a penchant for traveling, weekend getaways, or visiting family and friends during weekends and holidays, the Philips AVENT Electric Steam Sterilizer is definitely cut-out just for you. Holding up to 6 11-oz bottles (wide or narrow necked), it can disinfect up to 99% of germs within 6 minutes. Simply program the device and its auto-shutoff feature allows you to do other things without having to check if it's done or not.
This sterilizer can also be dismantled into three different compositions. It can be used as:  1.) a full steam sterilizer with the bottles, teats and all; 2.) for the bottles only and; 3.) for nipples, pacifiers, cutleries and other little stuffs that baby use only. Basically, this clever design gives you ample options according to your needs.
Sleek and simple, this BPA-free design is made to not take too much countertop space making it a perfect companion in space-challenged homes and for ardent travelers.
Now, on to the Wabi Baby..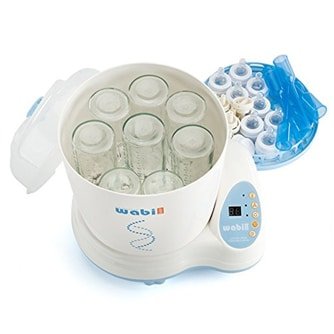 Some babies guzzle milk like there's no tomorrow leaving you with more soiled feeding bottles than normal. If this is the case, the newly upgraded Wabi Baby Electric Steam Sterilizer and Dryer Plus is a charm. Larger than the Avent brand, this one holds up to 8 11-oz bottles (wide or narrow necked) set in a easy-loading round chamber. Aside from sterilizing, the Wabi Baby plus best bottle sterilizer also has three drying options: 30, 45, or 1 hour. Basically, this makes it a sterilizing and storage unit in one. The round chamber also boasts of utmost versatility. Simply remove the bottle rack and you can now sterilize and dry-clean plates, cups, cutlery, nebulizing kit, and other home medical equipment that a baby might need.
The Wabi Baby Electric Steam Sterilizer and Dryer Plus boasts of new upgrades. Chamber is now much bigger than the previous model. It can now be cleaned fast and easy with a single-button descaling option. It even retains latest setting into memory making operation totally easy with just a press of a button.
To use, simply turn it on and fill with the required amount of water for steaming. Press the button and off you go sterilizing and drying the bottle in no time. To clean, simply add a cleaning agent like vinegar or citric acid, press the clean button and empty when done.
The Wabi Baby Electric Steam Sterilizer and Dryer Plus, however, can take up quite some space on your countertop due to its circular chamber design that can carry as much as 8 11-oz bottles. Fret-not though, as it also has an extra plate rack to hold other stuffs. All in all, this comes highly recommended for home use particularly when baby feeds more than usual.
Sterilizing baby feeding bottles, teats, pacifiers, sippy cups, teething toys, breast pumps, dining ware, medicine and feeding tool, and nebulizers should not be an overwhelming experience. With Philips AVENT Electric Steam Sterilizer and Wabi Baby Electric Steam Sterilizer and Dryer Plus, you can save ample time while ensuring that no harmful organisms get to touch your baby's stuff. Though the new Wabi Baby Plus is deemed one of the most awesome brands to hit the market with its full feature and user-friendly mechanism, the Avent electric sterilizer, however, would make a great companion when frequently traveling—or when on a tight budget.
You may also like – best baby bottle sterilizer