A baby suffering from colic or acid reflux needs is a serious worry for new mothers and it can be taken care of quickly by using the right feeding bottle for the baby.
Before we dive in the detail finding from our tedious research on best baby bottles for gas and colic, here is a quick glance for the best ones.
With the number of brands in the market, however, finding the best baby bottles for gas and spit up prevention can be quite overwhelming.
How to Choose the Right Bottle for preventing acid reflux, spit up and gas?
The right type of bottle can make all the difference when it comes to reflux , spit up or gas.
Bottles that are designed specifically with reflux in mind, generally have a built-in vent system. This gets rid of air bubbles formed in the milk during the drinking process.
There are also other bottles which promote positive air flow because they have an angled design that ensures very little air is getting in the baby while sucking.
Bottom line, if baby can drink without air bubble interruption, they are less likely to spit up, and they are more likely to feel comfortable during and after feeding times. The goal is to keep the nipple full of milk rather than air to limit the amount of air that your baby swallows. This is the easiest and quickest way you can prevent reflux.
best baby bottles for gas and colic, Reflux, and Spit up (2020 Guide)
With the number of brands in the market, however, finding the best baby bottles for gas and spit up prevention can be quite overwhelming.
To help you on this quest, we have researched and looked up for the leading baby bottle brands that take care of the reflux and spitting issues to help you come up with a more informed buying decision.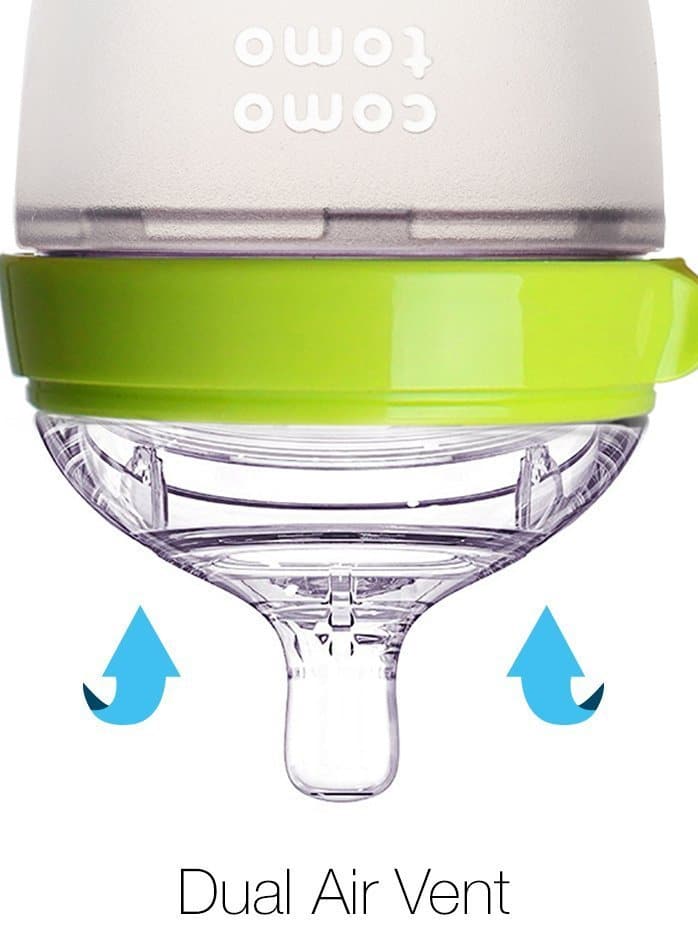 The Comotomo bottles have in built double venting system which helps eliminating air from the nipple. So when the baby breathes in the air while using the bottle, it helps prevent gas and spit up as no vacuum formation happens here.
Both bottle and nipple is 100 percent safe hygienic silicone material with the nipple shaped/worked like a lactating mother's breast, it guarantees easy latching mechanism for babies to effortlessly develop sucking ability or shift from breastfeeding into bottle-feeding.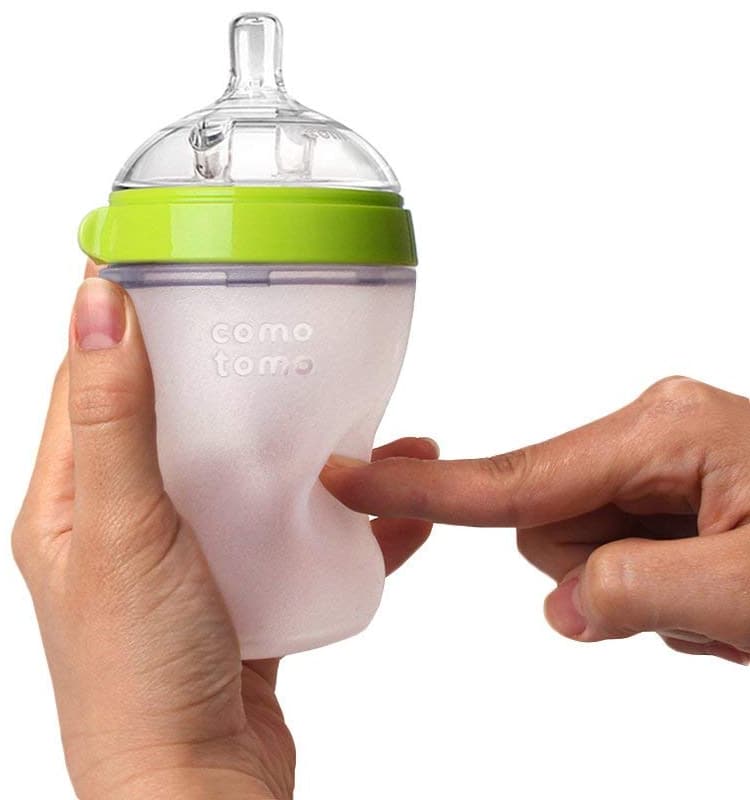 The silicone bottle is also soft and squeezable allowing it to mimic the natural letdown reflex of a woman's lactating breast. When gently squeezed, it allows the milk to flow faster letting the baby feed.
With all the specialties incorporated in the design, it has retained the best seller position as chosen by new moms on Amazon . Read what the moms say about Comotomo here.
Pros
Lightweight and can be easily handled by short moms
Folds tightly and is compact enough for easy transportation
Enough storage space for carrying basic essentials and parent cup holder is great for a small bottle of water or drink
Cons
Locking after folding the stroller needs a hard to push to open
Could have been a little more taller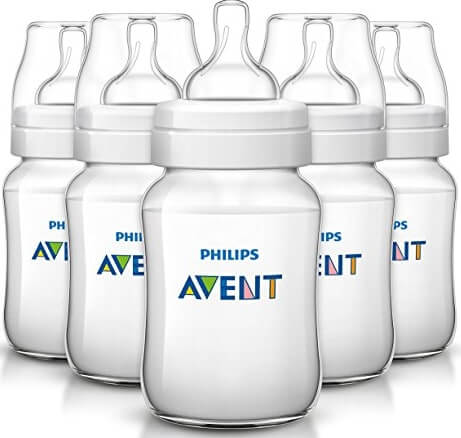 It's Airflex venting system is designed to reduce colic and gas. Shape of the nibbles and it's ribbed texture prevents nipple collapse while sucking for uninterrupted feeding. The wide neck and few parts helps to make cleaning and assembling easy .
Each bottle of the set have a 4-ounce capacity and an extra-soft silicone Newborn-Flow nipple with single hole so the newborns can learn to feed slowly.
Pros:
In built Anti-colic valve integrated into the nipple expels air away from baby's tummy which reduces gas and fussiness
Neck of bottle is wide enough to add cereal to the milk without messing up the neck.
Cons:
Nipple sets are confusing and can easily get mixed up
Does not include cover so that a bottle can be sealed when not in use and then separately attach a nipple when you are ready to use it
Philips Avent baby OR Comotomo Baby Bottle?
Comotomo is favored by many experienced moms over popular Philips Avent because of its unique nipple system. While Avent's nipples are also wider than others, Comotomo nipples (from slow flow to variable flow) definitely mimics a woman's breast allowing baby to develop sucking/latching while minimizing leaking, choking and spit-ups in the process.
The all-silicone body is also a far cry from Avent's plastic-type bottle design which degrades through constant use and can succumb to leaks and breaks when smashed or thrown at a hard object like the floor.
Though a little on the pricey side, Comotomo offers astounding comfort, ease of use and clean-up, and healthy development for babies during their developmental stage. With a cool 100 percent hygienic and hazard-free body and breast-like dual-vent nipples in various flow-types mechanism, few parts wide-neck design and heat resistant mechanism for effortless clean-up, it is no wonder Comotomo Baby Bottles are considered the best baby bottles for gas and spit-up prevention even when placed side-by-side with popular brand like Philips Avent.
Other anti colic baby bottle options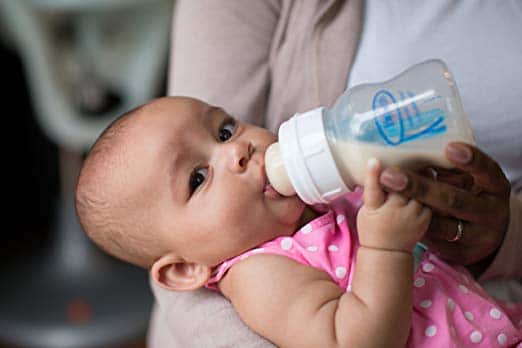 A popular brand since the 70s, the Dr. Brown's Original Wide-Neck Bottle Newborn Feeding Set continue to be in demand in the anti-colic bottle feeding market. This proven-safe set comes with everything a new Mom need to sustain an infant's needs– 3 8-oz baby bottles and 2 4-oz baby bottles, 5 level-1 and 2 level-2 silicone nipples, 5 2-pc patented internal vents, 3 cleaning brushes and 2 storage caps.
It features a patented "vent system" that eliminates air from milk content while preserving essential vitamins. With this vent system, Moms can expect vacuum-free feeding that prevents colic, spit-up and other feeding issues making it the best baby bottles for gas and colic.
Pros
Patented vent system to remove air content from milk while preserving essential vitamins and nutrients.
No more colic, spit-up, and other feeding problems.
Comes with 2 types of natural-flow nipples.
Comes with a detailed instruction.
Cons
Keep small caps securely placed under the lid when traveling to prevent spillage.
Little pieces must still be cleaned thoroughly.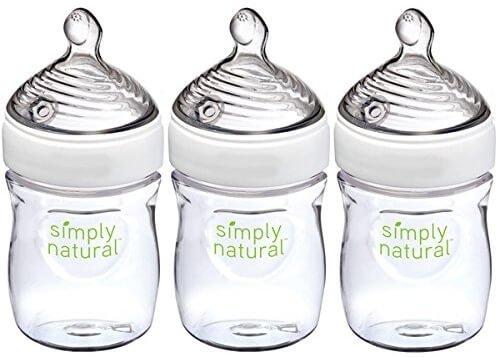 For Moms who juggle between breastfeeding and formula-feeding, the NUK Simply Natural Baby Bottle is a wise and dependable choice. Featuring its multiple-holed nipples (9 total!), the feeding bottle mimics that of a Mother's breast while preventing unwanted air from getting sucked by the baby. This advanced anti-colic system makes feeding not only easy but comfortable to baby and less tedious to Moms. Comes in 1-pack, 2-pack, 3-pack, 6-pack or gift set pack.
Pros
Advanced anti-colic system
Natural-feel nipples
Proven safe and worry-free
Odor and stain resistant
Easy to clean
Cons
Squeeze and pop spill-proof cap to remove.
Needs to use nipple brush to clean the inner area of the flat nipples.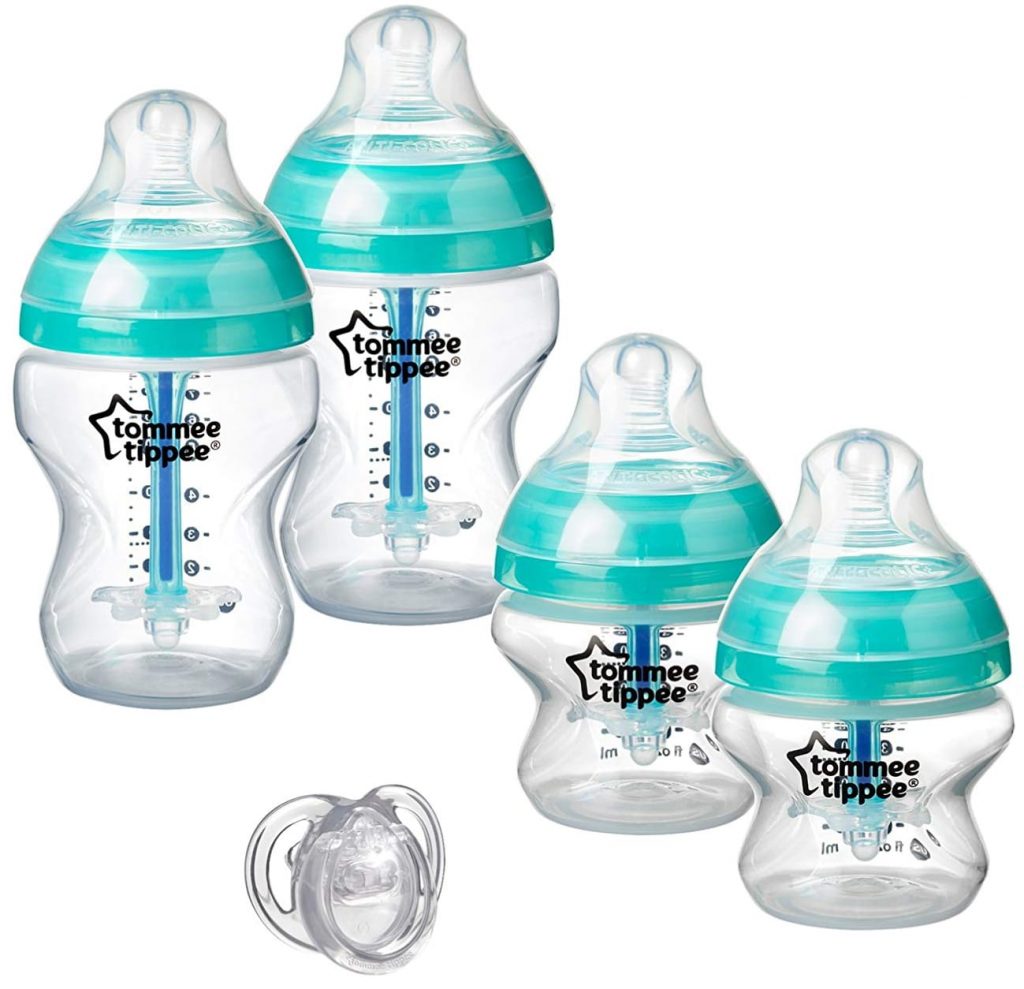 The advanced Anti-Colic Newborn Baby Bottle Feeding Set from Tommee Tippee features an award-winning nipple to guarantee natural latch for babies. This breast-like anti-colic system guarantees less incidence of colic, gas, spit up and other discomfort when feeding baby. BPA- and phthalate- free, this feeding bottle also has heat sensor technology that turns the gauge pink when milk is too hot. More than comfort, it also guarantees baby's safety.
Pros
Guaranteed 80 percent less colic symptoms and other feeding problems
Unique venting system
Heat sensor for safety
Natural-shaped nipple
Cons
Can only use Advanced Anti-Colic nipples from Tommee Tippee for Advanced Anti-Colic bottles to prevent spillage and ensure effectiveness of anti-colic system.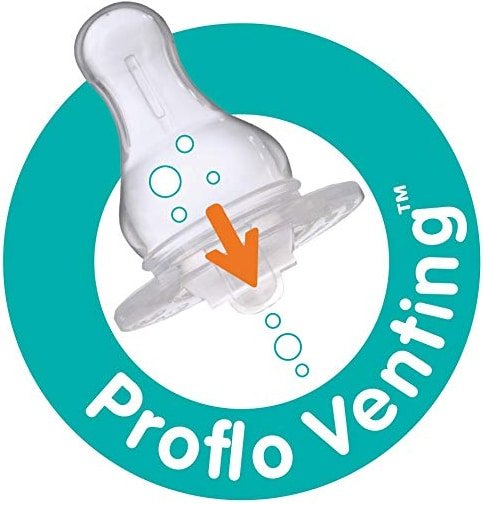 Evenflo Feeding Glass Premium Proflo Vented Plus Bottle Set is another excellent option for breastfeeding and bottle-feeding Moms. Unlike other bottles, this one is made of tempered glass featuring unique Proflo Venting Technology for leak-proof and colic-free feeding. Nipples are also 100 percent safe and made of FDA-approved food grade material. Measuring water constitution is also made easy with dual volume measurement indicated on bottle. Bottles are also compatible with standard-neck breast pumps.
Pros
Recyclable and sustainable tempered glass bottle
Unique Proflo Venting technology
Dual volume marker
Compatible with any standard-neck breast pumps
Easy to clean
Cons
The cover is a bit hard to remove.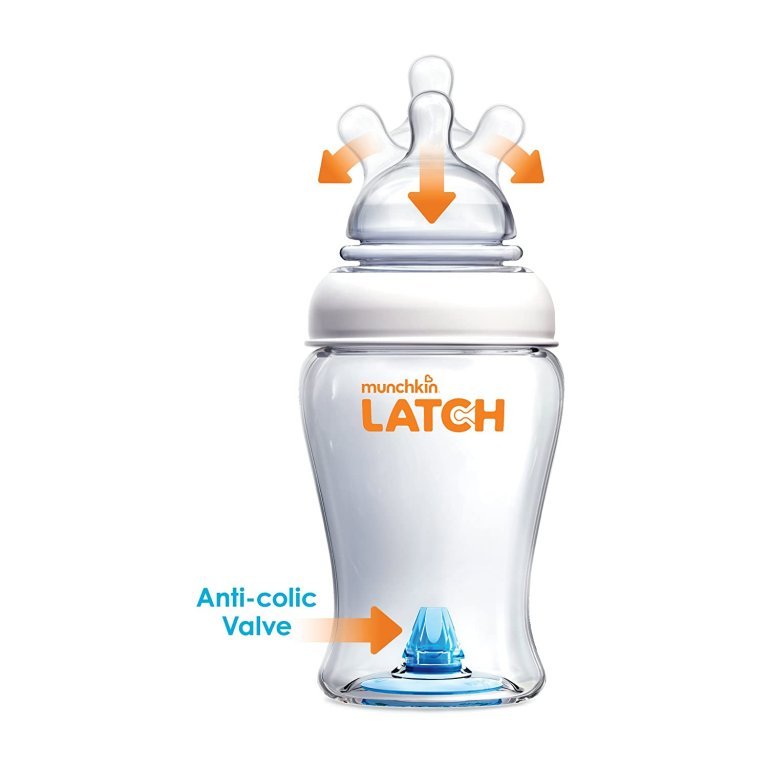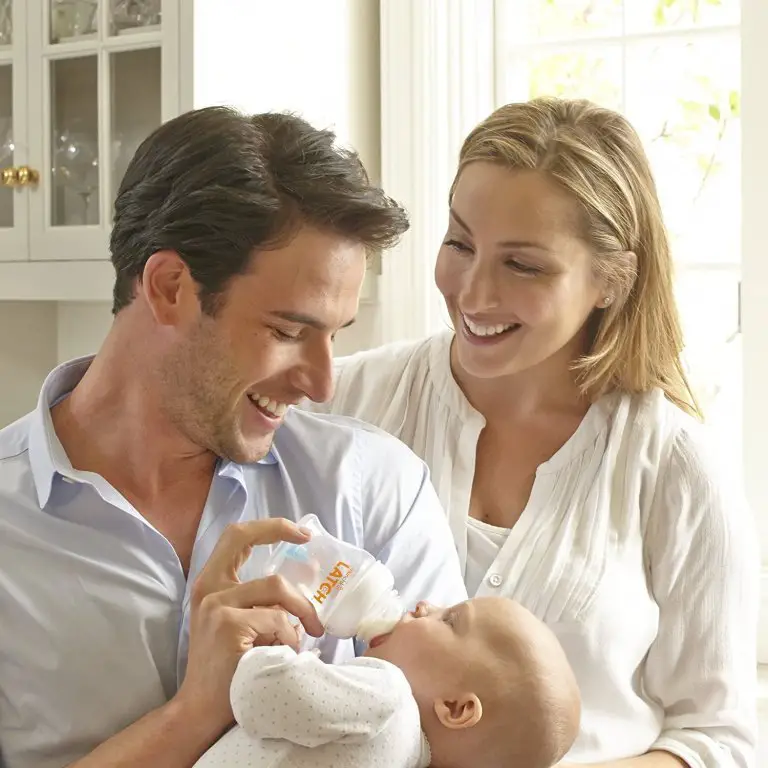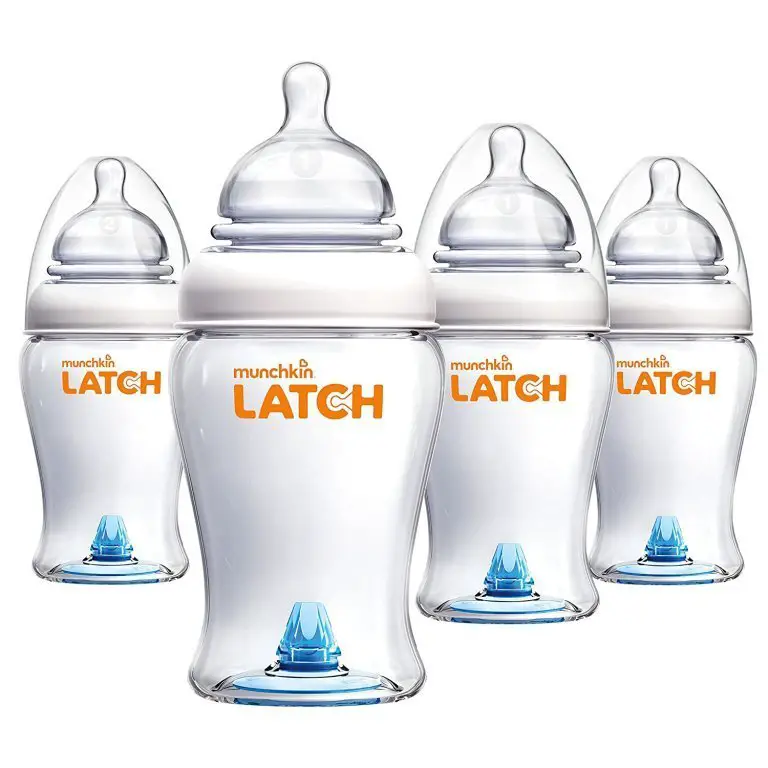 Awarded as "Best Bottle Chosen by Moms" in 2015, the Munchkin Latch BPA-Free Baby Bottle set comes highly recommended. The 4 8-oz bottles is equipped with an anti-colic valve to prevent air from seeping into the milk. Nipple also mimics that of a woman's breast making it easier for baby to latch while preventing colic, gas, spit-up and other feeding troubles. Bottles, nipples and sealing discs are also BPA-free and dishwasher-safe.
Pros
Stretchable nipples for better latch
Pumps like a natural breast
Cons
A bit more pricey than others.
In conclusion, these are the best baby bottles for gas and colic , spit up and gas prevention. The buying guide is to help you to pick the right bottle for you and your little angle.
Keep in mind, baby bottles aren't a one size fits all. Just because your friend or family uses 1 type of bottle it doesn't mean you and your family have to.