Breastfeeding can be a tricky affair if you are outside with your baby. While it is an accepted part of motherhood, and most people will be supportive of you nursing, it is your clothes that can pose a problem. So, to put an end to it, we have brought you 3 beautiful breastfeeding dress options to choose from!
When it comes to maternity and post-partum dresses, most women look for comfort. But merely comfort isn't enough – they also need to be convenient if you are nursing. And of course, many women are particular partial to stylish clothes. And this dress fits perfectly into all these categories!
It is a really stylish dress, and one that doesn't actually even look like a breastfeeding dress. It can go perfectly with some stilettos and some elegant jewelry, and fit in just fine as a regular dress. But the advantage is that the dress has a deep V neckline. This is particularly easy to stretch down for breastfeeding.
As for the other attributes of the dress, let's take a quick look at exactly why this will be super comfy:
It is a summer dress, so naturally it is not going to be stifling or hot.
The material is also a blend of Elastene (5%) and Viscose (95%). This combination contributes to comfort as well as a very beautiful drape.
The elegant Seraphines style knot in the front looks elegant, and also facilitates easy breastfeeding.
The gathered style in the front also helps to conceal the post baby bump. In fact, owing to this design element, you can even wear it while you are pregnant!
Available in 3 colors: Turquoise, Fuchsia & Navy Blue.
And where the comfort is concerned, you should actually check out what new moms who've worn this dress had to say:
The dress is pretty disguising and form flattering – just what a new mom would want post delivery!
The fabric is also super comfortable and quite stretchy. This is particularly good for new moms.
The dress is also quite easy to care for.
To check out all the other helpful tidbits from other new moms, just go check out the reviews. And then if this does fit your budget, go ahead and order it!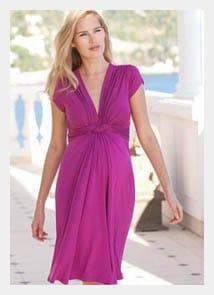 But if that first option was somewhat over budget for you, go ahead and check out this next one…
The high low hemline is pretty in these days – and just because you are a new mom doesn't mean that you cannot sport it! In fact, this empire line dress with an edgy high low hemline is a great way to nurse easily and also disguise your belly!
This dress works pretty well for breastfeeding since the empire line with a gathered look is actually un-stitched. And underneath you have a second bodice, with slits for feeding. When needed, you need to just pull up the empire line and your baby can access your breast.
Again, even with this dress, let's now check out the basic features and aspects of it:
The dress looks pretty elegant, as is evident from the photo. It is actually designed in such a way that it doesn't look even remotely like a maternity or nursing dress.
You can easily dress it up with the right accessories for any special occasion, so that you look great and still nurse your baby when needed.
The material here is a blend of Lycra (6%) and rayon (94%) which is also quite comfortable and looks great too.
Available in 2 colors: Navy Blue & Purple.
And now let's take a look at the experiences that moms who used it had:
The material is actually great and low maintenance. Even if you are traveling, the dress doesn't wrinkle in your bag!
Quite often people won't even be able to tell that you are wearing a maternity dress – because it looks like a regular dress!
The layering on the top for feeding is all but concealed, so again, you can be really discreet.
You could always check out the rest of the reviews on Amazon before making a final choice!

And finally for our last pick – this one is for you if you are looking for a cute dress but are working with a somewhat limiting budget…
This also has an empire design, but it is actually quite unlike the last one. That's because where the last one was elegant, this one is more on the cute and casual side. But then when you are a new mom with baby in tow, you can't always dress dowdy in the name of casual, can you?
So, here is this dress for you. This too has an empire area that is easy to pull aside for comfortable and discreet nursing. In addition to the easy nursing, it also features a skirt gathered in the front. This is perfect for concealing the post partum bump, easily and fashionably!
And now we'll check out some of the basics of this dress:
The fabric is very comfortable and actually looks more expensive than it really is!
It is actually a blend of Spandex and Viscose.
Again, a dress that can easily transform from casual to chic with the right accessories.
Available in 3 colors: Orchid, Sangria Red & Black.
However, the real information about this dress is available in the reviews, and we'll take a look at those now:
The dress is very stretchy and the material comfortable – so that new moms can feel comfortable – something that they obviously value a lot at this time.
While the bodice does stretch a little after nursing, it shrinks back to the original shape after a wash.
The dress easily transforms from a home dress to something you can wear outdoors and you can even continue to wear after you've given up frequent nursing.
As for more information, check out the Amazon reviews for the details. And once you do, go ahead and order them… The budget shouldn't limit you with this!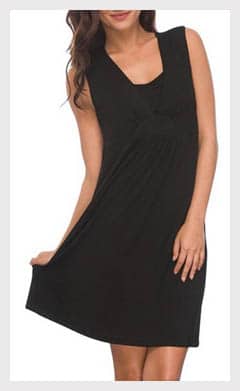 So these were our 3 breastfeeding dress options that are all convenient, flattering and comfortable. Also, there is something to fit every budget. You just need to figure out which is the one for you and order it. And once you do, you will be all set to be the stylish new mom!