Babies are born with a peculiar startling reflex. They tend to get startled by themselves and for no apparent reason from time to time. And this can be disturbing for them, at times affecting their sleep. To prevent this, as well as to keep your baby warm and feeling secure, most mothers swaddle their babies – particularly at nap time.
Especially during the first few months after birth, babies tend to like the secure warmth that possibly reminds them of their time in the womb. But the question still remains: which are the best swaddle blankets that you should get for your baby? And to help you we have researched and found these top 7 swaddle blankets which serves different purpose.
Best muslin swaddle blanket – The Best Swaddle Blankets For Newborns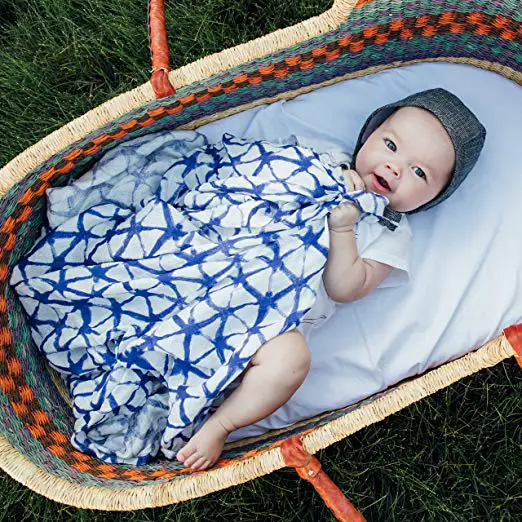 This is a set of 3 blankets, each measuring a perfect 47 inch square. As any mom will know, that is a very good size for your baby. It makes swaddling quite easy and hassle free. And since these are made of muslin – they are soft and not too bulky. This means you can put them to a variety of uses.
In fact, even when your baby is too old to be 'swaddled', these are bound to still be of service. Just use as burping cloths or nursing cover or even light blankets.
Pros
They are larger than any of the cheaper products – which is a great help in swaddling.
They are neither too thick nor too thin. In fact, they are just the right thickness for a tight and secure swaddle and keep baby's arms free at the same time..
Especially in areas where it gets really warm, these are the perfect nap time blankets – they prevent the baby from over-heating!
Cons
It's very soft & stretchy which may ineffective when it comes to swaddling baby who wiggles a lot.
Best organic cotton swaddle blanket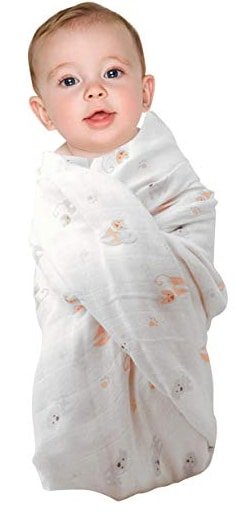 Made from 100% organic cotton which for newborn skin, is the best and safest material. It actually get softer with age and every subsequent wash!
Also for the price, you actually get 3 blankets, each with a different design. Since you can use these for a variety of purposes, 3 ensures that none gets too worn out too soon. For instance, you can use these swaddles also in the stroller, and as a cover at nursing time or tummy time, or any time you want a light covering for your baby.
In fact, when you just take your baby out of the bath and have dried him out – even then you can use this while you finish off with applying lotion and powder before you put on his or her clothes!
Pros
Softer than many others in the market and becomes even more softer after washing.
Shape is just right for perfect swaddling.
Since they are so soft, and made of muslin, they actually fold up into very small rectangles, making it super easy to carry these around in your bag.
Cons
A little costly but worth every penny as per most buyers on Amazon
Best Swaddle blanket for Bassinet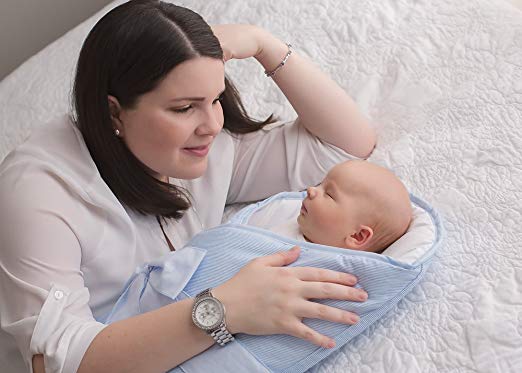 This is a very special design for a swaddle and this posh blanket hugs the baby creating a mother's womb effect. It actually comes with Velcro that ensures that after you swaddle your baby, the cover stays in place.
Another big advantage with this blanket is that it is thick along with being soft. This is because it is specially designed to keep your baby warm – especially when there is a slight nip in the air. If you live in the colder climate, this is the one to have. And of course, you cannot deny that the blanket is super cute to look at and very convenient to boot!
Pros
No fear of giving your baby to a young sibling to hold and cuddle. This is because the pad being firm, it offers adequate support to your baby's delicate neck and head.
Velcro keeps the swaddle in place and well away from baby's face, you can put your baby to sleep in this without worrying about suffocation hazards!
Cons
Expensive product specially when you consider that you pay the price for just one blanket
Best swaddle blanket for newborn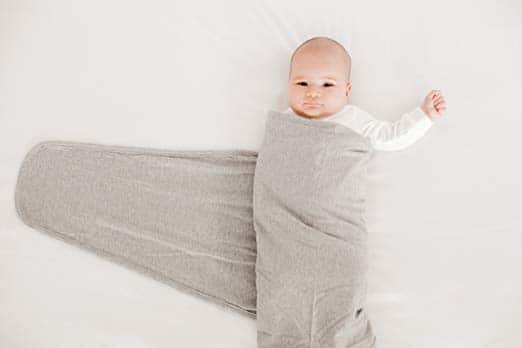 Everyone needs a miracle, even more so when it comes to parents deprived from sleep doting on their new bundle of joy. With the Miracle Blanket Swaddle such "miracle" is finally made possible. Made of 100 percent cotton with no itchy, noisy Velcro to disturb baby's every twist and turn, this gives baby undisturbed sleep.
With its triple patented arm flap design and length, it guarantees zero facial scratches or even sign of twitching that disturbs the baby's sleep. Check what colors you want from here.
Pros
Made of 100 percent cotton for a more comfortable sleep
Relieves fussiness in babies
No Velcro to scratch or disturb baby's rest
Features triple patented arm flap design to keep baby's arms secure
Cons
Can be tough to wigglers
Doesn't tuck in or secure at the end of the swaddle
Best self-soothing swaddle blanket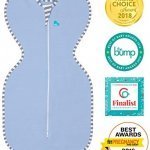 Love To Dream Swaddle UP Original 1.0 TOG comes highly recommended for infants. An excellent swaddle that supports self-soothing, it allows baby to freely stretch their arms up allowing them a more relaxed, deeper sleep and access to their hands when they feel like sucking their fingers or touching their cheeks.
Made of cotton and elastane, it's fitted snugly on baby's torso area and comfort-fit on top allowing calming effect when startle reflex sets in. This single-layer breathable fabric also prevents any risk of overheating. Two-way zipper design also allows ease of diaper change.
No wonder it garnered various awards over the years for it's easy to use features. Check for color choices here.
Pros
Made of pure cotton blend and elastane for snug comfort
No loose fabric as a suffocation hazard
Dual zipper system for ease of swaddling and diaper change
Only "Arms Up" swaddle design
Allows baby to freely soothe themselves
Less risk of overheating
Cons
XS size not recommended for practical purposes
Best velcro swaddle blanket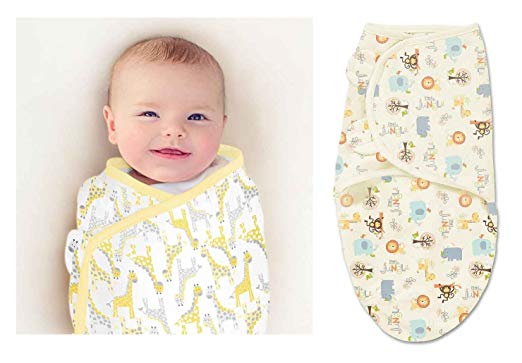 For many practical parents, the Summer Infant SwaddleMe Adjustable Infant Wrap's 2-count pack offers the perfect solution in saving money while ensuring safety and comfort of the baby.
Made of extra soft fabric, this swaddle is designed for infants 7lbs to 14lbs as it securely offers snug-fit comfort while ensuring secured fastening to guarantee deep, undisturbed sleep and can be used as a burp cloth or nursing cover too.
The leg pouch also pops open allowing ease in changing diapers. Traveling or going out and about? The SwaddleMe is also designed with a harness slit compatible with 5-point harness restraints. Self-fastening Velcro tabs can be adjusted perfectly to grow with your baby. Check design of the 2-pack swaddle here.
Pros
Designed with adjustable "wings" perfect for wigglers
Soft fabric for more comfort and warmth
Stay-secure fastening Velcro which adjusts as baby grows
Convenient leg pouch mechanism for ease in changing diaper
Designed with slit compatible with any 5-point harness restraints
Cons
Too thin fabric stretches allowing wiggler-babies to succumbed to startle reflex or get out of place.
Best winter swaddle blanket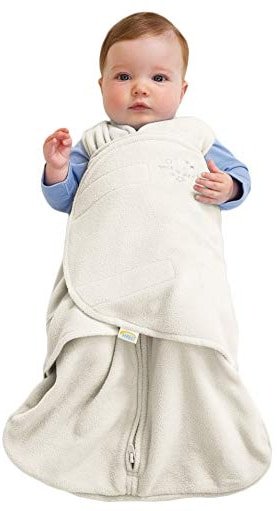 Last but not least, the HALO Sleep Sack Micro-Fleece Swaddle offers one of the best snug-fit comfort. Functional yet practical, this 100 percent polyester microfleece fabric is super soft and designed to wick away moisture, and can be used as a wearable blanket keeping the arms free while ensuring the baby is toasty warm during chilly or cold seasons.
The swaddle can also be adjusted in three ways– baby's arms-in (to prevent Moro reflex), hands-to-face (For self-soothing) and arms out (for transition to rolling). Additionally, it also comes with touch, adjustable fasteners for snug-fit comfort and security from breakouts particularly to wigglers.
The zipper at the bottom area can also be unlocked for easy diaper change. Recognized as "Hip Healthy" by the International Hip Dysplasia Institute, it is no wonder many hospitals and maternity clinics across the globe use the HALO SleepSack Micro-fleece Swaddle.
Pros
Adjustable 3-way wrap to suit baby's sleeping style
Recommended by hospitals
Tagged as "Hip Healthy" by the International Hip Dysplasia Institute
Made of 100 percent polyester microfleece fabric offering snug-fit comfort and warmth
Many parents have also remarked that this blanket can be used as a nursing cover too.
Ideal for transitioning to a SleepSack
Zippered bottom for ease and convenience of a diaper change
Cons
Can be a tad short for tall babies
And there you have it – swaddle blankets that too in a variety of price ranges. Now whatever your budget, you can always get one to keep your little one feeling warm and secure. And if you wanted to gift it to a new mom you know – then you can do that too!