When I had my first baby, as an inexperienced mom, I hated having to trek up and down the stairs to attend to the stinky pants. I was also confused about what to put in my portable diaper caddy as I wanted to have one when I took my baby to my parent's house. My sister suggested that I have two organized best diaper caddy for downstairs and upstairs beside the changing station and also one for taking the baby out. And that changed my life! I've found that the key to making diaper caddy useful, is to regularly check and update the things I need to store in the caddy to meet the baby's current requirements.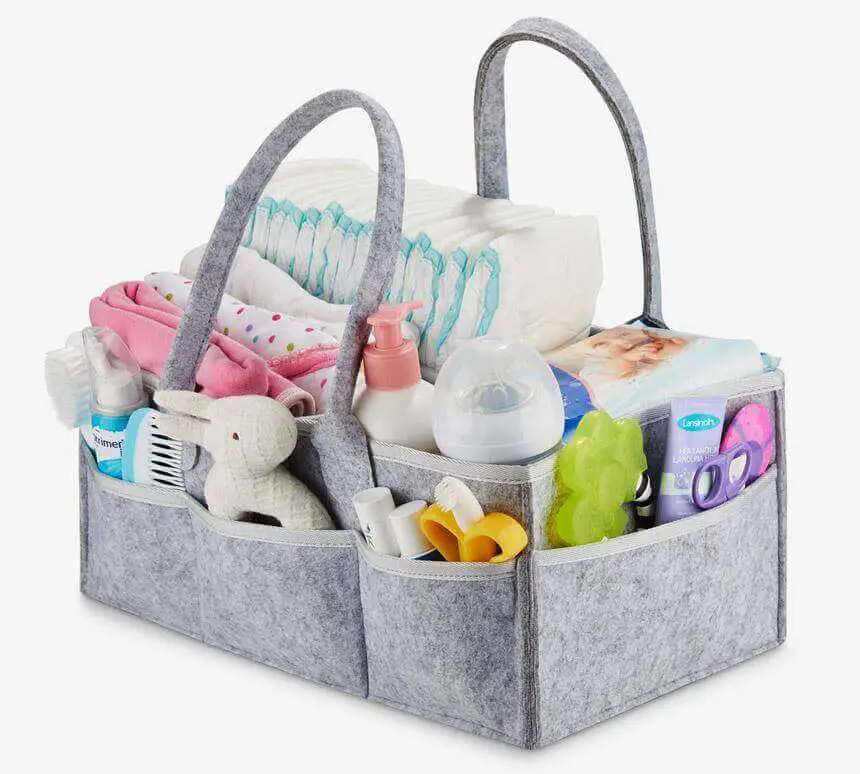 Babies normally require a lot of diaper changes in the first few months of life, and a properly organized diaper caddy is a must-have for new moms. Like shower caddies holding all bathroom essentials, a diaper caddy should hold just everything a baby needs for a diaper change or when rashes and insect bites start creeping in.
So…
What to put in a diaper caddy? (Diaper caddy essentials)
Technically, a diaper caddy should hold all baby essentials that can be arranged neatly into its slots and especially needed when taking the baby out for a doctor's visit or general outings.
Here's a list of things that your caddy shouldn't be without:
When it comes to taking care of a newborn, diapers are an essential item. Your baby will go through at least 10 diaper changes a day, so make sure you have plenty of them on hand. Choose the right size for your baby's weight and age to ensure a comfortable fit.
Keeping your baby clean during diaper changes is important, and antibacterial wipes are a great option for wiping down your baby's bottom. These wipes are designed to kill germs and bacteria, which can help prevent infections and other health issues.
Changing pads provide a soft and clean surface for your baby during diaper changes, and also protect your furniture from messes. Choose a pad with a waterproof cover that can be easily cleaned and sanitized.
Diaper rash is a common problem that can be painful for your baby. Make sure to have a diaper cream on hand to quickly soothe any irritation. Look for a cream that contains zinc oxide, which can help heal the skin and prevent further irritation.
Babies can easily get congested, especially during cold and flu season. Use a nasal aspirator after bath time to clear out any buildup in your baby's nose. This can help your baby breathe more easily and sleep better.
A pacifier can be a great tool to calm your baby during diaper changes or on-the-go. Be sure to choose a pacifier that is the right size for your baby's age and stage of development. Storing an extra pacifier in your diaper caddy can also come in handy in case one gets lost or dirty.
Baby lotion is a great way to moisturize your baby's skin and prevent dryness or eczema. Look for a gentle, hypoallergenic formula that is free from fragrances and harsh chemicals.
Your baby's nails can grow quickly and may even scratch themselves if they get too long. Make sure to have a pair of baby nail clippers on hand to keep their nails trimmed and prevent any accidental scratches.
Keeping track of your baby's temperature is important, especially when they're feeling unwell. Use a reliable thermometer like Braun thermometer to scan your baby's temperature before a bath or when they're not feeling well. Be sure to follow the manufacturer's instructions carefully to get an accurate reading.
During diaper changes, it's important to keep your baby entertained and distracted. A toy can provide visual and tactile stimulation for your baby, helping to make the diaper-changing process easier and more enjoyable for both of you.
Keeping your hands clean is important for your baby's health and safety. Use hand sanitizer before touching your baby, especially during cold and flu season or when you're out in public. Choose a sanitizer with at least 60% alcohol content to effectively kill germs and bacteria.
The key to choosing what goes into a diaper caddy is to assess what your own baby needs on a daily basis and update and stock it up.
Now that you know what to include in your diaper caddy, it's important to choose the right one.
What is the best diaper caddy?
There are various types of diaper caddy which I researched and compiled when I was doing my search for best diaper caddy. You should get one according to what you may require. Here's the list of some of the best diaper caddies that I compiled.
Top 6 Types of Diaper Caddies for Busy Parents
| Type of Diaper Caddy | Description | Best Features |
| --- | --- | --- |
| Sturdy Diaper Caddy | Made of heavy-duty frame and tough slots to hold baby's essentials without a cinch. Can be carried or buckled anywhere without folding.  Read more about my research on this type of caddy here. | Durable, easy to organize, and has a long lifespan. |
| Stylish Diaper Caddy | Chic and usually comes with artistic trimmings yet maintains utmost functionality. Sometimes resembles a tote bag. Here's what I found out about stylish diaper caddy. | Fashionable, practical, and versatile. Can be used for other purposes besides carrying baby essentials. |
| Versatile Diaper Caddy | Can be easily buckled on the play yard, closet, car seat, or changing table. Here's what I found about versatile diaper caddies. | Flexible, can be used for various purposes, and can be conveniently hung anywhere. |
| Portable Changing Caddy | Can be used in a car, nursery, crib, or stroller when out and about. Here's the best type of portable diaper caddies I found. | Convenient, easy to carry, and has enough storage for baby essentials. |
| Pack-N-Play Diaper Caddy | Roomy and convenient, with slots big enough for toys and baby stuff. Can be hanged on a crib's side, in a tent, or stroller when having fun outside.  Read more about Pack n Play diaper caddy here. | Spacious, practical, and perfect for outdoor activities with your baby |
| Hanging Diaper Caddy | Can be attached to the side of the crib, closet, or changing table. Here are some great choices. | Saves space, easy to access, and keeps baby essentials organized. |
Diaper Caddy for Organizing Changing Table
This can either be a portable one or a stationary caddy or one that hangs on the side of a changing table. Read more about this type of diaper caddy here.
There's more to a diaper caddy than just what meets the eye. When thinking of buying one or you are organizing it, ensure that you know precisely what's best for your baby care routine and what essentials to stock. With that, you can easily find the ones that you need and make taking care of baby's clean-up needs more convenient and fun.
Which is better? Diaper Caddy Or Diaper Bag? (Diaper Caddy Alternative)
Whether a diaper caddy or a diaper bag is better for you depends on your needs and preferences.
A diaper caddy is designed for quick and easy access to baby essentials during diaper changes. It usually sits on a changing table or can be easily carried around the house, and it's perfect for organizing and storing all the diapering supplies. Diaper caddies are generally smaller and more compact than diaper bags, making them ideal for shorter trips or when you need to change your baby's diaper in a hurry.
On the other hand, a diaper bag is designed for longer outings, such as day trips or overnight stays. It usually has more storage space and compartments for organizing not only the diapering supplies but also clothes, snacks, and toys. Diaper bags come in a variety of sizes and styles, from backpacks to messenger bags, and are typically designed to be carried over the shoulder or worn as a backpack.
In summary, if you need something for quick access and easy organization at home or short trips, a diaper caddy is probably the better choice. If you need something that can hold more supplies for longer outings or trips, a diaper bag would be more suitable. Ultimately, the choice between the two comes down to personal preference and your individual needs.
Can't I Just Use A Storage Container instead of a diaper caddy?
While a storage container can be used to store your baby's essentials, it may not be the most convenient option when it comes to diaper changes. A diaper caddy is designed with specific compartments and pockets to hold diapers, wipes, creams, and other baby essentials in an organized and easily accessible way. It is also designed to be portable, making it easy to move from room to room or take with you on the go. A storage container may not provide the same level of convenience and organization as a dedicated diaper caddy.
If budget is a constraint, do not worry. You can use other organizational options by just being a little more creative. Look around your house and see if there's a spare storage bin to use as a portable diaper caddy. Or you can make your own diaper caddy at home. Watch the video below which shows how to make a cheap diaper caddy.
The video shows how to make a cheap diaper caddy using a cardboard box, fabric, and glue. The presenter demonstrates step by step how to cut and fold the box to create compartments, wrap it with fabric, and attach handles. The finished caddy can hold diapers, wipes, and other baby supplies, and can be easily transported from one room to another. The presenter emphasizes that this DIY project is budget-friendly and can be personalized by using different colors and patterns of fabric.
I know some moms even use a cleaning caddy or a shower caddy. Whatever, your storage solution is, if it doesn't have any compartments, repurpose your makeup or travel bags to organize your essentials
Bottom line, I found it a great timesaver and relief that I do not have to go to the nursery upstairs, every time my baby needs a diaper change. Plus, a diaper caddy is even more useful for moms who have to keep an eye on a toddler while having to change the diaper of the newborn.
First, figure out exactly what you need to store in the caddy, and then choose the perfect caddy to keep diaper changes organized and hassle-free.
Now's your turn to share your secrets for keeping diaper changes easy and drama free. As always, I'd love to hear your feedback in the comment box below