Welcoming a newborn into your life can be an incredibly joyous and exciting experience. One of the best ways to capture those precious moments is by taking stunning photos of your little one. Newborn photography props can enhance those images and help create unforgettable memories.
In this section, we will explore the world of DIY newborn photo props and how they can help you capture those special moments of your baby. We will share some cost-effective, easy, and homemade ideas to create unique and personalized props that will make your photos extraordinary.
Key Takeaways:
DIY newborn photo props add a personal touch to your baby's photos.
Cost-effective ideas can help you create beautiful props without breaking the bank.
Easy and homemade newborn photo prop ideas can be created using simple materials found around your home.
Newborn photography prop tutorials and inspiration can help you explore different styles and trends.
Capturing memorable moments of your baby with DIY newborn photo props is a fun and creative way to make those memories last.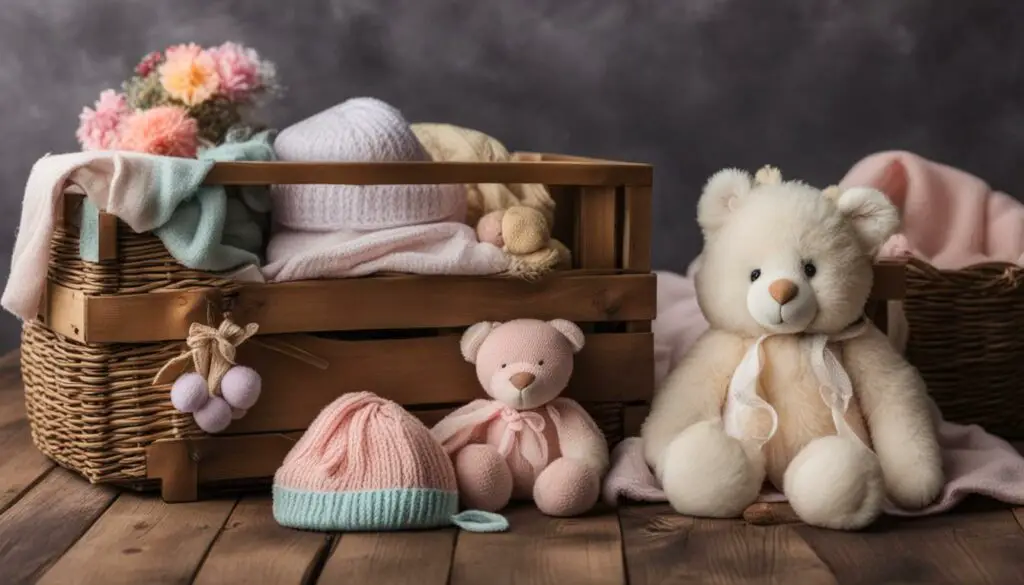 Cost-Effective DIY Newborn Photo Props Ideas
Capturing beautiful photos of your newborn doesn't have to be expensive. In this section, we'll share some cost-effective DIY newborn photo prop ideas that won't break the bank. These DIY ideas will help you create beautiful and memorable photos of your little one without overspending.
DIY Newborn Photo Props on a Budget
If you're looking to create DIY newborn photo props without spending a lot of money, these ideas are for you:
| Prop | Materials | Description |
| --- | --- | --- |
| DIY Headband | Fabric, Scissors, Glue Gun, Elastic Band | Create a headband that complements your baby's outfit. Choose a stretchy fabric, cut out a strip of fabric, and glue it to an elastic band. Simple and easy! |
| Fur Rug | Faux Fur, Scissors, Glue Gun | A fur rug is a classic newborn prop. Cut out a piece of faux fur, glue it onto a piece of cardboard, and you have a soft and furry backdrop for your baby's photos. |
| Wreath | Foam Ring, Faux Flowers, Hot Glue Gun | Create a wreath for your baby to lie in. Glue faux flowers onto a foam ring, and voila! A beautiful prop for your baby's photos. |
These are just a few examples of the many DIY newborn photo props you can create on a budget. Get creative and make something unique for your little one!
Cheap Newborn Photo Props
If you're willing to spend a little more money on your DIY newborn photo props, these ideas are still relatively cheap:
Blankets: Use soft and cozy blankets as backdrops or props for your baby's photos.
Baskets: Place your baby in a rustic basket for a charming and simple prop.
Hats: Knit or buy a simple hat to add a cute touch to your baby's photos.
These cheap newborn photo props may require a little more investment, but they can still be very cost-effective compared to buying professional props.
With these DIY newborn photo prop ideas, you'll be able to create stunning photos of your baby without overspending. Whether you use something from around your house or make something new, your baby's photos will be unforgettable.
Easy and Homemade Newborn Photo Props
If you're looking for simple and affordable newborn photo prop ideas that you can create at home, you've come to the right place! With just a few materials and a little bit of creativity, you can DIY unique and charming props for your baby's photos. Here are some ideas to get you started:
Paper Flowers
One easy and lovely newborn photo prop idea is paper flowers. You can create these beautiful props by cutting out flower shapes from colored paper and attaching them to stems made from wire or floral tape. Arrange the flowers in a vase or use them as a backdrop for your baby's photos. This will add a soft, romantic touch to the images.
Fabric Bunting
To create a whimsical and colorful newborn photo prop, you can make a fabric bunting. Cut out triangles from different fabrics and sew them together onto a long strand of ribbon. Hang the bunting in the background of your baby's photos. This prop will bring a cheerful and playful vibe to the pictures.
Basket or Crate
Another easy newborn photo prop idea is to use a basket or crate as a prop. You can fill the basket or crate with soft blankets or fabrics, and place your baby inside. This will create a cozy and snug space for your little one, and make for an adorable photo.
Baby Headbands
You can also create cute and stylish headbands for your baby's photos. Use stretchy materials like elastic or lace, and add embellishments such as flowers, bows, or pearls. These headbands will add a touch of elegance and charm to the photos.
DIY Tutu
A DIY tutu can make for a delightful and fluffy newborn photo prop. You can create this prop by attaching tulle to a waistband made from elastic. Choose different shades of tulle for a colorful effect, or stick to one color for a classic look. Place your baby on a soft blanket or fabric, and capture their cuteness in this lovely prop.
Newborn Prop Ideas: Inspiration and Tutorials
Creating your own newborn photo props can be a fun and rewarding experience. Not only will you save money, but you will also have the satisfaction of knowing that you created something unique and personalized for your baby's photos. If you're looking for inspiration, check out these newborn prop ideas:
Basket Props
Basket props are a classic and versatile prop that can be used for a variety of poses. Whether you're looking for a rustic and cozy look or a sophisticated and elegant one, basket props can provide the perfect touch. You can easily create your own basket prop using a wicker basket and some cozy blankets or faux fur. Use the blankets to line the basket, and pose your baby inside for stunning photos.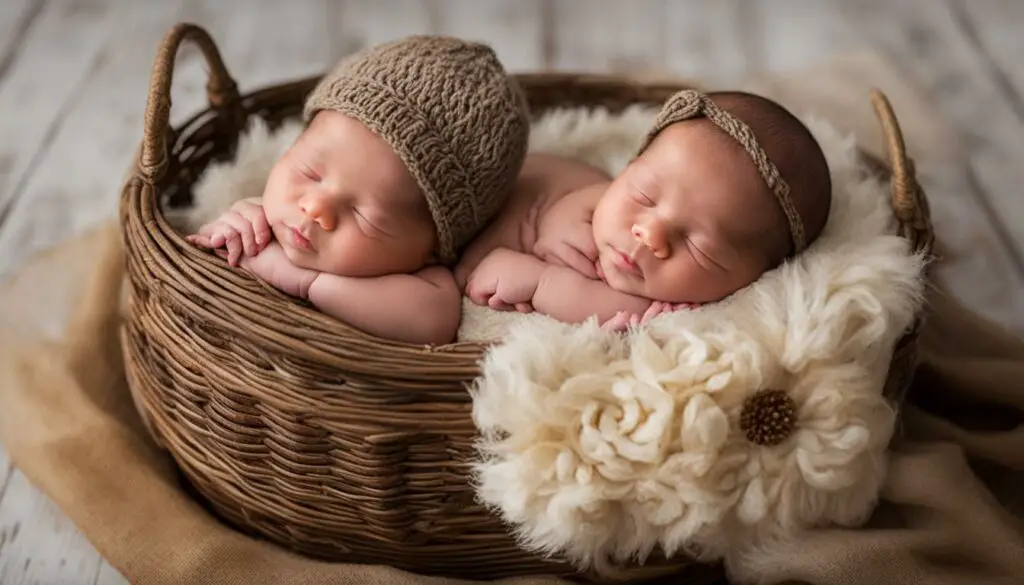 Headband and Hat Props
Headbands and hats are a simple and easy way to add a touch of personality and style to your baby's photos. You can create your own headbands and hats using soft fabrics and simple sewing techniques. Mix and match colors and patterns to create a variety of looks, from cute and whimsical to chic and sophisticated.
Wraps and Swaddles
Wraps and swaddles are another simple and versatile prop that can add texture and depth to your baby's photos. You can create your own wraps and swaddles using soft and stretchy fabrics like jersey or muslin. Experiment with different wrapping techniques to create unique and cozy poses for your baby.
DIY Backgrounds
Creating your own backgrounds can add a personal touch to your baby's photos and make them stand out. You can use simple materials like fabric, paper, or even wallpaper to create beautiful and unique backdrops. Use the backdrop to complement your other props and create a cohesive and professional look.
Newborn Prop Tutorials
"I absolutely love the tutorials on The Littlest Blog. They offer step-by-step instructions and beautiful photos that make it easy to create your own newborn props. From posing pillows to tiebacks, they have everything you need to get started!" – Emily
If you're looking for more guidance and inspiration, there are a variety of newborn prop tutorials available online. Check out resources like The Littlest Blog, which offers a wealth of tutorials and tips for creating your own newborn props. You can also check out YouTube videos and other online resources for more ideas and inspiration.
Now that you have some inspiration and ideas, it's time to get started on creating your own newborn photo props. Whether you're a seasoned DIY pro or just getting started, there's no limit to the creative possibilities when it comes to newborn photography props.
Conclusion
Congratulations on exploring the world of DIY newborn photo props! By creating your own props, you're not only saving money but also adding a personal touch to your baby's photos that can't be found in store-bought props.
As you've learned, there are countless ideas and inspiration available for DIY newborn photo props. From easy and homemade to cost-effective and trendy, you can choose the style that fits your budget and preferences best.
Remember to have fun and be creative with your props. Don't be afraid to experiment and try new things. Your baby's photos will be a lasting memory of their first days and weeks of life, so make them as extraordinary as possible!