Congratulations on the arrival of your little one! As a new parent, you are likely looking for ways to capture and treasure every precious moment with your newborn. One of the best ways to do this is through newborn photography. Not only does it allow you to freeze your baby's fleeting moments in time, but it also provides a beautiful way to display your love and pride as a parent.
However, capturing perfect newborn photos isn't always easy. From selecting the right poses and props to choosing the ideal location, there are many factors to consider. But don't worry, we've got you covered. In this guide, we'll explore essential tips and tricks for mastering newborn photography and creating beautiful memories that will last a lifetime.
Key Takeaways:
Newborn photography is a beautiful way to capture and treasure memories of your little one.
There are many factors to consider when preparing for a newborn photography session.
Getting creative with poses, props, and outfits can add a personal touch to your photos.
The location you choose can greatly impact the overall mood and aesthetics of your photos.
Understanding photographer packages and pricing is important for selecting the right professional for your needs.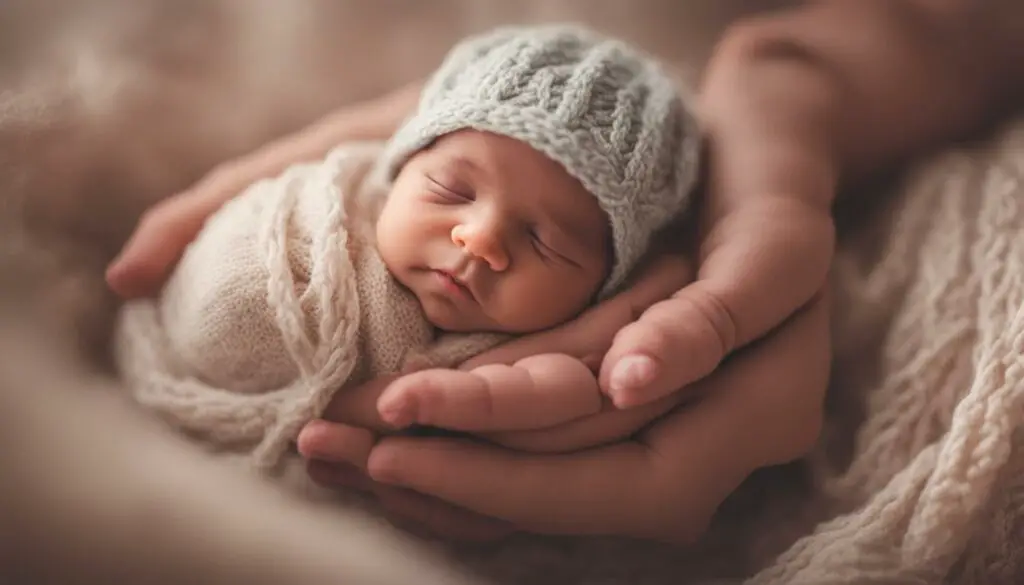 Preparing for a Newborn Photography Session
Capturing beautiful photos of your newborn requires careful planning and preparation to ensure a smooth and successful session. Here are some tips to help you get started:
Create a Schedule
Set a date and time for your newborn photography session well in advance, when your baby is between 5-14 days old, as this is the best time to capture those tiny details and poses. Ensure the photographer you select is available on your preferred date.
Prepare Your Baby
Before the session, make sure your baby is well-fed, rested, and clean. This will help keep them comfortable and relaxed during the shoot. Bring extra clothes, diapers, and wipes in case of any accidents.
Choose the Location
Decide where you want to have the photography session, whether it's in a studio, your home, or an outdoor location. Try to choose a place that is well-lit and has ample space for the photographer's equipment and props.
Select the Props and Poses
Discuss with your photographer the props and poses you would like to use during the session. They will guide you through the process and suggest ideas that suit your style and preferences. You can check out our article on Exploring Newborn Photography Poses and Props for more inspiration.
Dress for Success
Select comfortable, coordinating clothes for yourself and your partner, if you will be included in the pictures. You can also dress your baby in soft, simple clothes that won't distract from their natural beauty. Avoid clothes with logos or graphics, and stick to solid colors or subtle patterns.
Be Flexible
Finally, stay flexible and patient during the session. Babies can be unpredictable, so be prepared to take breaks, feed, and calm your baby as needed. Trust your photographer and enjoy the experience of capturing these precious newborn memories.
Getting Creative with Newborn Photography Ideas
When it comes to newborn photography, there are plenty of ways to get creative and personalize your photos to make them even more special. Here are some ideas to inspire you:
Use meaningful props: Adding personal items to your photos can make them more meaningful. Consider incorporating a cherished family blanket, a favorite toy, or a special outfit into your photos.
Try different poses: While there are classic newborn poses that are always beautiful, don't be afraid to experiment with different poses to find what works best for you and your little one. Some ideas to consider include the froggy pose, the taco pose, and the side-lying pose.
Get siblings involved: If you have older children, including them in the photo shoot can be a great way to capture some sweet moments between siblings.
Include parents: Don't forget to include yourself and your partner in the photos! Getting photos with your baby can be a special way to capture the bond between you and your little one.
Get creative with lighting: The right lighting can make all the difference in your photos. Consider using natural light from a window or experimenting with different types of artificial lighting to create a unique look.
Sample Table:
| Prop | Description |
| --- | --- |
| Stuffed animal | A cuddly toy can add a touch of sweetness to your photos and can also be a great prop for posing your baby. |
| Flowers | Fresh flowers can add a pop of color and texture to your photos. Consider using a bouquet of your favorite blooms or a single flower to add a delicate touch. |
| Hat | A tiny hat can be an adorable accessory for your baby's photos. Consider choosing a hat that matches your baby's outfit or selecting a favorite color or pattern. |
| Basket or bucket | Using a basket or bucket as a prop can be a great way to pose your baby and add some dimension to your photos. |
Remember, newborn photography is all about capturing the beauty and innocence of your little one. Don't be afraid to get creative and have fun with it!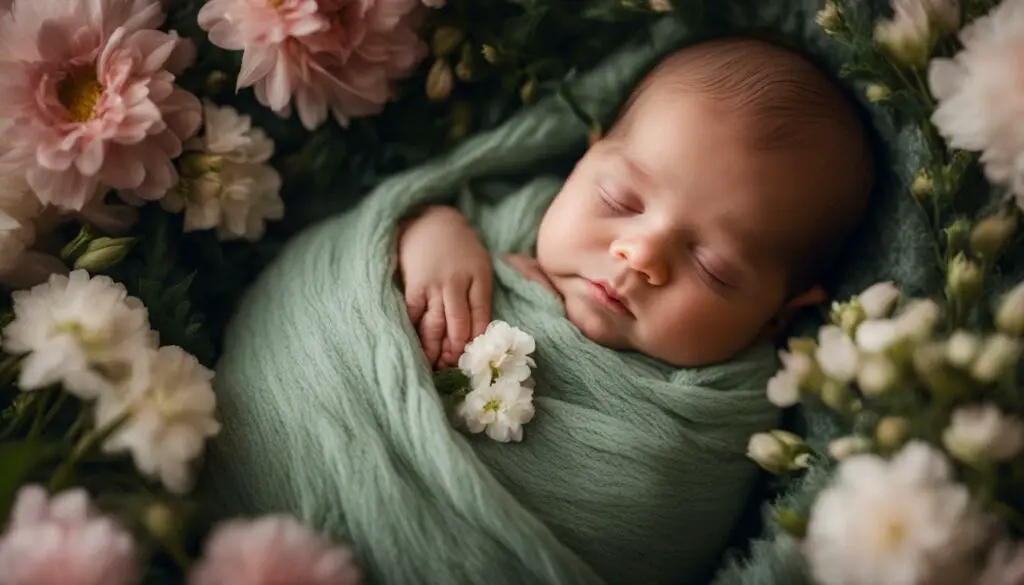 Exploring Newborn Photography Poses and Props
When it comes to capturing stunning newborn photos, the poses and props you choose can make all the difference. Here are some popular poses and props used in newborn photography that you can incorporate into your own session:
| Newborn Photography Poses | Newborn Photography Props |
| --- | --- |
| Curled up: Place the baby on their tummy with their knees tucked under their belly and their hands under their chin. | Baskets: Wicker baskets make great props for newborn photography. Line them with soft blankets for added comfort and style. |
| Wrapped up: Swaddle the baby in a soft blanket and capture their peaceful sleeping face. | Hats: Crocheted or knitted hats add a cute and cozy touch to newborn photos. |
| On their back: Capture the baby lying on their back, looking up at the camera. | Faux furs: Soft faux furs can be used as a backdrop or a cozy spot for the baby to lie on. |
When selecting poses and props for your newborn photography session, it's important to consider your baby's comfort and safety first. Make sure all props are clean and free of sharp edges, and always keep a close eye on your baby during the shoot.
Dressing Your Newborn for the Perfect Shot
Choosing the right outfits for your newborn photography session can make a big difference in the overall look and feel of your photos. While you want your baby to look cute and stylish, it's also important to prioritize comfort and safety. Here are some tips for selecting the perfect outfit:
Keep it simple: Choose outfits that are minimalist and not overly busy. Solid colors or simple patterns work best for newborns.
Think about textures: Soft, cozy fabrics like cotton and wool are perfect for newborns. Avoid materials that are itchy or uncomfortable, like lace or tulle.
Mind the fit: Newborns grow quickly, so make sure the outfit fits snugly without being too tight. Clothes that are too loose can bunch up and look messy in photos.
Coordinate with the environment: Consider the colors and tones of the backdrop or location you've chosen for your session. Choose outfits that complement and enhance the environment.
Show off those tiny features: Many parents choose to go with simple, timeless outfits that highlight their newborn's tiny fingers, toes, and other precious features.
Remember, you don't need a lot of outfits for your newborn's photo shoot. A few simple options will suffice, especially if you plan to include some of your baby's natural features or use props. When in doubt, consult with your photographer for advice on what will work best for your session.
Finding the Ideal Location for Newborn Photography
Choosing the right location for your newborn photography session can be a daunting task, but it's essential for creating beautiful and memorable photos of your little one. Here are some tips to help you select the ideal location:
Consider natural light: Look for a location that has ample natural light, as it can greatly enhance the quality of your photos. A room with large windows or an outdoor spot with plenty of sunshine can provide the perfect lighting for your newborn's portraits.
Think about the background: The background of your photos can greatly impact the overall aesthetic. Look for locations with visually appealing backdrops, such as a park with trees or a white-walled room. You want your baby to stand out in the photos, without being distracted by a busy or messy background.
Consider the temperature: Newborns are sensitive to temperature changes, so it's important to choose a location that is comfortable for your baby. Keep in mind that outdoor locations can be unpredictable, so plan accordingly with layers or blankets.
Look for sentimental spots: If you have a special place in mind, such as a family home or a favorite park, consider incorporating it into your newborn photography session. These sentimental locations can add a personal touch to your photos.
Remember, there is no one-size-fits-all location for newborn photography. It's important to choose a location that works best for you and your baby. Don't be afraid to get creative and try different options until you find the perfect spot.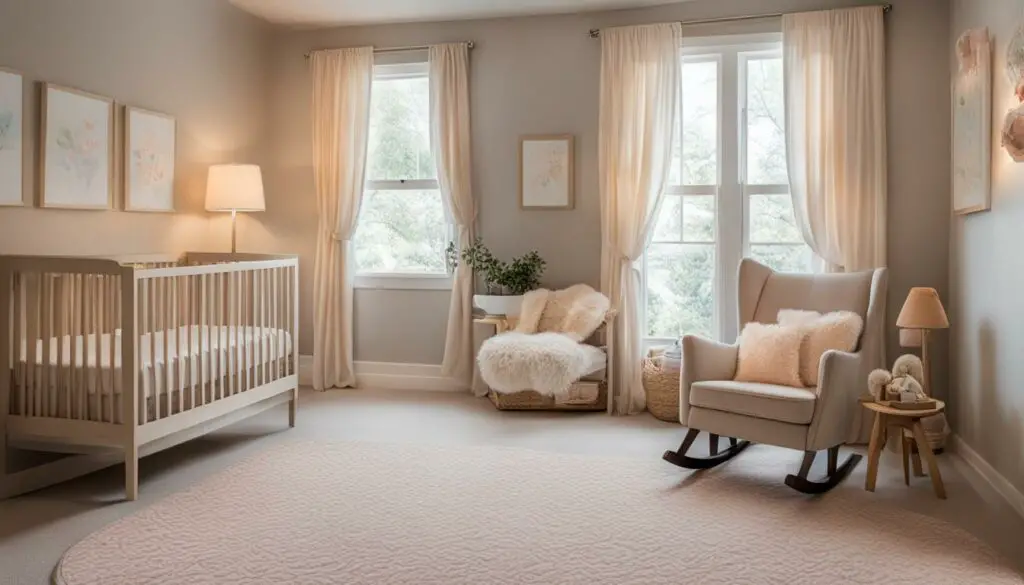 Understanding Newborn Photography Packages and Pricing
Capturing those early moments of your newborn's life can be a cherished memory for years to come. Investing in professional newborn photography is a great way to ensure these memories are captured beautifully. However, when it comes to choosing a photographer, packages, and pricing, it can seem overwhelming. Here's a breakdown of what you need to know.
Choosing a Photographer
First things first – start by researching photographers in your area. Look for a photographer that specializes in newborn photography and has experience working with babies. Be sure to review their portfolio to see if you like their style and the overall quality of their work. Once you've narrowed down your search, reach out and schedule a consultation to discuss their package options and pricing.
Newborn Photography Packages
Newborn photography packages vary from photographer to photographer. Most packages include a set number of hours for the photography session, a certain number of edited photos, and digital copies of the images with printing rights. Some packages may also include prints, albums, or other physical products. It's important to review each package carefully and consider which one best fits your needs and budget.
Newborn Photography Prices
Newborn photography prices can range anywhere from $200 to $1000 or more, depending on the photographer and the package options. While it may be tempting to go with the cheapest option, keep in mind that quality should be a top priority when it comes to capturing these priceless memories. Be sure to budget accordingly and choose a package that gives you the most value for your money.
Newborn Photography Studio
When searching for a photographer, you may come across some that have their own studio for newborn photography sessions. These studios are typically designed with newborns in mind, with a variety of props, backdrops, and lighting options. While studio sessions can be a great option, keep in mind that they may come at an additional cost.
Final Thoughts
Choosing a newborn photographer and package can be a big decision, but with the right research and preparation, you can create lasting memories that you and your family will cherish for a lifetime. Don't be afraid to ask questions and communicate your needs and preferences with your photographer. With their expertise, you can create a beautiful collection of photos that capture the magic of your newborn's earliest days.
Conclusion:
As a proud parent, you want to capture every moment of your newborn's life. With the tips and guidance provided in this article, you can create beautiful photos that will be treasured for a lifetime. Remember to prepare for the session, get creative with poses and props, dress your baby in coordinating outfits, and choose a suitable location.
Research different photographers, packages, and pricing options to choose a professional who suits your style and budget.
Most importantly, enjoy this precious time with your little one and cherish the moments you capture through newborn photography. With these helpful tips, you're sure to create stunning photos that will be admired and appreciated for years to come.