Delivering a baby to this world is not for the faint of heart. Apart from the tumultuous nerve-wracking long months of carrying a protruding belly, hours of labor and delivery can definitely sap one's energy. It is no wonder that many people go through the tradition of handing out pampering gifts for new MOM.
Not only to celebrate such a momentous occasion, but more so to simply give her a sense of relaxation from all that efforts. When thinking of giving one to a family member, friend or work colleague, these pampering gift ideas for new moms will definitely get your thoughtfulness across.
Lets start with the pampering gift ideas for new moms
Ora's Amazing Herbal New Mama Natural Gift Box
On top of the heaping list is the Ora's Amazing Herbal New Mama Natural Gift Box. New moms usually have to battle with fatigue and hormonal issues after giving birth. Add to that the stress and efforts required for managing a new baby, and one can imagine how tiring it can be. This makes the organic herbal tea, complemented with a stainless steel infuser, in this gift box a must-have. Aiding in Mom's recovery, this can help normalize hormone levels while offering soothing relaxation.
Salves and balms also come with the package to help take care with scrapes, dryness and unwanted marks. As for the baby, an anti-rash salve also makes a perfect addition, taking one less worry off a new Mom's list. To send one, you can check out here.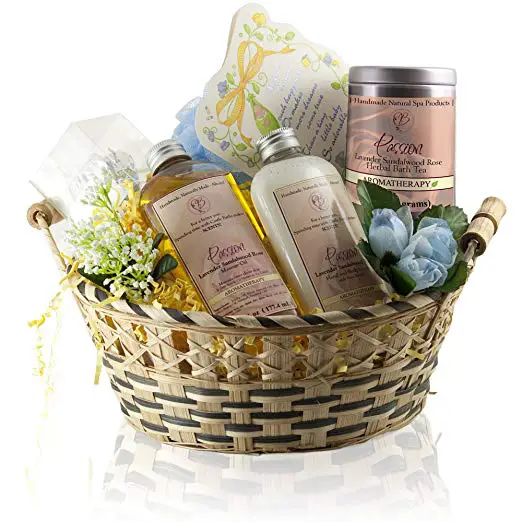 Another excellent present to give to a new Mom is this Burt's Bees Mama Bee Gift Set. It is no secret that a new mother's skin can look and feel ghastly after giving birth. Apart from dryness and flakiness, the skin have undergone too much stretching causing some damage to the superficial layers.
The Belly Butter will help take care of bringing flexibility and suppleness to the stomach's skin, while the leg and foot cream can soothe the lower limb used to be plagued with edema and such. Beeswax lip balm, on the other hand, can bring back the lip's lusciousness as this area tend to become so dry after giving birth. Definitely, these products use the gentlest natural ingredients and are meant to soothe and relax a new Mom's skin and body. To send one directly, you can check out express delivery here.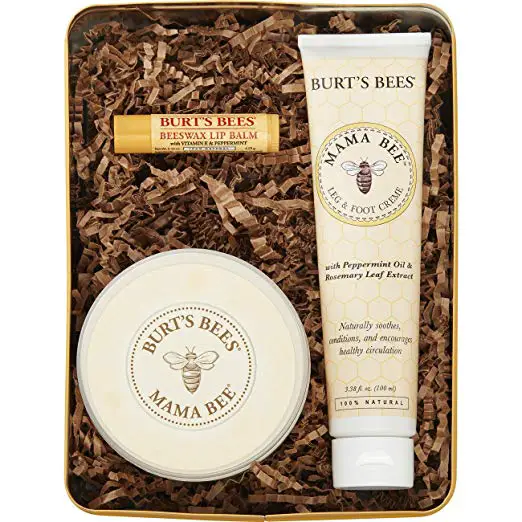 If it's complete relaxation you wish to give then, the CB New Mom Gift Basket – Home Spa Gift to Pamper is a perfect fit. The gift pack comes with a massage oil, hand and body lotion, and herbal bath tea. Bearing ingredients like lavender, rose and sandalwood essential oil, it aims to replenish the skin's lost moisture due to hormonal changes during pregnancy and to relax the senses after months of backbreaking efforts.
The scent of essential oil extracts offer that distinctive serenity and relaxation that many new Moms want as they settle for the long haul ahead. The pampering pack also comes with a silver scented candle, a loofah and a Mommy card– all packed exquisitely in a decorative basket ready to be given anytime. To order one, click here.
These pampering gift ideas for new mom to enjoy are definitely on point. Delivering not just relaxation and rest, such gifts also help new Moms regain their confidence and vigor as they prepare for a new adventure– Motherhood. With these gifts, you can easily state your thoughtfulness without uttering a word. Send one now!