Are you looking for the Infant Optics dxr-5 video baby monitor for your little one's safety and your peace of mind? Well then you are at the right place. You are about to find out all the details about this baby monitor – as well as where to get it from. And that isn't all; we have also brought you another option, and one that is actually even better, if customer reviews are to be believed! So let's look at these now, shall we?
And now we look at each in detail:
First up we have what you are possibly looking for – the DXR-5. When it comes to features, this one is quite impressive in its own right. It allows you to keep an ear and an eye on your baby, no matter where in the house you are. It uses a superior FHSS digital communication link which runs at 2.4 GHz frequency, which ensures that the signal is clear and you can watch your baby through the uninterrupted feed. Also, the USP of this particular baby monitor is the fact that there are no unnecessary features in it. With just the basics that you would need, this one also turns out to be easy on your pocket.
As for the details of this monitor, you should check out the in-depth analysis on Amazon. And as for customer satisfaction, there is a lot of information to be had from the customer reviews:
When kept in power-saving mode, the monitor stays off usually, but it is turned by any sound in your baby's room. This is a very helpful feature, especially when you want the battery to last through most of the day as well as the whole night.
With the night vision feature, you get as clear an image at night as you get during the day.
Since the entire set is very durable, this makes for a great monitor to have at home, even if you have a pet or a toddler who could actually knock it down.
Besides these there are also other features and you can read all about them in the customer reviews. So go check those out before you actually make up your mind!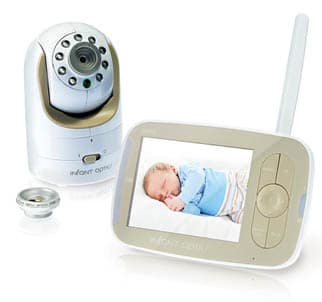 But we did promise you a better set and that is the newer model from the same makers…
This one is the Infant Optics DXR-8. It is obviously a later model, and predictably, it has a few added features too. But the thing to note about this monitor is that currently on Amazon, this one is a bestseller in its category. More and more parents are going for this, and it has also been rated higher than the last one.
The one feature that seems to be a winner with this one is the interchangeable lens. With a very small baby, the zoom lens works well. But once your baby becomes a toddler and you want to extend the range, the wide angle lens gives you a better view of the whole room!
And therefore, irrespective of the age of your baby, this monitor is one that you can continue to use for years. Now let's take a look at what some of the major reviewers had to say:
The audio on this monitor is really good, with both the recorder and the speaker. The speaker has good volume and the recorder can even pick up the hum of your air purifier or air conditioner!
In fact, it even picks up the baby's sounds when the other sounds around him are actually louder.
The zoom feature is also very handy and good. There is no pixelation, even at the highest zoom.
And for the rest, you can again check out the reviews left by people who bought it. And once you do – you can then go on to making your decision and finally ordering!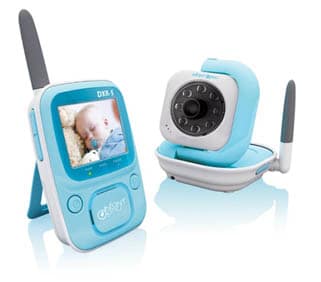 So there you have it – both the Infant Optics dxr-5 video baby monitor and the DXR 8. When making your choice, just keep in mind that the DXR 8 may be a bit more expensive, but over all, it has much better reviews and has been preferred by many parents over the other one. However, the final choice is ultimately in your hands – and depending on your budget and needs – you should pick the one that is right for you as recommended by NewMomStuff!