Did you know that white noise is something that babies love? You would wonder why, and there is actually a scientific reason for this. When in the womb, the baby is surrounded by all the noise happening in your body as it goes about its daily functions. This is actually really loud within the womb. Plus, there is also some noise that actually filters through from the outside world. The result is that the baby is pretty much immersed in sound. But thereafter, when the baby is born, in comparison, he seems to be surrounded by an uncomfortable quiet. This can actually be quite unsettling for the baby, and therefore, having a sound machine for baby is going to be a great addition to your nursery.
Sound Good? Let's Get Started!
Here are some of the sound machine for babies suggested by therapists and doctors today. The first one comes highly recommended.
So, we have introduced you to our 6 products, now let's look at each machine in details:
Best for traveling with baby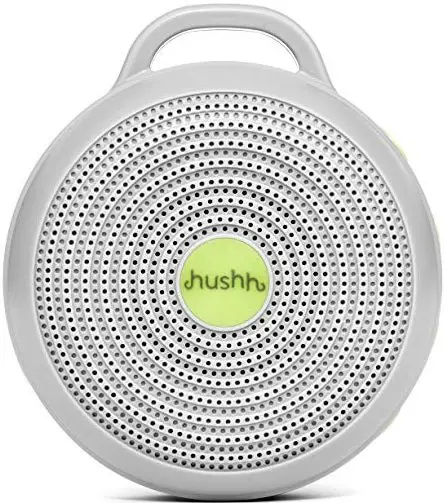 Fond of traveling with baby in tow? The Marpac Hushh White Noise Machine offers a perfect solution. Portable and compact in design, it can be stowed in your traveling case or backpack without any hitch. Tried and tested by sound specialists, this white noise machine offers 3 sound options and relaxing amber LED nightlight allowing your child — as well as you– deep slumber.
Additionally, the Hushh sleep aid machine can have its volume and settings locked preventing disruptions to baby's sleep. Add to that Marpac's superb customer service and no wonder many reviews such as the ones below shows strong positive impression from verified users:
It comes with soothing sound complemented with wide volume range perfect for lulling babies to sleep.
Sleek, portable perfect for traveling, a day at the beach, camping, and quick getaways with baby in tow.
Say goodbye to batteries as the Hushh is rechargeable.
Lock feature to prevent toddler's roaming hands from changing settings.
Best budget white noise machine and Good Baby shower gift option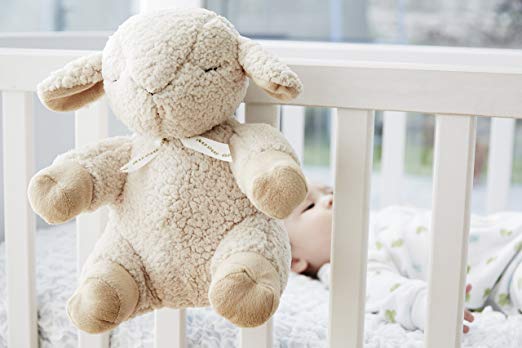 Looking for a baby shower or Christening present? This cuddly Cloud b Sleep Sheep White Noise Sound Machine fits the bill perfectly! It's a plush toy slash sleep sound machine rolled into one that comes equipped with 8 relaxing sounds to lull baby to sleep. Aside from soothing lullabies and sleep-inducing melodies from nature, it also comes equipped with 2 sleep timer options that allow auto shutoff in half an hour or 45 minutes. Simply tuck it into a baby's crib via a Velcro secured tab or have it placed near baby's crib.
For added feature, the plushie sleep sheep can also be machine or hand washed. Simply remove the soundbox when doing so. No wonder, reviews come positive from verified users of the product. Some say that:
The cuddly Sleep Sheep Machine is so effective in lulling baby to sleep.
The relaxing melodies also help parents relax while taking care of baby.
Sounds can run in cycle and auto shutoff feature offers more convenience for Moms (and Dads, too!).
Best Volume Control Sound Machine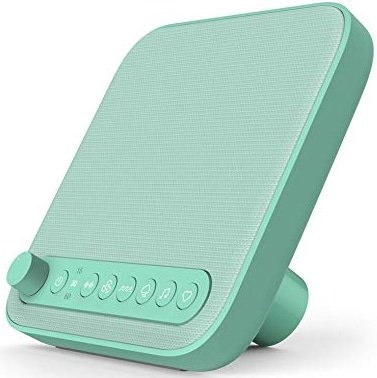 For a baby that gets easily jolted awake, the Pure Enrichment Wave Baby Premium Soothing Sound Machine is a must-have. Offering distinctive volume control features, it effectively drown out usual household noises and the usual disruptions letting baby sleep soundly anytime. It comes with 6 soothing sound settings — lullaby, white noise, beating heart, ocean waves, fan or rain sounds. Volume can be adjusted to suit your space and a three-way auto shutoff timer allows more convenience.
The Wave Baby sleep machine also comes with a removable stand that help in decluttering pesky power cords and USB cable. With all these features, no wonder reviews come always positive.
Stylish, compact and comes with awesome color making it a perfect addition to a baby's nursery.
Sound quality is perfect for light sleeper to be lulled into deep sleep and in masking external disruptions.
Auto shutoff timer feature of 15 minutes, 30 minutes and 1 hour makes it perfect for nap time training, too!
Best multi functional sound machine for baby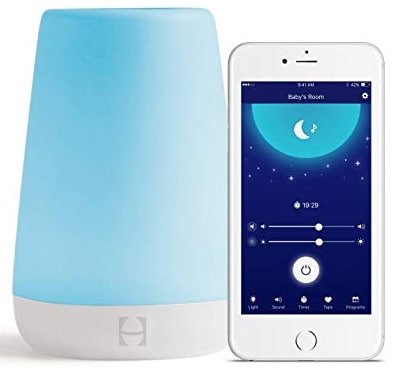 Why bother buying a night lamp or a separate alarm clock when you can have it in one go? The Hatch Baby Rest is as multi-functional as it gets. Aside from being an efficient sound machine to lull baby to sleep, it also serves as a night light and time-to-rise gadget perfect in crafting sound sleeping habits for infants, toddlers and even adults. Color and brightness of the night light can be customized. Sound volume level can also be set according to baby's temperament. Auto shutoff features and programmable time-to-rise alarm are also included making it convenient and efficient for parents and caregivers alike.
The Hatch Baby Rest Night Light, Time-to-Rise and Sound Machine can grow with your child. It can also be used by adults who want a healthier sleep environment. Filled with features, reviews also come in heaping praises for this item.
It's modern and stylish making it perfect for contemporary interior design.
Easy to use with multifunctional features perfect in managing good sleeping habits not just for babies but for toddlers, older kids and adults, too.
Programmable and customizable, sounds, volume, color and brightness can be adjusted to suit personality of end-user.
Okay-to-get-up feature is perfect for disciplining toddlers.
Best White noise sound maker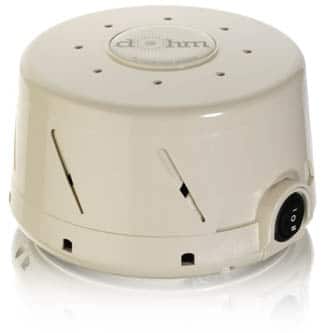 A current bestseller at Amazon, this is of course the best product of the lot. But at the same time, it is also the most expensive, which isn't actually much.
This one will procide you with the best white noise source, that can mask both silence as well as other unpleasant noises. As a result, it works very well to keep your baby feeling comfortable.
The main USP of this machine, however, is its durability as well as the ease of transporting it.
And now let's take a quick look at what customers found most impressive about this machine:
If you travel a lot, and know that your baby will be wanting the comforting blanketing sound – this is perfect because you can easily carry it around.
This is something that babies and adults alike seem to like and prefer having on while they sleep. So the durability ensures that even as your baby grows, you can still continue to use it.
And there are 2 different speeds at which you can run it, as well as adjustable vents. So you can actually adjust the sound to figure out what your baby likes the most.
Now, according to these same customers, this really is a high ranking product, and one they'd recommend to anyone. So if you too want to read about their experiences, before making a choice – go ahead and check them out on Amazon. And then if you decide this is the one for you – then order away!
Best Value for money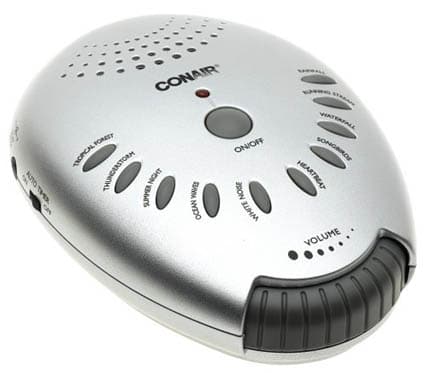 As you know, we do not feature sub-standard products, and in keeping with that, this one is also a good product, with a pretty impressive rating.
Rather than produce mere white noise, this one is equipped to also produce nature sounds – because some parents find it easier to get their children accustomed to those, rather than the monotonous white noise. Not only can this be soothing, it is also something that the baby can get without the machine in certain places.
This runs on either battery or from a Direct Current power supply via an adapter.
As for the customer reviews, here are a few snippets to help you decide:
Most people found the nature sounds actually more soothing than the white noise – so you can try this with your baby too.
This also has the timer option – though you can also leave it on all night.
This also comes with volume controllers, so you can adjust according to situation.
Over all, this is also a great product – and you can check it out in the reviews for yourself. And then, if this seems like the one for you – go ahead and order now!
Best in overall performance
(currently not available)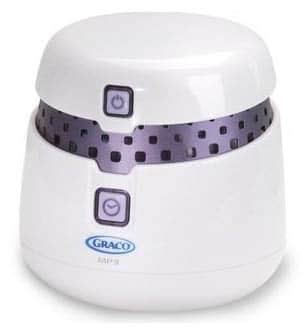 This product is from Graco – and therefore, it is specifically designed for babies. Also, as the name suggests, it is for your little one's bedtime, in particular.
So, it comes with a handy timer feature as well. As you know, with small babies, once they are fast asleep, they don't realize the presence or absence of sound anymore. As a result, you shouldn't be wasting power and continuing to run it. With this one, it turns itself off after a certain period of time. And this amount of time is adequate for your baby to fall asleep.
In addition to that, it also has a few other utility features – after all, it couldn't get this high a rating if it wasn't good to begin with! So, let's take a look at the reviews:
Even on low volume, it manages to blot out most loud noises, like even a noisy washing machine running on the upper floor!
This is also super easy to carry around, so that you know your baby will sleep easy – even on holiday.
The range of different sounds and volumes means that every parent will find something that is fit for their baby and their situation!
Again, you could always go and read through the actual reviews before you decide. And once you do – order it from Amazon, to get the best customer support and deals!
The great news is that a sound machine for baby can double up as comfortable noise maker for you as well. Now all you need to do is decide which one you want – and order it today… and prepare for comfortable nights when your baby sleeps soundly!