A bouncer is a great way to keep your baby safe, secure and contented. This is because while a good bouncer will stay steady with a small baby in it, as the baby grows, and learns to kick his or her feet, the bouncer will respond with a bounce. But for the safety of your baby, you need to get a reliable bouncer, and we have got 7 recommendations for best baby bouncer – in various price ranges so you can find one that suits your needs!
Best Baby Bouncer for preventing colic and acid reflux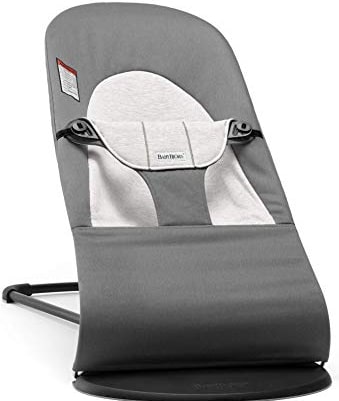 For infant's ultra-comfy rest and sleep, the BABYBJORN Bouncer Balance offers plushy softness and just-the-right snugness. Requiring no batteries, it responds to a child's movements allowing him/her to develop balance and motor skills. Engineered and recommended by paediatricians to provide the right head, neck and back support, this ensures healthy muscle growth and development as well as balanced weight distribution.
It can also be positioned four ways– rest, play, sleep and travel mode. To prevent colic or spit-ups, simply adjust the inclination level. Versatile, easy to maintain and can be stored flat, this bouncer truly offers the all-around convenience many parents need. Bouncer can also be used as a toddler chair later on.
Pros
Comfortable ergonomic design
Offers full body support
Versatile- for home, outdoor and travel use
4 position to cater to every baby's needs
Helps baby develop balance and motor skills
No batteries required
Approved by Oeko-Tex Standard (Child-safe design)
Machine washable
Grows with your baby
Cons
Can be a little bulky when traveling
Best portable baby bouncer for travel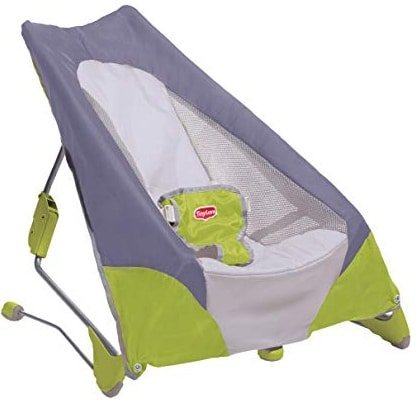 For travel-savvy, outdoors-loving families, the Tiny Love Take Along Bouncer is a must-have. This lightweight portable baby bouncer requires no migraine-inducing assembly like other brands in the market. It folds easily and takes up minimal storage space making it perfect to tag along on all fun and adventures outside the home. It's compact and sleek design also makes a perfect baby bouncer for small homes, particularly apartments and high-rise units. It comes with a carry-bag for convenience, too.
Pros
No assembly required
Portable and compact design
Easy to fold and carry
Minimal storage requirement
Comes with a carry-bag
Cons
Not as "bouncy" as other brands
Best baby bouncer for small space
For gender-sensitive parents, the Bright Starts Playful Pinwheels Bouncer's Jungle Stream series is ideal choice. Designed with comfort and convenience without sacrificing aesthetic appeal, this baby bouncer smoothly vibrates to help baby develop balance and stimulate muscle growth. It's gender-neutral design come with a perfect blend of color and attractive jungle animal characters– and machine-washable, too. Child-safe spinnable toys are also attached to the movable toy bar for a child to grasp and develop fine motor skills. Since design is gender-neutral, this makes a perfect addition to any baby registry!
Pros
Gender-neutral design
Vibration motion to make baby feel relaxed
Adjustable bar with spinnable toys
Soft and machine-washable
Aesthetically appealing
Also great for traveling
Cons
Be wary of toys attached as the baby grows
Best baby Swing and Bouncer Combo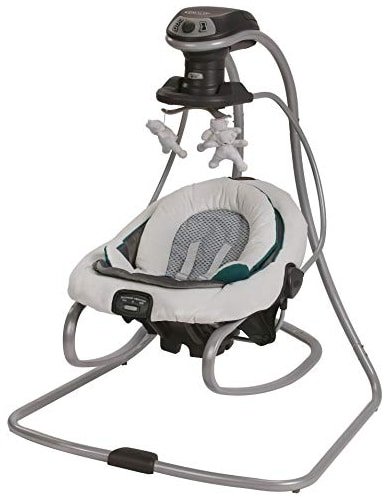 The Graco Duet Soothe is perfect for parents looking for both a bouncer and a swing to lull babies to relax and sleep. It features 6 swing speeds, 3 seating positions, 10 melodies and 5 nature sounds. You can swing baby side to side or from front to back. If you want to use it as a bouncer, simply remove the swing seat and voila!
To keep babies secure even when moving around, the Duet Soothe comes with a 5-point harness and a rocker carry-handle. It can also be plugged directly to an electrical outlet or with batteries, perfect for outdoor escapades. Choose from various colors from here to suit your interior design.
Pros
Comfy and superior construction
Swing and bouncer
Versatile features
Relaxing sounds and melodies
Foolproof secured system
Cons
Manual included can be a tad confusing. Follow YouTube instruction HERE instead.
But let's take a look at something a little less expensive now…
Best baby bouncer for naps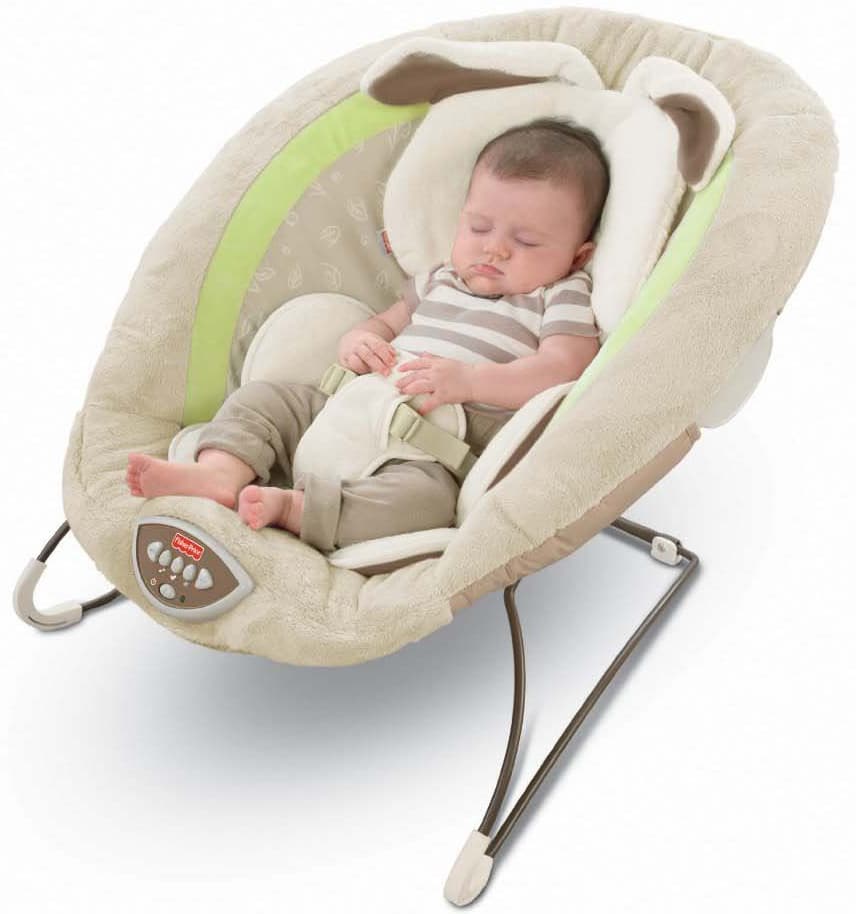 This one is another bouncer, though much simpler in design. But that also means that the price is less – so those on a budget can consider it. Now let's take a look at the features with this one as well:
The seat of this bouncer is at once both a cradle and a bouncer. So you know your baby is more secure and safe in it.
It doesn't have an AC plug, but it is very battery efficient, and the batteries last for a good amount of time.
This one also has the music function to keep your baby soothed and occupied.
Again, we are actually looking at a highly reviewed product. According to the manufacturers, it is super comfy and babies tend to love being placed in it! But now we'll check out if the facts check out according to the customers or not:
It has a soothing vibration feature that many parents actually used at baby's bedtime, with surprisingly good results!
The bouncer feature is pretty nice, and the baby's love kicking away when in it.
It comes with a pretty good toy bar – that is actually detachable.
Also, for the rest of the many reviews, do go and check out Amazon. And once you are done with that – to order, just get to Amazon.
Best Baby Bouncer for long haul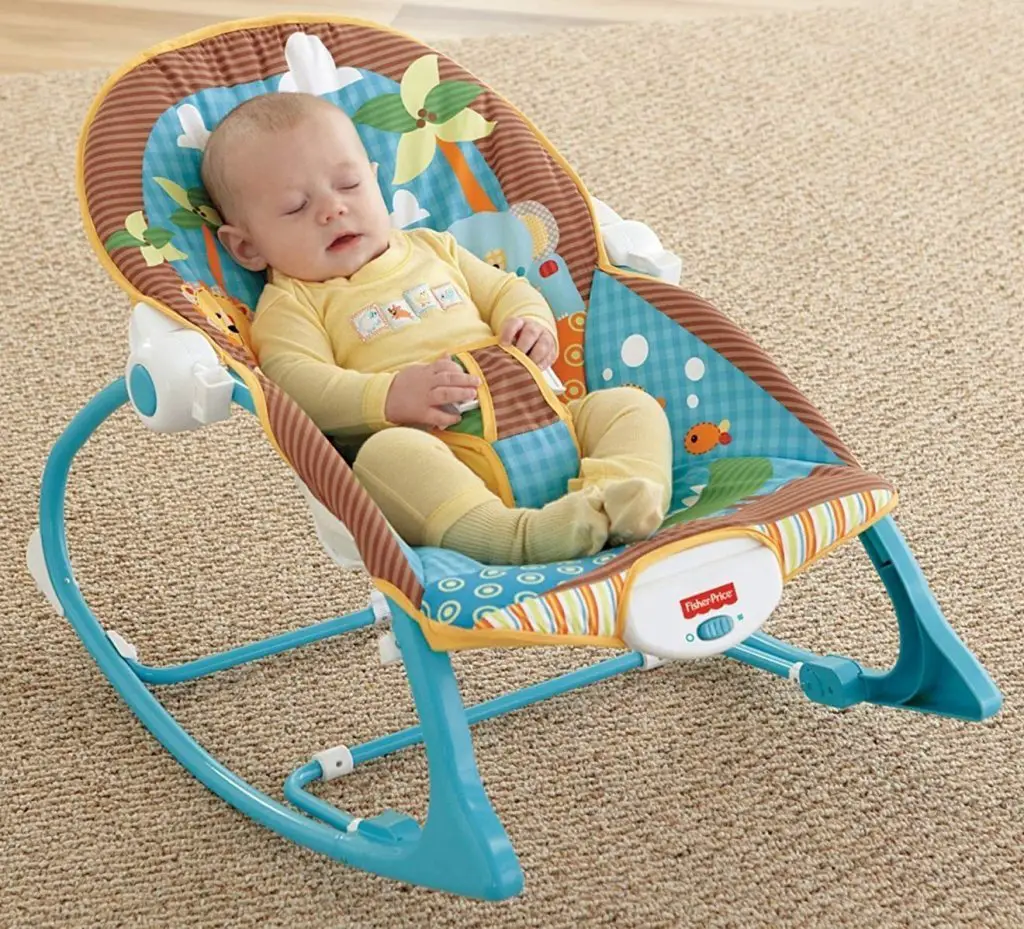 But even though it is basic, it serves your purpose pretty well! This one is actually quite versatile. Let's check out exactly why:
It has a special kickstand – being a bouncer this is a great touch.
The seat actually reclines, so you can use it to let your baby sleep or feed.
The music options are quite soothing, and the toys keep your baby occupied and happy for long!
Another big plus point with this bouncer is that it actually comes in frustration free packaging – and that too for the same price! So, check out the rest of the details of the bouncer here.
And we'll now take a look at some of the reviews:
The bouncer actually grows with your baby – so you start using it when your baby is an infant, and keep using it till his toddler days!
Most babies who were placed in this loved the experience! And chances are you will also find success.
For its price, if you can get a chair that will keep your baby comforted, happy and safe, that will surely be a great bargain. And this one sure is!
You can always check out the rest of the scores of positive reviews on Amazon. And then once you do – don't worry about that tight budget – go ahead and order it!
Best baby bouncer with glider
(Currently not available)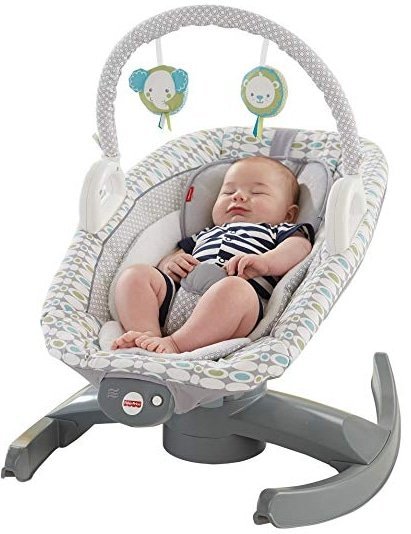 This is by far the most expensive bouncer featured in this list. But it does come with a range of impressive features:
In addition to being a bouncer, this one is also a glider – so one investment takes care of both needs.
It provides calming vibrations – so in case you are busy and want your baby to stay comforted, just place him in this.
It comes with a number of tune options as well for the benefit of your baby.
Since the seat has a 360 degrees rotating function, no matter which part of the room you are working in, you can easily turn the bouncer around to face you – without having to lift the entire thing and replace it. It also attracts the baby with some distractions, so the baby stays preoccupied. There are others that you can check out at the product listing.
Of course, with so many features, the soother is bound to be a favorite. And it sure is – just check out the reviews:
It comes with an AC plug, so you don't waste money on batteries, but rather just plug it in and turn it on.
The seat is very comfortable and soon becomes a favorite with most babies.
Since the entire product disassembles easily, it can be used as a rocker, a cradle for traveling, as well as can be stored easily.
Besides there are of course a lot of other reviews that you should check out before deciding on one. And if you do decide on it – Amazon is the best place to order it.
So there you have 7 of the best baby bouncer options for you to pick from. And we did pick with your budget woes in mind – so nothing can limit you. Pick the one that suits you best and get ordering. And Amazon will take care of the rest!