Buying a double stroller can be daunting as you have to consider several factors like – would it be a side by side double stroller or a tandem double stroller?. Will it be fit for two child of different age or good for twins only? You will also need to consider the size and width also to move it through doorway or folded and carried in trunk for transport. And of course you have to consider the safety and comfort factors of the strollers to.
To make it easier for you, after hundreds of hours of research we have narrowed down to the following 5 best double stroller for twins suitable for different usage.
Lets discuss them in detail,
Best Double Stroller for Travel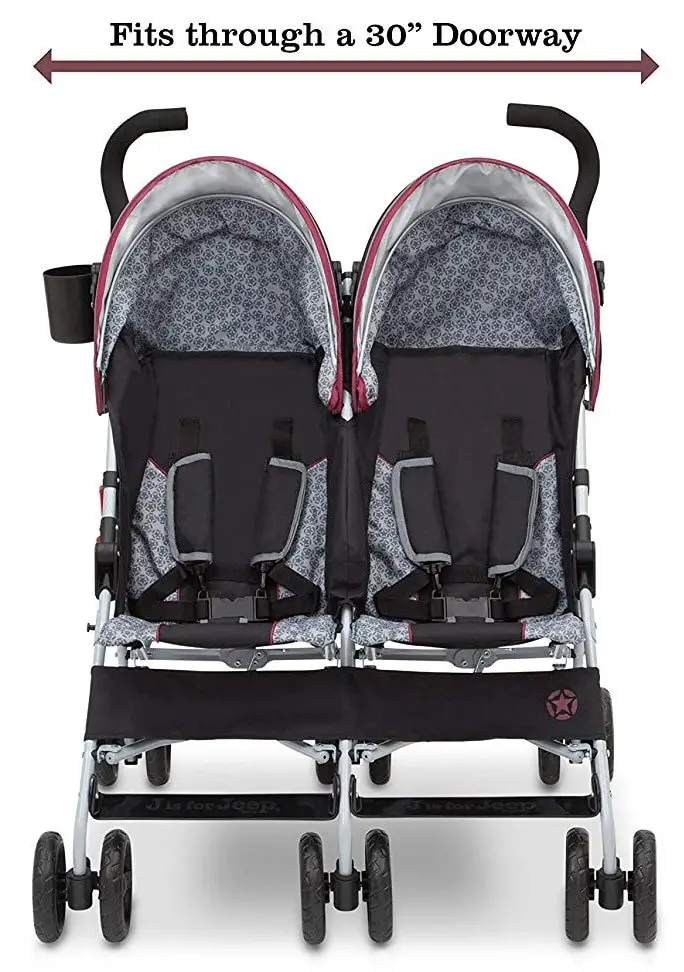 Going on a much needed getaway with kids in tow? You don't have to look haggard hauling them around with the Jeep Scout Double Stroller. Designed to be lightweight and can fit to standard 30-inch wide doors, this travel savvy companion stroller can accommodate 2 kids in tow without any hitch.
It features ultra-safe 5 point safety harness with comfy shoulder pads and high-viz material, 5.5-inch wheels with front swivel and suspension system, and extendable European-style canopies with sun visor to guarantee ultimate safety and comfort for your children when out and about like say in Anaheim's Disneyland or roaming the cobblestone streets of Prague. Add to that double storage system and parent cup holder so you won't go thirsty hauling two kids around.
Pros
Lightweight and can be easily handled by short moms
Folds tightly and is compact enough for easy transportation
Enough storage space for carrying basic essentials and parent cup holder is great for a small bottle of water or drink
Cons
Locking after folding the stroller needs a hard to push to open
Could have been a little more taller
Best Double Stroller For Twins -Side by Side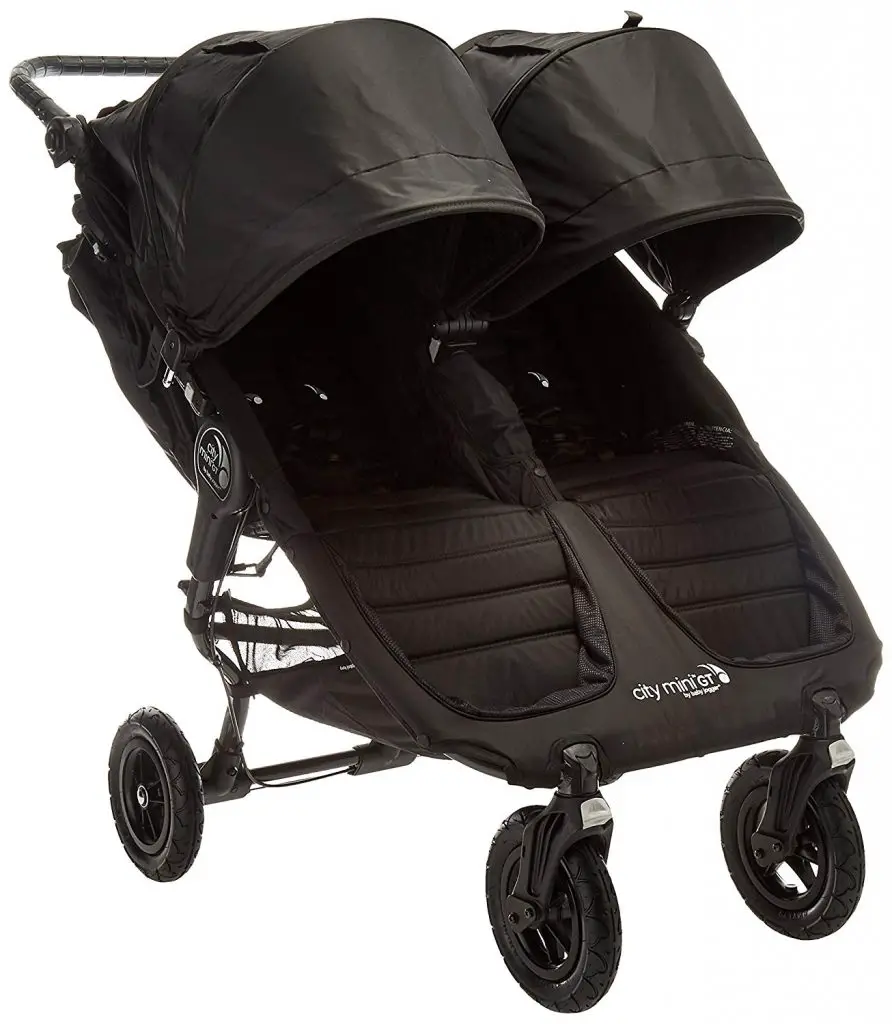 Having twins is quite a challenge particularly when going out. Fortunately, the Baby Jogger 2016 City Mini GT Double Stroller is here. Designed for twins or families handling 2 kids when going out, this lightweight and durable double stroller come oozing with features like patented quick-fold system, padded seat, almost-flat recline position and vented seat top.
It's large 8.5-inch all-terrain non-flat tires with front-wheel suspension system makes maneuvering easy and without any fuss while maintaining comfort for babies when on a ride out. Checking your little ones while strolling along is also convenient with the large adjustable sun canopy's peekaboo windows. Even the handlebar is adjustable to suit parents of all heights.
Pros
Easy to push even with one hand
Automatic locking when folded to certain degree
Tyres are good even for gravel and tougher terrains
Cons
Basket on the underside can be accessed only from the back.
Does not have accessory fittings like a cup/ bottle holder.
Best Double Umbrella Stroller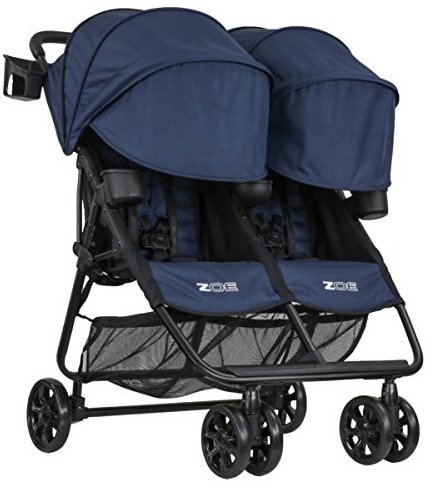 Yet another awesome double umbrella stroller is the ZOE XL2 BEST v2 Double Stroller. Made of lightweight yet durable aluminum frame, the handle and kickspace offers ultimate control for user to maneuver the stroller. Though lightweight at 17lbs, it can carry at most 100lbs complete with full-throttle self-locking mechanism to guarantee safety.
The double stroller also offers 3 recline position– 165-deg, almost-flat recline at 180-deg and 90-deg for seating position– and large wheels with swivel mechanism. It also features a double belly bar, padded harness with removable strap cover, 4-panel removable canopies, cup holders and snack cup for both parent and child, and storage basket to stash other necessities you and your babies needs when out.
Choose from Aqua, Black, London Navy or other cool colors here.
Pros
Canopy is large and fabric is of high quality
Basket space is big enpugh for diaper bag and more
At the price point beats high end strollers with all the features it proides
Cons
Safety buckles can be hard to unlatch
Canopy is not waterproof
Best Double Stroller for Infant and Toddler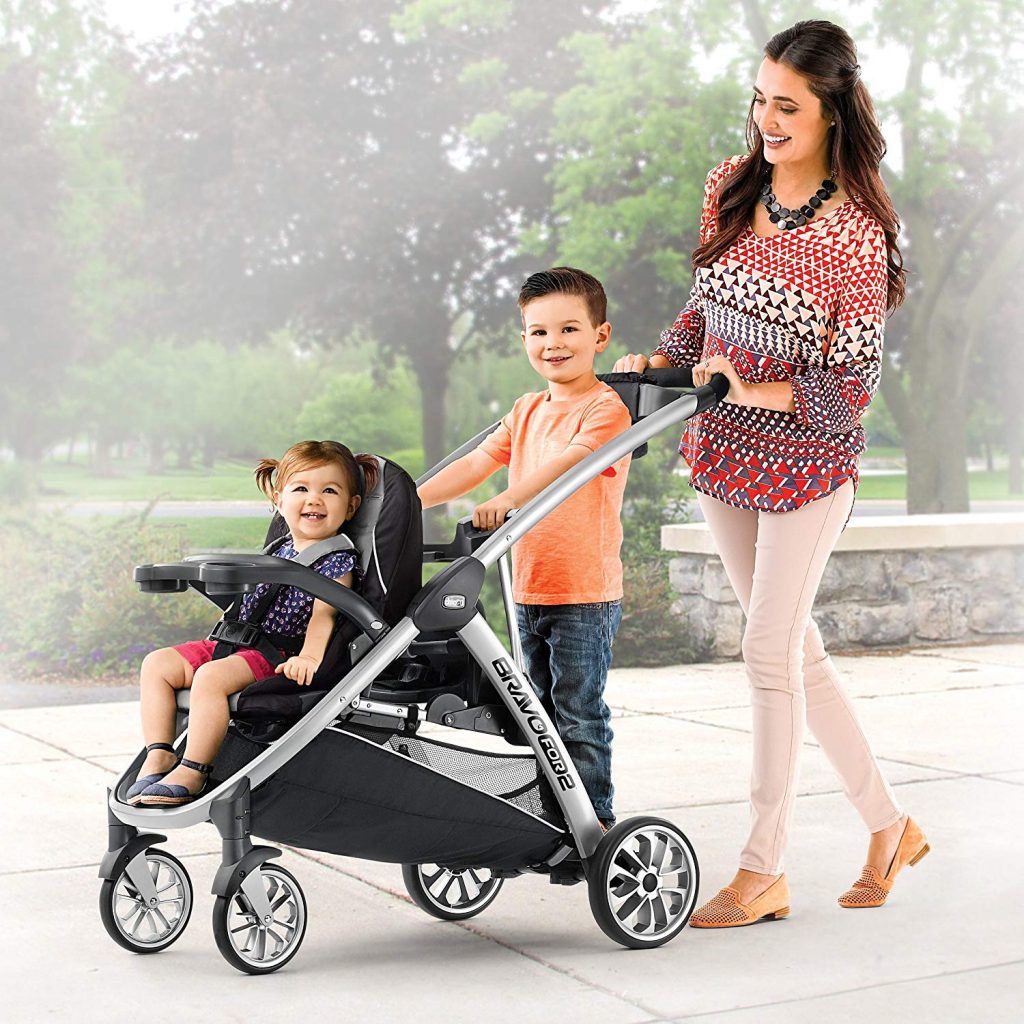 Bringing a baby with another child toddling along can post complications to any parent. With the Chicco BravoFor2 Standing/Sitting Double Stroller, this woe is finally resolved! Designed to accommodate both an infant and a toddler, this double stroller is equipped with an adjustable infant stroller seat which can be fitted into a car seat and a two-way toddler backseat/standing platform to guarantee comfort for both children.
Without sacrificing safety, infant stroller seat comes with a padded 5-point harness while the toddler backseat also comes with a 3-point harness. Easy-grip handles, large wheels with swivel and suspension system, and one-touch brake system guarantees ease of maneuvering to ensure smooth ride for both children.
For added benefit, the stroller comes with 2-cup parent tray and storage compartment to hold necessities. Folding the BravoFor2 is also easy and can fit easily to the trunk of one's car when not in use. Check it out here.
Pros
Works perfectly with a chicco car seat
Smooth and easy to navigate
Bottom storage area and cloth zipper pouch provides enough space to carry tissues, diaper bag etc.
Cons
Cup holders are not very deep
Doesn't have many color options
Best Tandem Double Stroller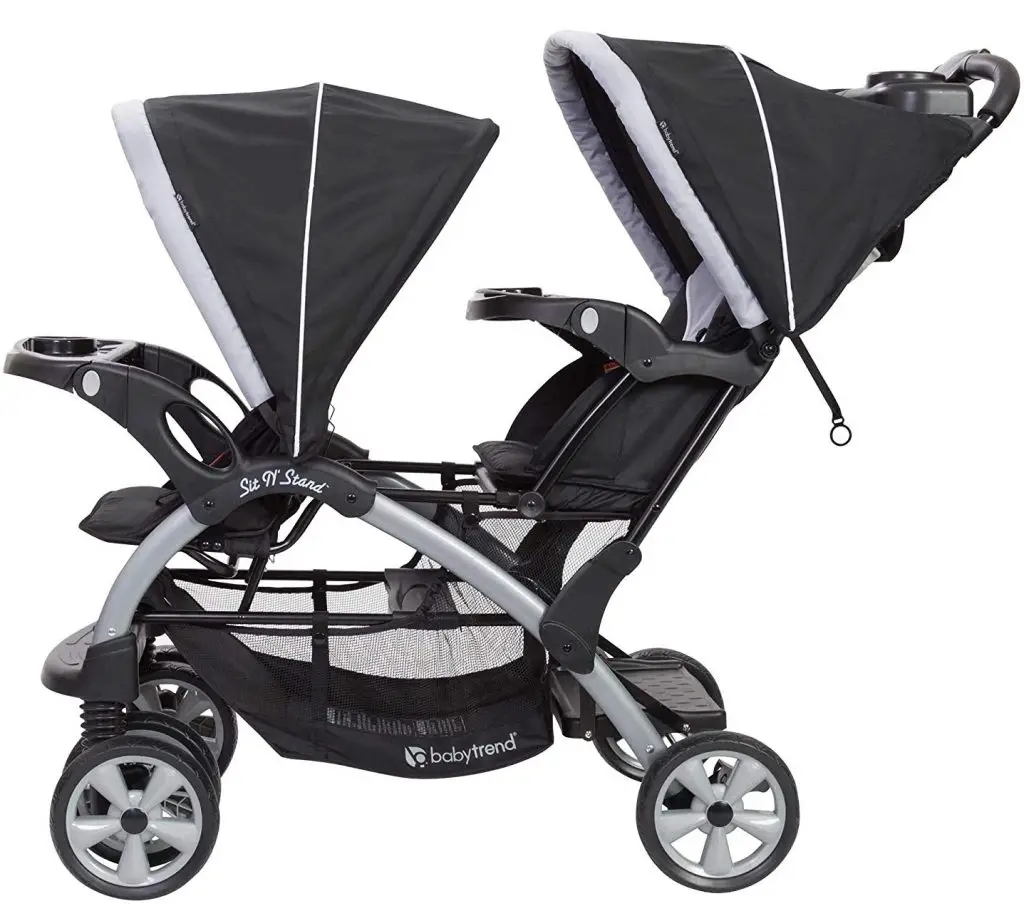 Another excellent choice for households with twins or two children i—infant and toddler – is the Baby Trend Sit N Stand Tandem Stroller. It's a convertible tandem double stroller having a removable rear seat for a standing platform.
Fits most infant car seats, it can accommodate such in either front or rear seating position while older child can also sit in either front or rear seat, or simply stand on the platform of the rear area.
Even with such arrangement, the stroller is relatively lightweight and compact equipped with large wheels with swivel mechanism and foot-activated dual-rear parking brake and wheel-locking system. Add to that the padded 5-point harness for baby's seat and you got the ultimate tandem double stroller designed with safety and comfort in mind. Added features include 2-cup parent tray and large storage basket to hold necessities.
Pros
Convenient for the second baby to stand or seat
Easy to move and handle
Can fold easily with one hand
Cons
Seats could have been a little bigger to accommodate taller toddlers.
Car seat needs to be pushed a little hard to unlatch
Hope this guide has given you a good view on what's available on which are the best double stroller for twins to choose depending on your situation . If you are still undecided, post your question in comment below.