Traveling with a baby can be an overwhelming experience, but it doesn't have to be. With the right preparation and guidance, you can travel stress-free with your baby stroller and enjoy your journey without any hassle.
In this guide, we will provide you with valuable tips and insights on how to choose the right baby stroller for travel, prepare it for the journey, and navigate different modes of transportation with ease. Whether you're traveling by air, car, or public transport, we've got you covered.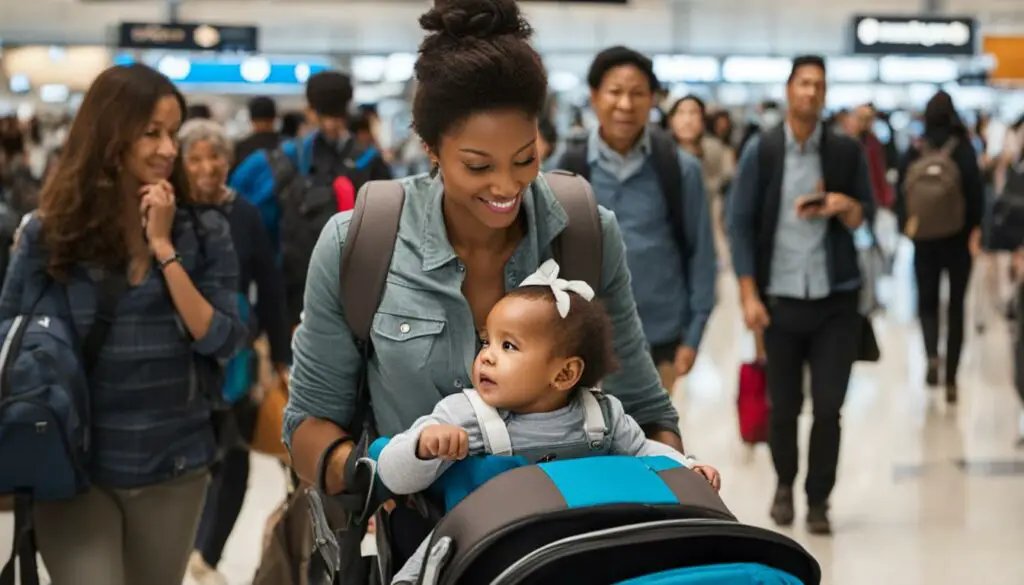 Key Takeaways:
Traveling with a baby stroller can be a stress-free experience with the right preparation.
Choose the right baby stroller for travel based on weight, size, and ease of folding for transportation.
Prepare your baby stroller for travel by cleaning, inspecting for damage, and ensuring it meets safety requirements.
Navigate different modes of transportation with ease, including airplanes, cars, public transport, taxis, and rideshares.
Following our tips and guidelines can ensure a smooth and enjoyable travel experience for both you and your baby.
Choosing the Right Baby Stroller for Travel
Choosing the right baby stroller for travel is crucial for stress-free travel with your little one. It can be overwhelming with so many options available, but the right stroller can make all the difference. Consider the following factors when selecting a stroller for travel:
Types of Baby Strollers for Travel
There are several types of baby strollers designed for travel. The most popular ones include:
Infant Stroller: Suitable for newborns and infants up to 6 months old, these strollers offer full recline and a car seat adapter for easy car travel.
Convertible Stroller: These strollers are suitable for both infants and toddlers and can adjust as your child grows. They often have multiple recline positions, convertible car seat compatibility, and a compact fold for easy transportation.
Umbrella Stroller: These lightweight strollers are ideal for quick trips and have a compact fold for easy storage and transportation. They are not suitable for newborns and infants.
Travel Stroller: Specifically designed for travel, these strollers are lightweight, compact, and easy to maneuver. They often have a quick and easy fold, making them perfect for traveling by plane or car.
Factors to Consider When Selecting a Stroller for Travel
When selecting a stroller for travel, consider the following:
Weight: Look for a stroller that is lightweight and easy to transport. A stroller with a weight of less than 20 pounds is ideal for travel.
Size: Consider the stroller's size when folded, especially if you plan to travel by plane. A compact fold is essential for easy transportation and storage.
Ease of Folding: Look for a stroller with a one-handed fold or an easy-to-use folding mechanism. This will give you more flexibility and convenience while traveling.
Car Seat Compatibility: If you plan to travel by car, look for a stroller that is compatible with a car seat. This will make it easier to transfer your baby from the car to the stroller and back.
Storage: Look for a stroller with ample storage space for your baby's essentials, such as a diaper bag, snacks, and toys.
Keep in mind that the right stroller for travel will depend on your specific needs and preferences. Consider your travel style and destination when selecting a stroller. A travel stroller may be more suitable for city trips and plane travel, while a convertible stroller may be more convenient for road trips or outdoor adventures.
Preparing Your Baby Stroller for Travel
When it comes to traveling with a baby stroller, preparation is key to ensuring a safe and stress-free journey. Follow these steps to prepare your stroller for travel:
Clean your stroller: Before you hit the road, wipe down your stroller with a damp cloth to remove any dirt or debris. This helps to prevent any unwanted germs from being transferred to your baby during travel.
Inspect your stroller: Take a close look at your stroller to make sure it's in good condition and doesn't have any broken or damaged parts. Pay special attention to the brakes, wheels, and frame. If you notice any issues, get them fixed before you travel.
Ensure your stroller meets safety requirements: Depending on where you're traveling, there may be specific safety requirements for baby strollers. Check the regulations for your destination to make sure your stroller is compliant.
Figure out appropriate storage: Before you leave, decide how you'll store your stroller during travel. You may be able to gate-check it at the airport, or you may need to pack it in the trunk of your car. Make sure you have a plan in place, so you're not left scrambling at the last minute.
By taking these steps, you can ensure that your baby stroller is safe, clean, and ready for travel. This can help you avoid any unpleasant surprises during your trip!
Pro Tip: When packing your stroller for travel, make sure to secure any loose items, such as toys or blankets. This can help prevent them from falling off during transport and getting lost.
Navigating Airplane Travel with a Baby Stroller
If you're planning to fly with your baby and a stroller, there are a few things to keep in mind to ensure a stress-free experience. Here are some tips for navigating airplane travel with a baby stroller:
Gate-check your stroller: Most airlines allow you to gate-check your stroller, which means that you can take it with you to the gate and then leave it there before boarding the plane. The stroller will be waiting for you at the gate when you arrive at your destination.
Know the rules: Each airline has its own rules when it comes to traveling with a stroller, so be sure to check with your airline before you fly. Some airlines require you to pack your stroller in a special bag, while others allow you to take it to the gate without a bag.
Consider a travel stroller: Travel strollers are designed to be lightweight, compact and easy to fold, making them perfect for airplane travel. They can typically be stored in the overhead bin or under the seat in front of you.
Be prepared to gate-check: If your stroller is too big to be stored in the overhead bin, you may need to gate-check it. In this case, be sure to remove any accessories or items from the stroller before you hand it over to the gate attendant.
Label your stroller: Put your contact information on your stroller, including your name, phone number, and address. This will ensure that your stroller can be returned to you if it gets lost or misplaced.
Store your stroller carefully: If you're storing your stroller in the overhead bin, make sure it's securely stowed and won't fall out. If you're gate-checking your stroller, be sure to collapse it and secure any loose parts before handing it over.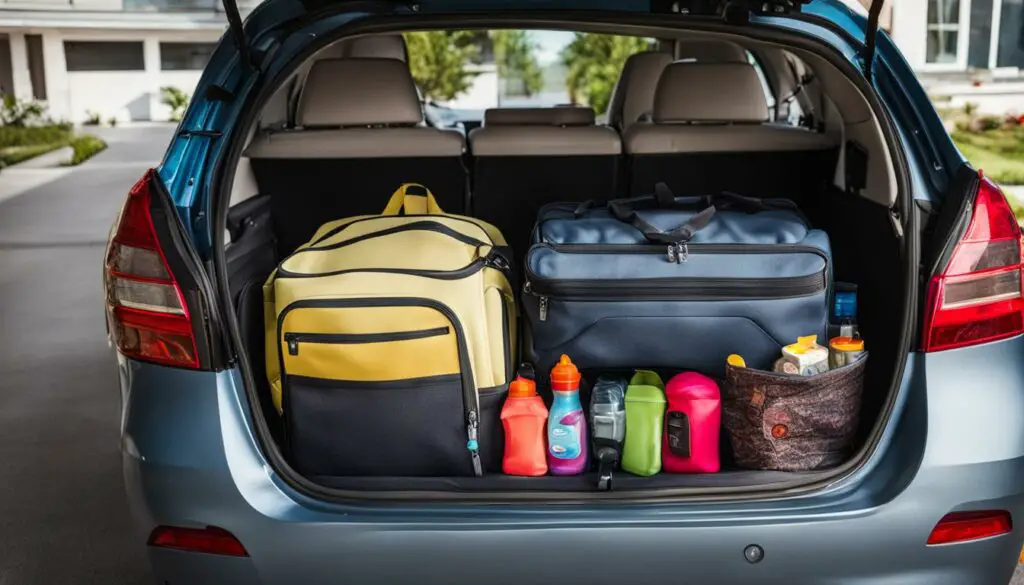 Utilizing Public Transportation with a Baby Stroller
Traveling with a baby stroller on public transportation can be a daunting experience, but with the right preparation, it can be a breeze. Here are some tips to ensure a stress-free journey:
Research the transportation options in your destination and plan your journey in advance.
Ensure that your travel stroller is lightweight and easily maneuverable on buses and trains. Consider purchasing a compact stroller specifically designed for travel.
Always hold onto the stroller and keep it steady when riding on public transportation. Use the brakes when coming to a stop and keep the stroller away from other passengers.
When boarding buses or trains, look for designated areas for strollers. If there are none, keep the stroller folded and hold it on your lap or between your legs.
Be courteous to other passengers by keeping the stroller out of the way and minimizing any obstructions.
If there are stairs, escalators or narrow passageways, consider using a baby carrier instead of a stroller.
By following these tips, traveling on public transportation with a baby stroller can be a safe and comfortable experience for both you and your baby. Don't let the fear of using public transportation with a stroller discourage you from exploring new destinations!
Taking Taxis and Rideshares with a Baby Stroller
Traveling with a baby stroller in taxis and rideshares can be a convenient option, but safety should always be the top priority. Here are some tips to ensure a safe and comfortable ride:
Secure the Stroller: When getting into a taxi or rideshare, make sure to securely fasten the stroller in place. Most taxis and rideshares provide seat belts or straps to secure the stroller, so don't be afraid to ask the driver for assistance.
Communicate with the Driver: Let the driver know that you will be traveling with a baby stroller. This will help them prepare for your arrival and ensure that they have enough space to accommodate the stroller.
Ensure a Safe and Comfortable Ride: Let the driver know if you have any specific requirements, such as a car seat or extra space for the stroller. Make sure that your baby is properly secured in the stroller and that they are comfortable throughout the ride.
If you are traveling with a convertible or umbrella stroller, make sure to fold it before entering the taxi or rideshare. This will ensure that you have enough space in the vehicle and will prevent any damage to the stroller.
Tip: If you plan on taking taxis or rideshares frequently during your trip, consider purchasing a lightweight travel stroller that is easy to fold and transport.
Conclusion
Congratulations on making it to the end of our guide on how to travel with a baby stroller stress-free! We hope the tips and advice provided have been helpful and informative in preparing you and your baby for your next travel adventure.
Remember, choosing the right stroller for travel, preparing it for safe transportation and storage, and understanding the guidelines for different modes of travel can go a long way in making your journey smooth and hassle-free.
By following the tips and guidelines in this guide, you can ensure a stress-free travel experience with your baby stroller. So, pack your bags, grab your stroller, and embark on your next adventure with confidence!