While a baby monitor's benefits cannot be contested, the number of brands offering the "best" products in the market can be overwhelming. After hours of research expressed by new moms and my personal experience, I have handpicked five of the most widely used dual baby monitors that comes highly recommended than the rest.
In a rush?
Here's the best baby monitor for 2019. With remote pan, tilt and digital zoom you get total vision control of your baby's entire room, or any room for that matter. Check out what other Mom's have to say about this baby monitor.
What to look for before buying a dual baby monitor?
Most of the baby monitors nowadays come with almost the same features– built-in lullabies and white noise sounds, remote temperature control, multi-lens cameras, zoom-in, and so on. When thinking of buying one for your home, you may want to consider the following:
Number of rooms where it will be used
DECT technology
Rechargeable batteries
App-enabled allowing streaming to your smartphone or tablet
Sound/video interference filters
Night vision
You would want a baby video monitor that can scan multiple rooms with DECT technology and night vision that helps to cancel unnecessary noise but just your baby's coos and cries wafting from the room. Rechargeable batteries also cut cost on buying battery packs all the time as you'll be most likely using the monitor 24/7. For a more tech-savvy approach, a monitor that can be tracked via your own Smartphone or tablet wherever, whenever can help give the peace of mind you need.
Overall Best Dual Baby Monitor
With interchangeable optical lens capability it allows you to customize the viewing performance by switching different lenses on the camera in just seconds. You are free to choose the best focal length and viewing angle for your baby, just like a professional camera system.
It is a good investment as it grows with your baby because you can use a close-up lens for intimate vision of your newborn when it's movement is limited and then get a panoramic lens (sold separately) when your child becomes more mobile in the crib or have a full view of your child's activity in the entire room (read below)
It has many more great features for example temperature reading so we know our little one is nice and comfortable.
Other important features of the portable video baby monitor are:
10hrs power-saving mode / 6hrs constantly-on screen time
Plug-and-play set-up
Invisible IR night vision
Two-way talk
Can expand up to 4 add-on cameras
Read about all its feature and benefits here
Each box of the Infant Optics DXR-8 Portable Video Baby Monitor comes with a normal lens that captures vividly clear moving images within mid-range coverage. Additionally, an optical zoom lens is also provided to give you perfectly close-up view of your baby as he or she sleeps.
When your baby grows and you want 170-deg panoramic view, get a wide angle lens which can also be bought to best guard an active baby or toddler as well as those with special needs.
Pros
The pan and tilt works very well and the camera is very responsive to the remote display input.
Both zoom and camera angle can be controlled remotely via the monitor.
Camera automatically switches from day light mode to infrared, depending on the available light
Cons
Losses signal frequently if near a cell phone
Want to monitor multiple rooms or children in different rooms? All you need to do is buy this add-on camera unit. You can add up to 3 of this add-on camera to fully secure all rooms in the house.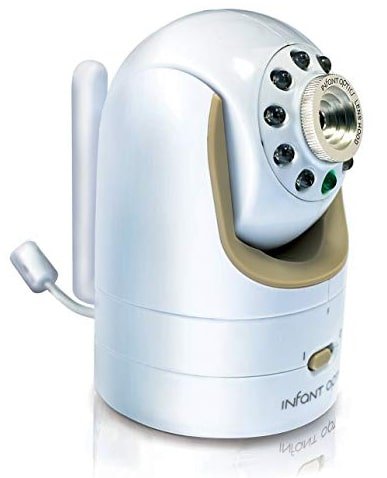 Get both – the monitor and the wide angle lens – here
Budget Friendly Dual Baby Monitor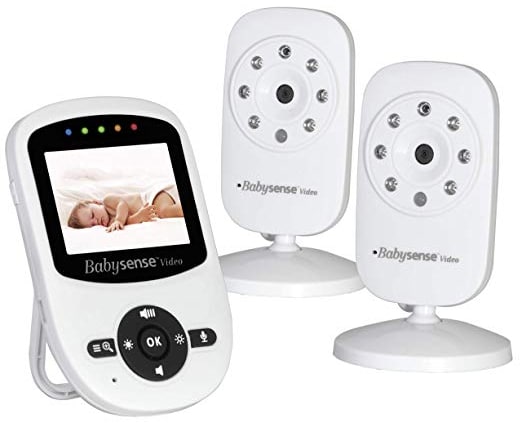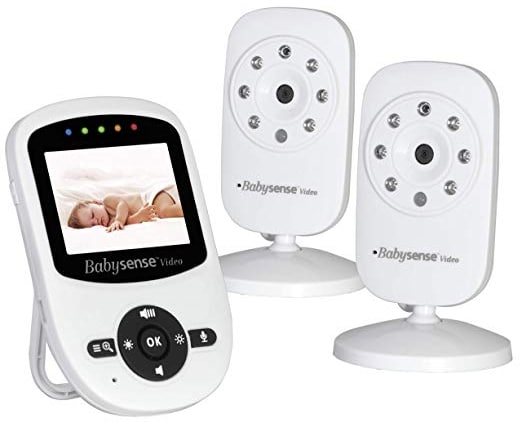 This baby monitor comes with Two Cameras allowing you to monitor twin babies or monitor two children in two separate rooms from one Parent unit.
You can move around with the portable parent unit as you complete your daily chores enabling you to hear, see or talk to your baby no matter where you are in the house.
Check out some 5 star reviews for this baby monitor here
It gets fully charged in 1-2 hours and last around 8 hours of continuous use.
Though not as versatile as infant optics dxr with interchangeable lens as described above, it is the next best option for comparatively lower budget. However, I've watched it's price fluctuate and will opt for it only if the price is below $100. Check out its current price at Amazon

Pros
Gets fully charged in 1-2 hours and lasts for 8 hours continuous use.
Pretty cost effective considering ability to toggle between multiple camera, dual microphone and room temperature display.
Cons
When the monitor is on Eco mode, the sound is still on unless manually muted.
If you want something more affordable, check this..
Best dual baby monitor with split screen
Pros
Gets fully charged in 1-2 hours and lasts for 8 hours continuous use.
Pretty cost effective considering ability to toggle between multiple camera, dual microphone and room temperature display.
Cons
When the monitor is on Eco mode, the sound is still on unless manually muted.
If you want something more affordable, check this..
Best wifi dual baby monitor
The Lollipop Baby Camera is tagged a "smart" baby video monitor– and for good reasons. Sleek, creative, stylish and tech-savvy, this Wi-Fi enabled monitor features astounding characters to put any parents' heart at ease at night or when out leaving the children with a sitter. It comes with multiple screen option, audio mode and alarm system, "true crying" detection, and real-time streaming. It can even be viewed using multiple gadgets at the same time and with audio mode, you can turn screen of your smartphone off and still listen to what's happening in the nursery. Add built-in lullabies and relaxing sounds to the loop and you have one astounding baby video monitor.
The Lollipop can be used for indoor or outdoor monitoring in multi-streaming platform for more coverage. You can place it on top of the table or looped on the crib or perhaps, high up on the wall. When using cloud, privacy mode can also be activated to protect your home and family. Check more color options here.
Pros
More than a baby monitor . If there are any noise reports the camera records 30 seconds and the video can be downloaded to see what happened
Watch multiple camera at same time which streams on your phone.
Picture quality is awesome. Can zoom in and even check baby's breathing while it's sleeping
Cons
Night vision is not that great.
Best dual baby monitor with talkback function
VTech VM321-2 Safe & Sound Video Baby Monitor
Want to coo your baby even when outside or in the other room? That can be made possible with the VTech VM321-2 Safe & Sound Video Baby Monitor. Designed with your baby's safety and comfort in mind, this baby video monitor features "talk-back" functionality that allows you to comfort your child on a 2-way talk-back intercom. The package comes with a parent monitor and 2 camera units with adjustable high-res 2.8-inch colored LCD screen.
It digitally transmits both audio and video signals of up to 1000 feet via its 2.4GHz system and comes with a Dect 6.0 digital tech that guarantees clear transmission all the time. Alarm can be set on parent monitor to address concerns like low battery or temperature drops and infrared LED allows for clear night-time observation. Want it preset in French? Oui, that can be made possible as it can be switched to that or even in Spanish.
Pros
If mounted up high on the wall it can get almost the whole room in the camera which is important with bigger kids capable of roaming around in the room.
Temperature alert feature can find the temperature to tell if the room gets too hot and/or too cold
Bright clear picture with zoom in facility.
Cons
Music cannot be controlled by the parental unit and you have to go to the nursery to push the button on the video monitor.
The top pick is of course the Infant Optics DXR-8 Video Baby Monitor with full capability of tilt , zoom and wide angle lens panoramic . Check out both from here together and see if any discount is available currently.
If budget is really a constraint then I would go for the 2nd best option Babysense Video Baby Monitor with Two Digital Cameras for the twins. It costs considerably lesser but provides almost same level of security and convenience to parents who are cash-strapped.
Picking the right one, however, is all about personal preference and, of course, your budget. Hope you now have a better idea which one will suit you best!