Imagine your little bun wailing for dear milk while you try to go around layers of sweater, tank, bra, scarf and a parka.
So..
How to dress for breastfeeding in winter? It's all a matter of finding the perfect balance between fashion and function– and comfort, too. Think layering with the right choice of clothing like nursing bras, button-down shirts or sweaters, nursing tops and tanks with chest panel, easy-zip hoodies, scarves that doubles as nursing covers.
With temperature dropping, try to stay toasty warm yet on the ready for that feeding routine that guarantees easy access to baby's main source of sustenance.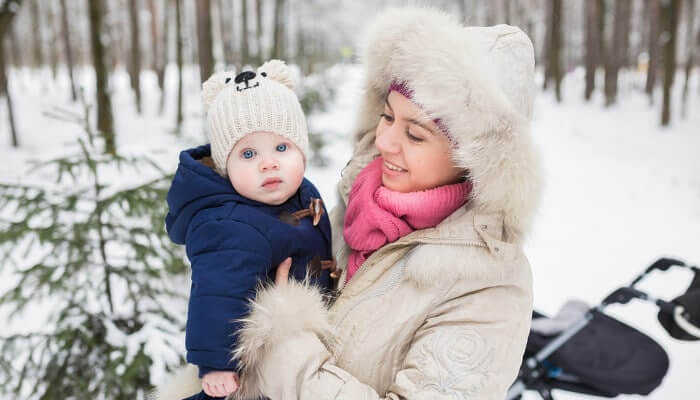 Dressing Up Right For Winter Breastfeeding
Generally, one can wear any warm or comfy clothing right at home. Old hole-y sweatshirt and tattered pyjamas. Check! When going out, however, things change. One is not only required to layer down clothing, but must also do it right in such a way that's accessible and safe for baby to get his/her fill when hunger pangs strike. When dressing up for breastfeeding in winter, one has to consider the following:
Wearing Comfort
Whether wearing in the house or for special occasions like wedding, the comfort factor is of great importance. At home a button-down blouse that you can quickly open or tee shirt that you can pull up will do the job too. Avoid clothes with excessive layering and dresses without front button. Choose comfortable nursing tops , nursing bras , nursing tank tops , wraps – dresses with which you can create a comfortable yet easy access layering for winter breastfeeding .
Layering with easy accessibility
Yes layering is the way to go but whether you are at home or out in public, heavy and bulky layers can make it a real pain to breastfeed. They can lead to you fumbling around with your clothes while you juggle a hungry, fussy baby. Luckily modern designers are coming out with dressing options with discrete panels, zippers etc for easy breastfeeding options
Thermal protection
One easy and budget friendly way to keep warm while nursing is to layer your summer nursing dresses and tops. However, remember, the number one rule for adding layers is to ensure that baby can still access it's food easily. Jackets or anything with a front that can be undone are ideal!
Choose Clothes with Pattern and Print
When choosing clothes for your wardrobe, keep in mind that patterns, prints, and darker colors will help hide any unexpected leaks and save you from potential embarrassing moments.
It is also imperative to assess how cold it's going to be and the amount of time to spend outside. Additionally, one may also consider the occasion or event to attend to. These aspects must be carefully taken into mind to decide on what clothes to wear and how much layering needs to be done.
Winter Breastfeeding Top
Always wear a nursing tank underneath even when bundled in coats, sweaters or thermal jacket. The nursing tank above, for instance, allows you to easily flip any of your warm layers then, simply unclasp it and voila! No-fuss breastfeeding access. These nursing tanks are so versatile that they can be dressed up or down making a breastfeeding Mom's journey more enjoyable. When the cold weather is not that seep-to-the-bones, a nursing shawl can be added on top for ease of access and to keep baby toasty warm, too.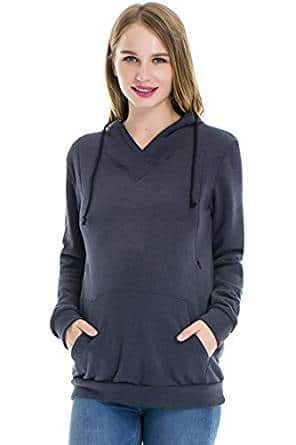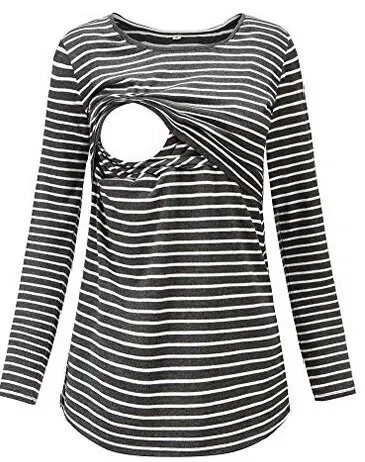 If you still have the baby tummy and cannot button your pre-baby jeans, thses shirts are long enough to hide your open zipper!
Winter Breastfeeding Pyjamas.
Choose comfy cotton pyjamas preferably with super soft and stretchy fabric that allows one-hand breastfeeding access yet, foolproof no-spill security when not feeding. An adjustable drawstring or extendable buttons will also double the comfort feeling allowing you to transition from maternity heavyweight to post-pregnancy nursing size. PJs designed to be worn either day or night are definitely wise options.
Winter Breastfeeding Sleepwear.
Sleep is essential to nursing Moms. If pyjamas are not your thing, you can opt for nursing nighties or a maternity night dress– provided that room has enough heat to keep you toasty warm.
Jersey leggings, lounge pants, velour jogger, or yoga pants paired with thermal long-sleeved sleeping top also makes a perfect option if you want something snugly fit down-under and loose, comfy warmth up above. Your old maternity winter sleepwear is also an excellent option.
Breastfeeding Outfit for Winter Wedding.
You don't have to dress to the nines while leaving your little bun starving. If the baby comes along with you, choices can vary from button-down, wraps, halter and one-shoulder. The rules never change: nothing too tight nor too complicated. You can pile up on head or foot accessories but the upper breast area must be free from any overtures and drama– which can lead to a wailing little dragon while the couple say their vows. Slung around a breathable nursing cover or perhaps, a shawl that converts as one to keep baby safe and toasty warm, without you feeling too overdressed for the occasion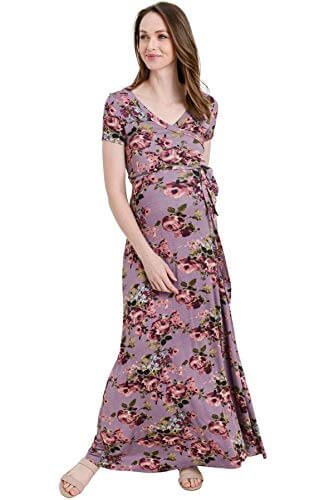 Here's another great nursing dress for all events including wedding or cocktail parties.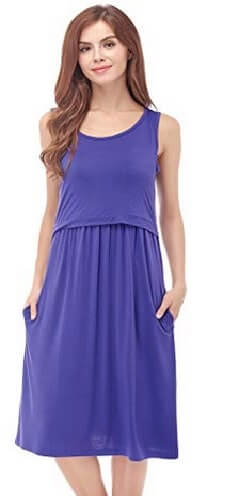 The modest design makes it easy to nurse in public. It will look like that you are just holding your baby at chest level while nursing with no skin is exposed. The design of the dress is amazing and does not accentuate the postpartum curve.
Yeah baby, it's so cold outside! But you can actually make breastfeeding enjoyable and without any hassle whether in the cozy corner of your home as you rock that cutie pie to sleep or when out and about attending to a special occasion. Once you learn how to balance function and fashion on how to dress for breastfeeding in winter, such complex challenge can finally be put to rest.