When you have a baby in the house, everything seems to revolve around his or her comfort. And a breastfeeding chair or nursery glider is one of the most foundational item to provide a huge impact on overall comfort and ease for a nursing mother and child.
The fact is that many women who do not breastfeed also use these chairs for normal feeding because they allow you to hold your baby just right and gently rock! The gentle rocking and the comfort of your arms and your nearness is enough to make any contented baby fall asleep easily!
Are you in a hurry ? No time to read whole review?
This specific nursery chair is our and many mom's top choice . It's very sturdy and comfortable. And if you have plans for 2nd baby, you will not have to replace this nursery glider
You can also read about our recommendation for 3 best dutailier glider and nursery chair for durability, comfort and looks.
All of the following nursery glider and breast feeding chairs are great choices, but if you're planning on saving this glider for future child #2, consider spending a bit more. Purchasing a higher end nursery glider or nursing chair and rocker for your baby will get you a solid, durable nursery chair that will last several years.
If however, you are on a strict budget, there are also plenty of other choices available.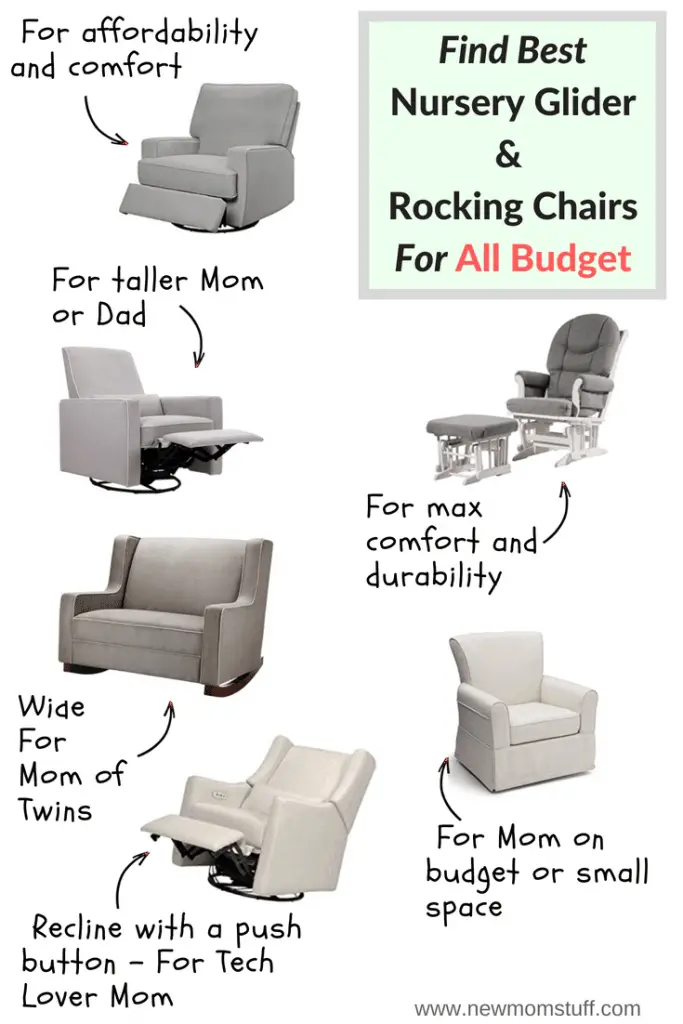 There are so many choices when it comes to nursery chairs and gliders that it quickly becomes overwhelming and stressful
➡Here's a quick glance of our Top 9 Best Breastfeeding Chair and Nursery Glider for 2021
What Are The Best Baby Gliders?
If you want a quick summary here are the best reviewed nursery gliders:
Now let's go through details of each
Best all-purpose and affordable nursery glider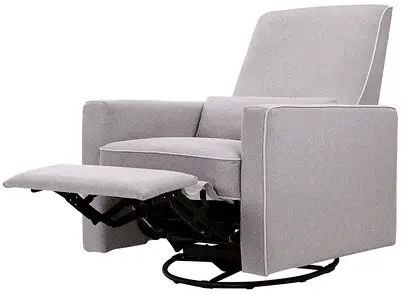 The DaVinci Piper All-Purpose Upholstered Recliner is such an affordable nursery glider. It comes in 3 colors and has over one hundred 5-star reviews.
It has a tall back and deep seat makes it ideal for tall moms or dads. When you're expecting a baby, the last thing you want to do is spend much money on items that won't be of the greatest use in 2-3 years. Since this rocker doesn't look like your typical glider/rocker and the fact that it reclines is a huge bonus at the price. Click here to see more pictures
Best Nursery Rocking Chair For Twins: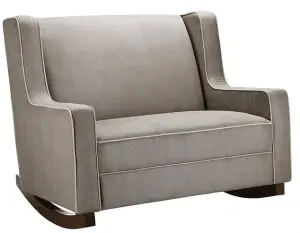 With one and a half times more width than regular rocker chairs this chair is perfect if you have twins . Else you and your husband also can fit in the chair at the same time with the baby .
If you have older child you can easily have a baby on each side and still don't feel squished.
Best Baby Glider For Tech Loving Parents: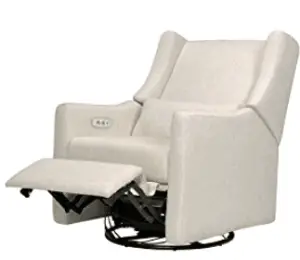 This modern nursery glider has a USB charging port. It rocks, swivels, and reclines with a push of a button.
Clean cut and seamless looking, the Babyletto Kiwi Electronic Recliner and Swivel Glider is as tech-savvy it gets. Nursing Moms as well as doting Dads will love its built-in USB port for charging phones and easy push-button to control the wingback-style recliner. Material is safe and carved manually ensuring durability. Lowering the headrest and raising the footrest can also be done with ease and with no unnecessary noise to disturb baby's rest. Buy it from Amazon.
Imagine simply holding a button to gently recline while you have a little one sleeping on your arms !
It comes in 3 colors and has 4.4 stars. If your budget is not that strict and you are willing to spend more, this nursery glider comes with all the bells and whistles.
Best Nursery Glider For Short Mom And Small Nursery Space:
The Delta Children Glider Swivel Rocker Chair is the least expensive and comes in as one of the smallest nursery chairs available. So if you have small structure or space problem this is a good option for you. It seems the ratings of the customers are divided on this.
Read all the 5-star reviews here.
But, before you decide on this be sure to see why some moms felt this chair wasn't that useful for them. Check out all the negative Two-star reviews here.
Best Neutral Glider For Comfort: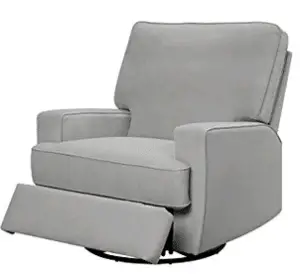 Tip: I've watched his nursery chair's price fluctuate, so buy only it if it's under $360. Check current price here.
3 More Baby Nursery glider Option for 2021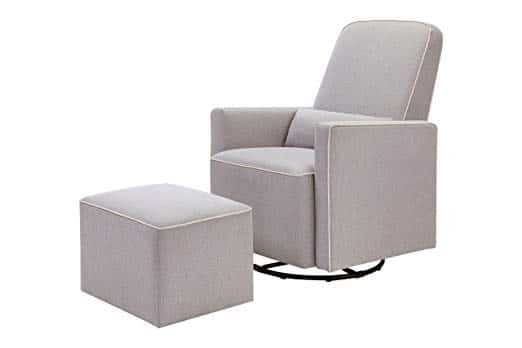 When it comes to sublime comfort the Babyletto brand comes highly recommended. This Madison Swivel Glider offers soft and cozy feel with its spacious seat complemented with a rounded back. Made of hand-upholstered microsuede, the seat is stain resistant and can repel liquid making it easy to clean. The metal swivel base can also turn and glide at 360-degree. Space-saving and easy to the eye, it can also suit any interior design.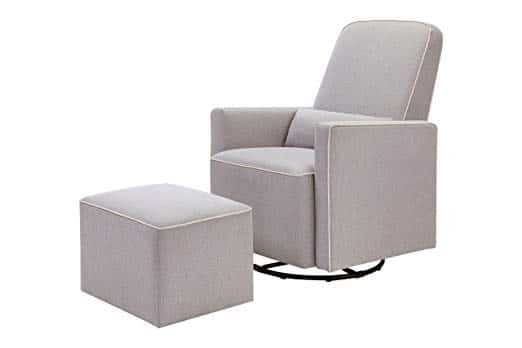 Smart space saver, this sleek DaVinci Olive Upholstered Swivel Glider is a perfect addition to optimize every square inch of your nursery room. Made with 100 percent polyester glider set on durable frames and complemented with soft cushioning comfort and high back neck-and-head support, it also comes with a metal base allowing one to glide back and forth to soothe baby to sleep. The DaVinci also comes with a lumbar pillow to support the back and an ottoman to rest weary feet.
One look at the Dutailier California Glider and one thing comes to mind– sexy. With its sleek and barely there look, every urbanite parent will love this glider's minimalist approach without sacrificing comfort, safety and aesthetic appeal of a glider. Durably built with ergonomic solid-wood Birchwood frame and covered with 100 percent polyester fabric, it's smooth and toxic-free with no sharp edges to boot. It's secret rests on Ultramotion design allowing one to glide and slide in a quiet and no-fuss manner leading to more seamless comfort and relaxation. This glider can fit into any room and can even make a great addition to a living area when a child's all grown.
Overall Winner And #1 Pick For Best Nursery Glider With Ottoman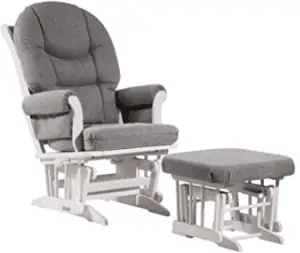 If I had to choose an overall winner for best nursery glider, this glider is the clear winner.
The price on this one is AWESOME for what it offers- it's super comfy and it's very sturdy. It slides with the foot rest and the chair rocks while reclined!! The quality is such that you don't have to think about replacing this glider for baby #2. If you still need some convincing, check out the 100+ 5-star reviews from all these happy moms.
Frequently Asked Questions on Best Breastfeeding Chair and Nursery Glider
What should I look for in a nursing chair?
When buying a nursing chair for the first time, mere aesthetic appeal alone should not be the central element in a purchase. Instead choose to go for the following– comfort, support, durability, ease of cleaning, safety and versatility. Size should be right while offering adequate support to back and head as well as the arms. Armrests must be padded and can hold your arms even with a nursing pillow propped up.
A reclining one or one with a 360-deg swivel can also come handy when soothing a sick child. Go also for solid frame that can endure up to your last baby. To ensure safety, check locking mechanism as well as exposed moving parts. It must also be easy to clean. You know, babies can be sneaky in spitting up, drooling or diaper overflow. Perhaps, a nursing chair with washable cover will do the trick. Think long term, too. Go for one that can still be used as a comfy seat even when your children have all grown up. You may also want to get those packaged with an ottoman for maximum savings while giving rest to your weary legs.
What's the difference between a rocker and a glider? Is a rocker or glider better?
A rocker, or rocking chair to be precise, is designed to "rock" you and your baby up-and-down. The rocking motion helps to soothe and induce babies to sleep. A glider, on the other hand, floats or glides and sometimes swivel. Soft and comfortable, it's usually cushion-filled for maximum comfort. Both can have matching stools or ottomans to rest the legs.
I hope, now you have a better understanding and knowledge of which is the Best Breastfeeding Chair and Nursery Glider for you and can make a purchase that's perfect for you!