Newborns' breathing is not exactly similar to that of the adults. You could say it's a little erratic, it could be too fast or too slow. These uneven patterns can cause lot of anxiety to a new parent, especially if you've read or heard about SIDS (Sudden Infant Death Syndrome). The best way to get rid of this panic and restore your peace of mind is to get a baby movement monitor which tracks baby's breathing. This guide is to help you find the best baby movement monitor based on your situation and budget.
What to look for before buying baby movement monitor?
When buying a baby movement monitor, price should not only be a gauge for quality, convenience and safety. These other factors must also be taken into mind:
Ease of use. Go for a baby movement monitor that delivers a balance between functionality and ease of use. Choose a product that requires no assembly or no complicated connection system. Both sensory and wearable movement monitors for babies come with advantages and disadvantages, but the best choice is one that doesn't make your mind churn on setting up alarm, audio o visuals, and so on.
Alarm. Choose a baby movement monitor that easily captures your attention. Alarm functions need not only emit shrill or annoying sound to get your attention, it must also include flashing lights for visuals. Go for an alarm system that can be manually set according to your requirements.
Sensitivity. Both sensory and wearable baby movement monitor must have an adjustable sensitivity label. It cannot be helped that some babies may exhibit lighter or be stiller than others thus requiring sensitivity settings at a lower level. You wouldn't want a parent unit to sound off its alarm every time or to give you a fright for not sounding off at all.
EMF -electro magnetic field. EMF radiation is known to pose negative impact to brain development and immune system. In fact, some baby movement monitor can disrupt normal sleep-cycle causing unfavorable health conditions to babies. So always choose one that features lower EMF and make sure to limit baby's exposure to these devices to ensure healthy growth.
Types of movement monitor
These are the two main types of baby movement monitor:
Sensory: This type of baby movement monitor uses vibration technology to keep track of a baby's movement. It sends signal to an input monitor usually snapped into a crib or via a monitor placed within allowable range.
Wearable: As the name implies, this type of baby movement monitor is worn by baby. It is utilized by attaching to a baby's clothing or via a diaper's band. Hypersensitive and more accurate, it does pose more risk of EMF exposure due to close proximity of the device to baby's body.
Overall best baby movement monitor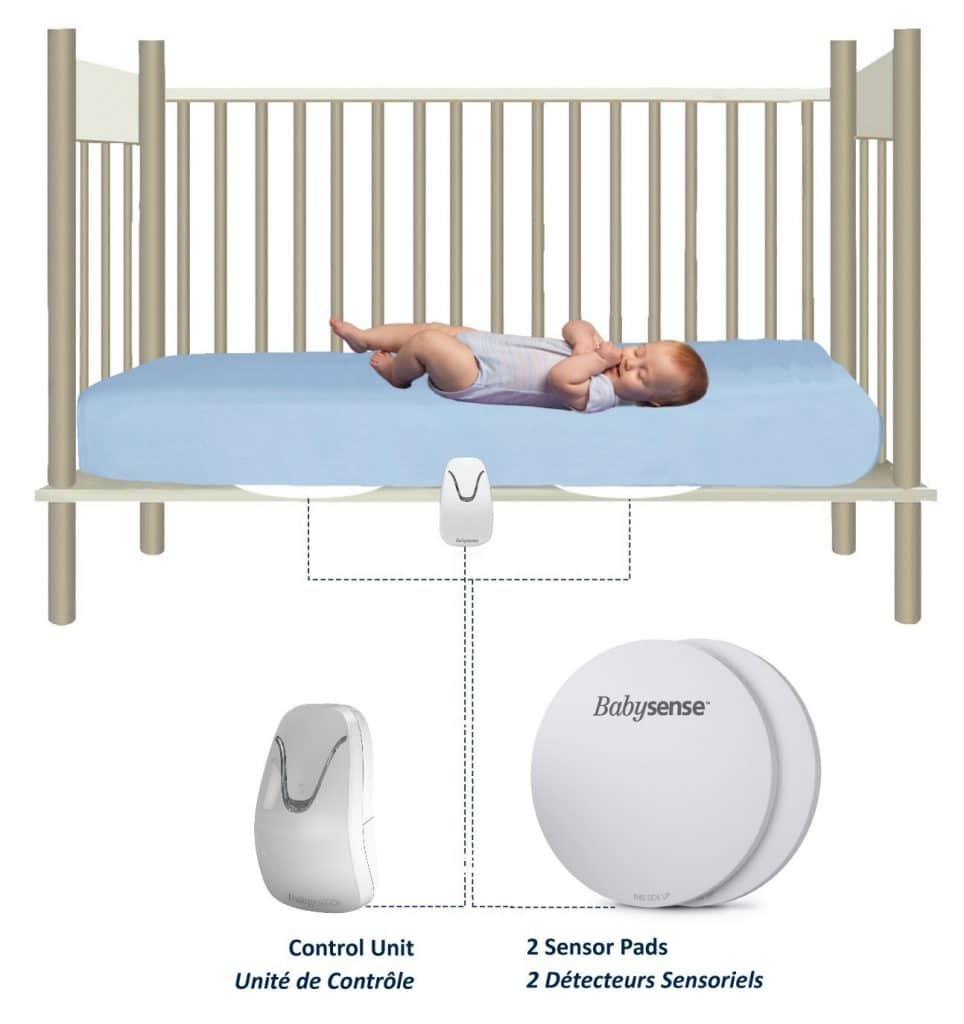 From the forerunner of under-the-mattress baby movement monitor, the new and improved BabySense 7 offers astounding safety features for baby giving parents more peace of mind. From its original creation of non contact infant monitor, the brand offers more enhanced sensitivity feature with lower risk of false alarms. The Babysense 7 – Under-The-Mattress Baby Movement Monitor's passive sensor system detects movement and sounds the alarm if none can be observed in 20 seconds or if movement rate goes lower than 10 micro-movements per minute. It works via its 2 sensitive sensor pad usually placed underneath a baby's mattress.
Both auditory and visual alarms activate when slow or irregular movement is noted. One of the most trusted medical devices recommended by the Ministry of Health across the globe, it continues to help monitor millions of babies preventing cases like SIDS.
Pros
A blue light that blinks on the front to let you know that it is detecting movement so you can get a quick peek at night
Alarm is loud enough to wake you up from sleep if breathing is not detected after 20 seconds
Cons
Some people reported if fan is on anything higher than the lowest setting the alarm wouldn't trigger because it caused too much interference.
Best portable baby breathing monitor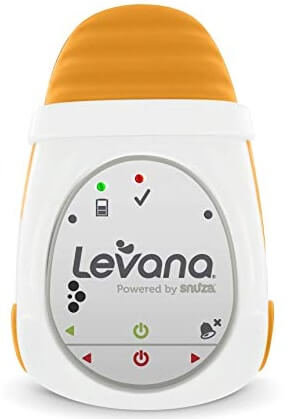 If it's a wearable baby movement monitor you want, the Levana Oma Snuza Baby Movement Monitor offers utmost portability and convenience without sacrificing safety for baby. Using no wires or cords, it can be clipped on baby's nappy area allowing closer monitoring of movement for more accuracy and less false alarms.
It can also be set to monitor weak or infrequent movement which is particularly useful for pre-term infants and infants with known health condition.
Pros
Can be clipped to baby's diaper so it can move with the baby when moved from co-sleeper to the crib.
Alarm is loud enough to hear by not annoying
Cons
If baby is not swaddled , once baby is rolling over in the crib, it will come off
Best baby movement and sound monitor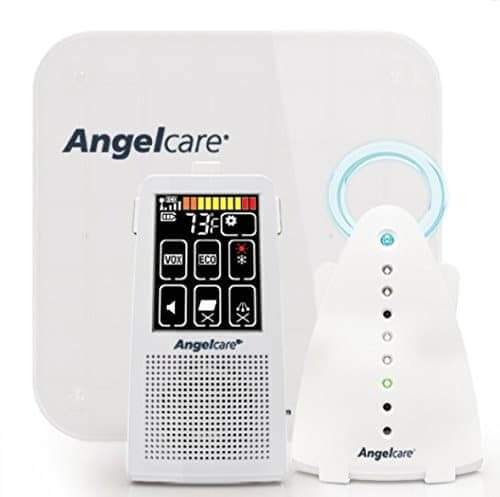 Want a baby movement monitor that works like a smartphone or tablet? The Angelcare AC701 Touchscreen Movement and Sound Monitor is a sensory type monitor with the pad placed underneath a baby's mattress connects direct to a nursery unit via digital transmission with frequency hopping technology that prevents interference for more accuracy. Parent unit offers not just touchscreen capabilities but also two-way audio allowing Mom or Dad to communicate with baby.
The sensitivity of the sensor pad can also be adjusted as well as is nightlight. Other features include location feature, soothing sounds, audio Tic monitoring, lights, out of range indicator, low battery alert, temperature, and so on.
Pros
The nursery unit doesn't use rechargeable batteries, but gives warning if the batteries are getting low.
Works great for both back and belly sleeping
Cons
Monitor has a background noise coming through, like a low rumble as it amplifies whatever interference it gets
Best wearable baby monitor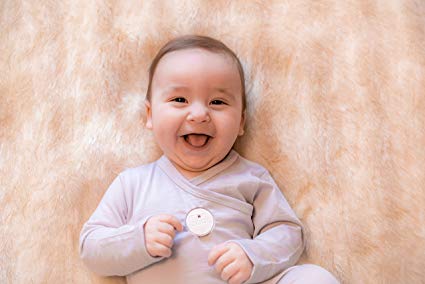 Another excellent wearable baby movement monitor comes perfectly designed for babies learning to rollover and crawl. The MonBaby Breathing Movement, Rollover & Activity Monitor is designed with accuracy and safety in mind. Offering quick and easy snap-on feature, it can be easily attached to baby's clothing without worrying of falling or causing discomfort to baby.
It monitors breathing movement, position of the body, and fall detection with utmost proximity for more accuracy and reduced false alarms. Instead of monitoring via an LCD screen, simply download an app to your smartphone and voila! Keeping track of your baby's whereabouts can be done with ease anytime, anywhere.
Pros
Provides Constant monitoring of orientation and movement
Other than tracking breathing it also tell you the baby's physical orientation (back, side, or tummy)
Cons
Battery does not usually last for more than 2 weeks
Baby movement monitor is not a medical device on which you can solely rely to prevent SIDS . However, they can surely provide some peace of mind for new parents, and get some much needed rest.