Celebrate the special bond between generations through capturing those priceless moments with grandparents and babies photoshoot! Grandparents are an important part of our lives, and as time goes by, we want to capture these cherished memories that we can treasure for years to come. In this section, we will explore some creative and heartwarming ideas for grandparents photoshoots with babies, providing you with some inspiration for your next family photoshoot.
Key Takeaways:
Creating lasting memories are important for generations to come.
Get the entire family involved in the photoshoot.
Poses and positions that highlight the bond between grandparents and the baby are important.
Experiment with different photography techniques and props for a creative touch.
Choosing the right location plays a big part in the overall aesthetic of the photos.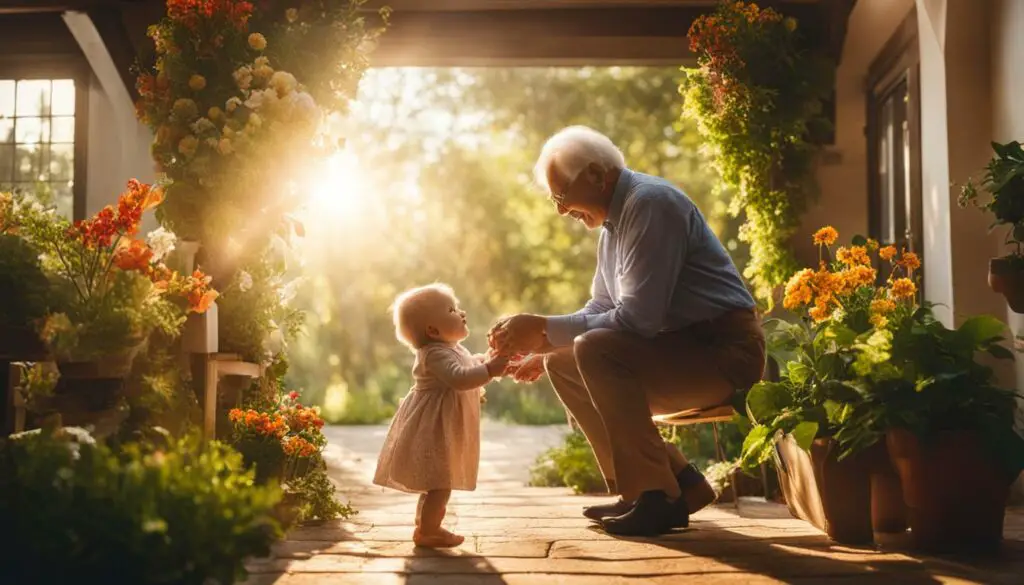 Family Photoshoot Inspiration
Starting your grandparents photoshoot with the entire family can create a fun and relaxed session that showcases the love between generations. Choose an outdoor location, such as a park or beach, that provides a beautiful backdrop for your family photos.
"A family photoshoot is a wonderful way to capture memories that will last a lifetime. It's a chance to highlight the unique connections and personalities within your family."
There are endless photo shoot ideas for grandparents and babies. Consider including different generations in your photos, such as grandparents, parents, and siblings. This creates a beautiful story of your family's journey and the bonds that tie you all together.
During your photo shoot, make sure to take a variety of individual and group shots. Encourage everyone to interact with each other and have fun. The best photos come from natural, candid moments that capture the authentic happiness and love within your family.
If you're stuck on ideas, here are a few to get you started:
| Photo Idea | Description |
| --- | --- |
| Three Generations | A touching photo of the grandparents, parents, and baby holding hands or standing together to show the bond between three generations. |
| Baby's First Steps | Capture the joy and excitement of your baby's first steps with the help of the grandparents. |
| Storytime | Showcase the grandparents' favorite books by having them read to the baby in a cozy setting. |
Remember, the most important thing is to have fun and enjoy the experience. When your photoshoot is over, you'll have timeless memories that you and your family can look back on for years to come.
Grandparents and Baby Photo Poses
When it comes to grandparents photoshoots with babies, capturing sweet and heartwarming moments between the generations is key. Here are some photo pose ideas to inspire your shoot:
Hug it out: Capture the special bond between grandparents and baby with an embrace. Have the grandparents hold the baby close, resting their cheek against the baby's.
Sweet kiss: Snap a photo of the grandparents planting a gentle kiss on the baby's forehead or cheek. This pose is sure to highlight the love and affection between grandparents and baby.
Hands on: Focus on the generational connection by capturing photos of the grandparents and baby holding hands. This pose is particularly special as it showcases the passing down of love and wisdom from one generation to the next.
If you're looking for even more inspiration, consider browsing through grandparent and baby photo galleries online for additional ideas and inspiration.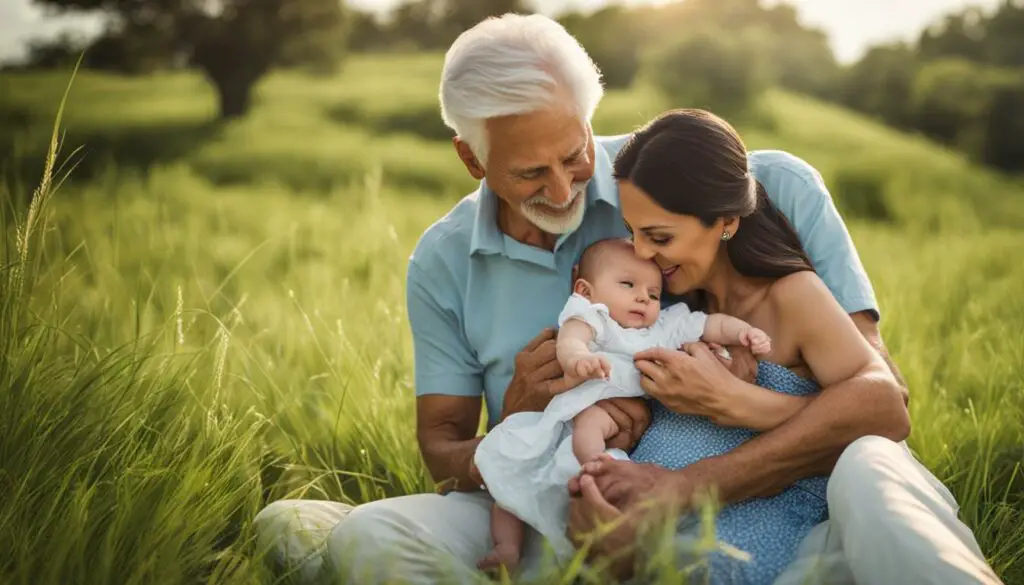 "The best thing about a picture is that it never changes, even when the people in it do." – Andy Warhol
Remember, your photoshoot should focus on capturing authentic and natural moments between the grandparents and baby. Don't be afraid to try out different poses and positions that showcase the special bond between them.
Creative Baby Photography Ideas
Adding creativity to your grandparents photoshoot will make the photos even more special. Here are a few baby photo tips to make your photoshoot fun, unique, and memorable!
Use Props
Integrating props into your photoshoot is a great way to make your photos stand out. Consider incorporating items that showcase the grandparents' hobbies or interests. For example, if the grandparents are musicians, have them hold a guitar or a set of headphones. If the grandparents are avid readers, include a vintage book in the shot. These props will add a personal touch to the photos and make them more meaningful.
Capture Candid Moments
Some of the best photos come from capturing candid moments between the baby and the grandparents. These moments are often the most authentic and heartfelt. Let the baby play and interact with the grandparents naturally and snap away. You'll end up with photos that showcase the love and connection between the generations in a genuine and beautiful way.
Get Close-Up Shots
Close-up shots of the baby's tiny hands and feet, or the grandparents' loving expressions, can make for some of the most touching photos. Consider taking some intimate shots of the baby's hands grasping the grandparents' fingers, or the grandparents' hands gently cradling the baby's head. These shots will emphasize the bond and the generational connection in a beautiful way.
Experiment with different poses, angles, and lighting to create unique and creative photos that truly capture the essence of the grandparents' relationship with the baby. With these baby photo tips, you'll be well on your way to creating cherished memories that will last a lifetime.
Family Photography Tips
Planning a successful family photoshoot can be tricky, especially with a baby in the mix. To ensure a smooth and fun session that captures authentic moments, keep these family photography tips in mind:
Timing is everything: Schedule the photoshoot during a time when the baby is well-rested and fed. This will ensure they are happy and cooperative during the session.
Communicate beforehand: Talk to the grandparents and parents about their preferences and any special moments they would like to capture. This will help you plan and prepare for the shoot, and ensure everyone is on the same page.
Relax and have fun: Encourage everyone to be themselves and have fun during the session. This will help capture genuine emotions and expressions that reflect the love and connection within the family.
Get creative with poses: Experiment with different poses and positions that highlight the bond between grandparents and the baby. (See Section 3 for grandparent and baby photo pose ideas.)
Choose the right location: Consider outdoor locations or even the grandparents' backyard for a relaxed and natural vibe, or opt for a studio session for a classic aesthetic. (See Section 6 for more tips on choosing the right location.)
By following these family photography tips, you'll be on your way to capturing beautiful and heartfelt moments that will be treasured for years to come.
Choosing the Right Location
One of the essential elements of a successful grandparents photoshoot with the baby is choosing the right location. Whether you opt for an outdoor setting or a studio session, a well-chosen location enhances the overall look and feel of the images. Here are some photo shoot props and grandparent and baby photo trends that can help you choose the perfect location.
Outdoor Settings
Outdoor settings provide a natural and relaxed vibe to your photos. Gardens and parks are perfect locations that offer a variety of visual elements such as trees, flowers, and greenery that provide a beautiful backdrop for your photos. If the grandparents have a backyard with beautiful flowers or trees, it can be an ideal place for a photo shoot. You can also choose a beach or lake for a more scenic setting. Using a blanket or toys as photo shoot props can enhance the outdoor ambiance and create beautiful visuals.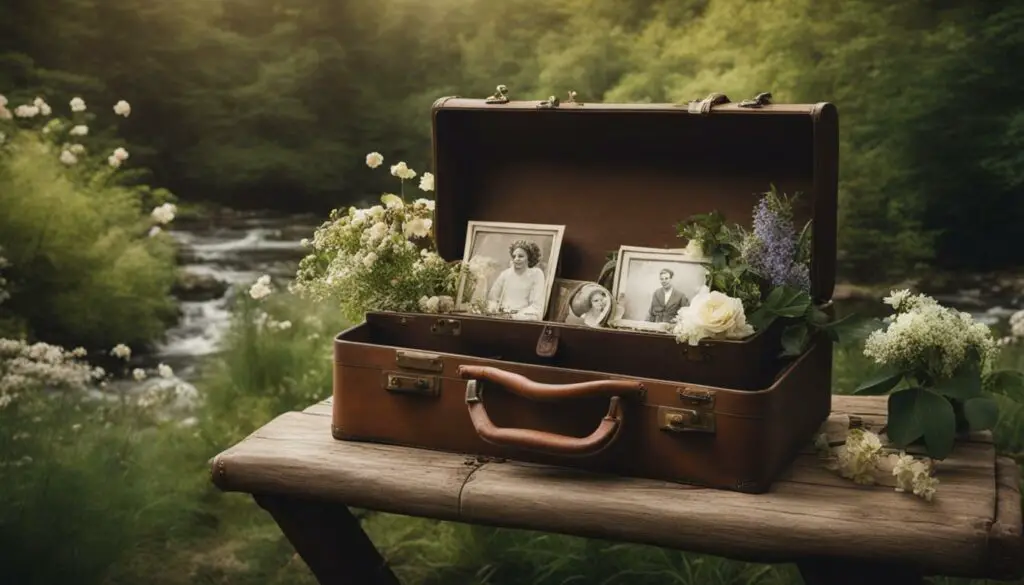 Studio Sessions
Studio sessions provide a more classic and timeless aesthetic. They provide a neutral background that can be customized to highlight the grandparents and the baby. The use of props such as chairs or pillows can add a touch of creativity and elegance to your photos. You can also create different lighting setups that can provide a dramatic effect to the images.
Choosing the Props
Props can add a personal touch to your photos and convey the grandparents' interests or hobbies. For instance, using a musical instrument can reflect the grandparents' love for music, and adding an old book can reflect their love for literature. Using toys, blankets, or family heirlooms can provide a sense of tradition and nostalgia to your photos.
When it comes to choosing the right location for your grandparents photoshoot with the baby, it's essential to consider the weather, lighting, and ambiance. Don't forget to bring photo shoot props that reflect the grandparents' interests and hobbies. A well-chosen location, paired with creative photo shoot props, can provide a stunning backdrop for your photos and create cherished memories that will last a lifetime.
Editing and Presentation
After the grandparents photoshoot, it's time to select and edit the best images to create beautiful, timeless memories. Here are some photo shoot tips to help you with editing and presentation:
Select the best images: Review all the photos taken during the session and choose the best ones that highlight the bond between the grandparents and the baby.
Edit the images: Enhance the colors, adjust lighting, and crop the images to create stunning visuals. If you're not confident with photo editing, consider hiring a professional photographer to help you.
Create a photo album: Compile the selected and edited images in a photo album that showcases the special moments and memories captured during the photoshoot.
Print and frame: Print the images and frame them to hang on the wall, creating a beautiful and personal decoration for your home.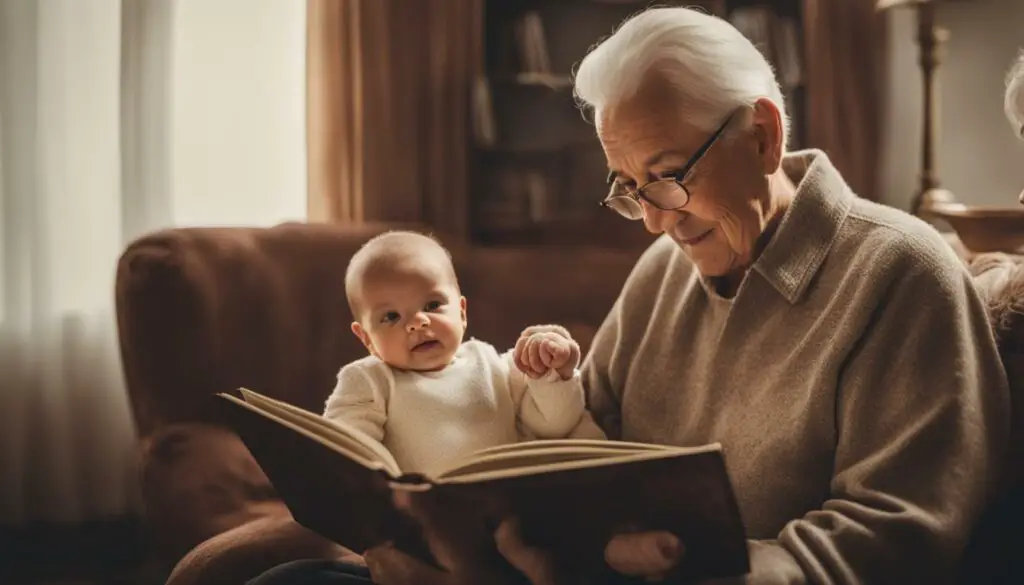 Remember that the editing and presentation process is just as important as the photoshoot itself. A well-curated and presented collection of images can evoke strong emotions and memories for years to come.
Conclusion
Congratulations on completing your grandparents photoshoot with your baby! We hope you found our tips and ideas helpful in creating cherished memories that will last a lifetime. Remember, the key to a successful photoshoot is to have fun, be creative, and enjoy the process.
As you review your photos, keep in mind our baby photo tips and family photo tips to select and edit the best images. Enhance the colors, adjust the lighting, and retouch any imperfections to create stunning visuals.
Consider displaying your photos in a photo album or framed prints to showcase the joy and love captured in the images. Share your photos with family and friends to spread the happiness and create lasting memories.
Thank you for choosing our guide on grandparents photoshoot ideas with babies. We wish you all the best in creating beautiful and cherished photos!