(Last Updated On: January 16, 2019)
When you have a new baby in the house, bottles, pacifiers and all manners of things become the all important articles around the house. But since your child will be putting these in their mouth – you need to ensure that they are clean and sterilized.
The Best Baby Bottle Sterilizers of 2019:
Philips AVENT 3-in-1 Electric Steam Sterilizer Review

Wabi Baby Electric Steam Baby Bottle Sterilizer and Dryer Review

Cuisinart CS-6 Baby Bottle Sterilizer

Tommee Tippee Electric Steam Sterilizer

JoyBaby UV Sterilizer-Cleaner-Sanitizer 'n One For Pacifiers and Teats

STok 3-n-1 BPA-Free Electric Steam Sterilizer (6 Bottles)
All my research and experience of using several baby bottle sterilizer is listed in this page.
But if you are in a hurry…here's my recommendation for best baby bottle sterilizer in 2019. Yes it is on the expensive side, but it helps me to sterilize following in one go in 15 minutes
6 nursing bottles
2 pair of pump flange kits
2 small bowls and lids
5 spoons
3 teethers
2 mini container cupsAnd complete drying of the baby bottles takes another 45 minutes and I'm all done for the day
Check out why Wabi Baby Electric Steam Sterilizer and Dryer is the best baby bottle sterilizer in 2018 and what other mommies say about it
Read all the reviews by nursing mothers here to find why almost everyone has given it a 4 to 5 star
Quick comparison between  top  rated bottle sterilizers in 2018
Different Types of Baby Bottle Sterilizer
Bacteria, viruses and other microbes are a fact of life. Whether you are breastfeeding and only express milk occasionally, you will at some point use bottles with removable silicone teats, breast pump, pacifier, and feeding accessories—an icky haven for dangerous germs and microbes. While it may not be the most sensational product to buy for a new baby, parents particularly new Moms know precisely the importance of bottle sterilizers in eliminating these disease-causing microorganisms.
Though some bacteria may be beneficial to a baby's developing immune system, there are life threatening ones lurking right at the very things a baby is exposed to. This is why regular sterilization of baby stuff particularly feeding materials come highly recommended by medical professionals and experienced parents.
Today, there are three types of sterilizers available for the convenience of busybodies—electric, microwave, and UV technology.
Here's a detailed description on each type of sterilizer:
Best Electric Bottle Sterilizers
Like most bottle warmers and sterilizers, this is also made of plastic. And as you have seen, it isn't exactly the most expensive one in the list. Then why are we listing this first? That's because currently at Amazon this is a bestseller. And that just means that mothers and parents across demographics are leaning towards this product. And when so many people are buying it – that is surely a sign of its quality.
The plastic used is safe and completely BPA free. Add to that the fact that this is published under the Philips AVENT name – and you know you have an excellent product so far as baby safety and care is concerned. And just because it is a bottle sterilizer doesn't mean that you cannot sterilize other bottle accessories in it.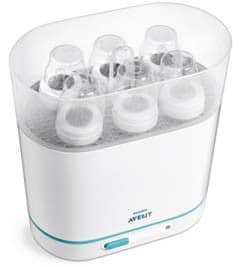 Philips AVENT 3-in-1 Electric Steam Sterilizer Review
In fact, you can use this to sterilize all the supplies – the bottles, the bottle collars, the nipples, the pacifier and even the teething ring if you so want.
Anything that you want to clean before allowing your baby to put in his or her mouth – you can put in this and run for the preprogrammed six minute sterilization cycle.
You can also sterilize your breast pump in this. And the height of the sterilizer is adjustable to different sizes so that it is the right size for whatever you want to sterilize.
And now let's take a look at why parents have been choosing this over the others:
It is a much quicker way to sterilize than boiling and the whole process. 6 minutes and everything is 99.9% germ free and safe for your little one.
Cleaning it is very simple. In fact, the recipe using 8 parts water and 2 parts vinegar is mentioned on the pack for the sterilizer itself.
You can sterilize a load for the next day and leave them in – they stay sterilized for up to 24 hours after washing.
Since there are no chemicals involved in the cleaning – as with a dishwasher – the longevity of the bottles and your baby's health aren't compromised.
Now if this is the one that you also want to go for – then go ahead and order it now and grab it for the current price – which is actually a discounted amount!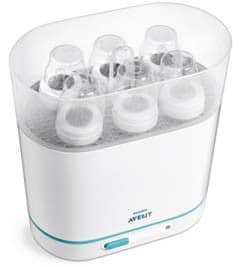 Philips AVENT 3-in-1 Electric Steam Sterilizer Review
As you saw from the comparative table – the first one had no dryer option. But if you would like to have a sterilizer with a dryer – check out this next option:
Of course, the Wabi baby electric stream sterilizer does have a higher price – because this sterilizer also comes with a very useful bottle dryer feature. But its higher price is justified by several other factors as well:
Firstly, there is the bottle dryer option – this ensures that there is no residual water that you need to wipe off to prevent marks on the bottles as they dry. It also eliminates the need to separately air dry.
Secondly, this is actually a larger sterilizer, and irrespective of make fits 8 bottles at a go. So in case you have twins, you can get one and sterilize 4 bottles at a time for each baby.
Thirdly, it has a special basket for pacifiers, nipples and other odds and ends that you can sterilize along with the bottles and at the same time.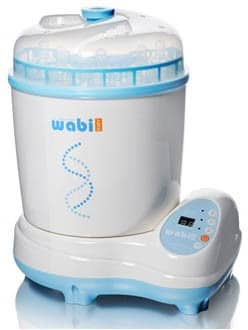 Wabi Baby Electric Steam Baby Bottle Sterilizer and Dryer Review
And that's not all – from when you load all the stuff into the sterilizer, just give it one hour – and all the stuff in it will be cleaned, sterilized, deodorized and of course dried! That's a great unit to have in the house – particularly when you regularly need up to 8 bottles a day.
As for why customers have given it a high enough rating for it to show up in our search:
For mums who are tired of drying the bottles after sterilizing them, this is the best option – it greatly reduces the load on you!
A particular parent was even using it to sterilize and dry her children's nebulizers in!
For humid climates, bottle drying is really tough – usually there is a good chance of them getting contaminated again if left out to air dry. In such circumstances this sterilizer is the best option.
Over all, this is also a great item and a must for certain people and certain climates and we recommend it as the best baby bottle sterilizer with dryer.  So if you have the budget  – then go ahead and order it. And if you just wanted to look through the reviews again before deciding, click here.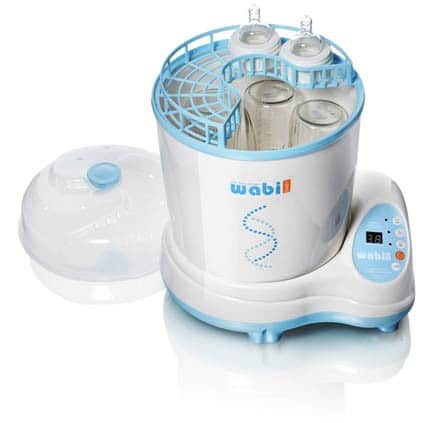 Wabi Baby Electric Steam Baby Bottle Sterilizer and Dryer Review
And now we have 2 more baby bottle sterilizers that can fall in the budget category, though none will dry your bottles for you.
This one is another great sterilizer to have; it's only con being the absence of a dryer. But then the price is also a lot more affordable!
Now, if you are looking into it, let's see what are the highlights of this sterilizer:
It works with bottles of all size and make – even glass bottles can be sterilized in this.
The bottles go at the bottom, the nipples and bottle collars on top – so everything gets cleaned and sterilized properly.
It is made of BPA free plastic – therefore no risk posed to your baby.
Also it comes with a 3 year warranty from the manufacturer.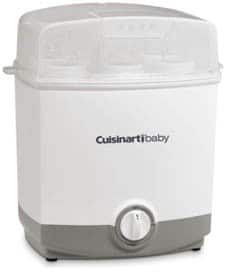 Cuisinart CS-6 Baby Bottle Sterilizer
From the attributes, this would seem like a good buy. But let's just run it by the customer reviews, shall we?
It really shortens the cleaning time, as you would expect from a bottle sterilizer.
Unlike other sterilizers, this actually is versatile so far as bottle sizes that fit are concerned. In fact, there is also space enough for plates, spoons, pacifiers, etc. with the bottles!
It makes no noise when in action – something many parents appreciate.
The double decker shelves keep things organized and they are also super easy to remove, load and then put back in the sterilizer.
If you are thinking economical and worth its price – this one is a great bargain! So do consider it. And also remember that currently Amazon is offering an almost 50% discount – and you should aim to get that!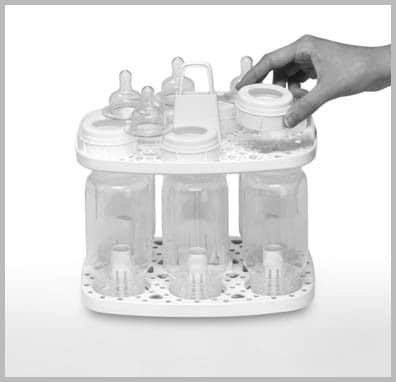 Cuisinart CS-6 Baby Bottle Sterilizer
Finally our last but not the least sterilizer review for baby bottles:
Made of plastic, this sterilizer is also a budget friendly option. The plastic used is phthalate as well as BPA free so you can be assured that it will not compromise your baby's health.
Being very easy to use, you just need to load everything into the sterilizer, pour in the adequate amount of water, close the lid and press a button to turn it on. And thereafter, in just about 5 minutes, the bottles will be completely sterilized and clean.
Another aspect of the design is that you can actually use the lid upside down as a space to prep the bottles before placing them inside.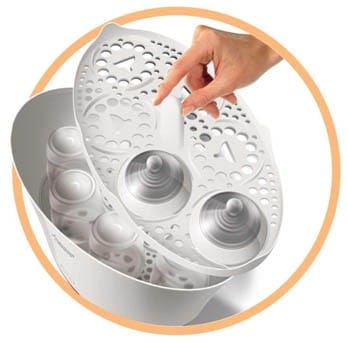 Tommee Tippee Electric Steam Sterilizer
But as you know, attributes aren't the only thing to consider. The real test is in the reviews left by customers. After all they are the ones who tried and tested it themselves:
It can be used with any bottles, not just the Tommee Tippee ones.
It sterilizes pretty well and quickly.
Also it seems to work well for long periods of time – so you needn't think about replacing it anytime soon.
Some people actually got a Tommee Tippee bottle with it as a free bonus – if you are lucky, so may you!
Now, if you actually want to give this a shot then go check out the details at Amazon. For parents working with a tight budget, we particularly recommend this one since it works pretty well, and costs the least. And that is without the discount that Amazon is offering!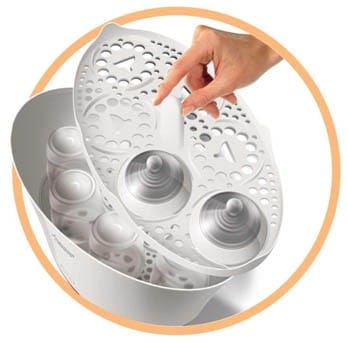 Tommee Tippee Electric Steam Sterilizer
UV Bottle Sterilizers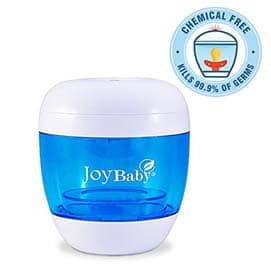 JoyBaby UV Sterilizer-Cleaner-Sanitizer 'n One For Pacifiers and Teats
Another travel-savvy buddy for on-the-go Moms, the JoyBaby UV Sterilizer-Cleaner-Sanitizer 'n One is designed to for pacifiers and feeding bottle nipples only. For little tots who love to drop and throw their pacifier or feeding bottle when they feel like throwing a fit, this UV bottle sterilizer is heaven-sent. It sterilizes pacifiers and teats in as short as two minutes using advanced UV-C germicidal wavelength technology killing at most 99.9% of harmful microorganisms. One of the deadliest ultraviolet light wavelength to microorganisms, it destroys bacteria, viruses and other antibiotic-resistance microbes by destroying its nucleic acid and tearing apart its DNA. With such powerful light radiation, germs can no longer function or reproduce on your baby's pacifier and feeding bottle nipple leaving it free from disease-causing pathogens.
Even Mommies who breastfeed can enjoy the benefits of JoyBaby UV Sterilizer-Cleaner-Sanitizer 'n One. It can sterilize nipple shields and breast shells as well as teething aid and chew toys. Portable and lightweight, it can be stashed in your diaper bag or handbag while out and about with your little bundle of joy. Simply store a pacifier or a teether or a spare feeding bottle teat inside this handy sterilizer—and your baby has something clean to latch on even when on the go. You can also fit it right at the top of a feeding bottle as a sterilizing cover for a convenient all-the-time sanitized feel.
Here are the key features of the JoyBaby UV Sterilizer-Cleaner-Sanitizer 'n One:
makes use of unique UV-C light technology
eliminates 99.9% of bacteria, viruses, and other disease-causing germs and microbes
lightweight and compact design; portable; can fit in diaper bags or purses
quick-sterilizing agent
mess-free
certified safe to use  as approved by the FDA; ABS-proof material
makes perfect gift for baby showers and baptisms
Amid being limited only for pacifiers and feeding bottle nipples, the Baby&Joy UV Sterilizer, Cleaner and Sanitizer continue to garner positive reviews from verified Amazon buyers. Check these out:
Parents hailed it as one of the most convenient, compact and portable baby bottle sterilizer during travel or whenever they're on the go.
Some parents also noted that it's compatible with most baby bottle teats and pacifiers as well as teethers, nipple shields, etc.
For babies suffering from thrush, this helps prevent spread of germs and provides deep clean after every use.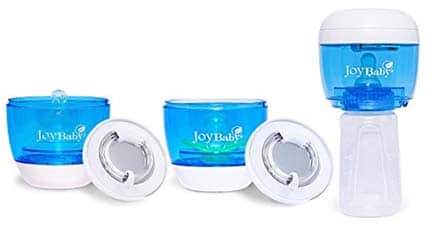 JoyBaby UV Sterilizer-Cleaner-Sanitizer 'n One For Pacifiers and Teats
Baby &Joy UV Sterilizer-Cleaner-Sanitizer 'n One For Pacifiers and Teats
It also features easy 2-step sterilization process. Simply wipe-off dust or dirt, or wash with warm soapy water in the case of larger food particles like milk deposits. Place inside the shell, locked, and press the button to start. In a matter of 3 minutes, voila! Over all, the JoyBaby UV Sterilizer-Cleaner-Sanitizer 'n One is an excellent must-have for personal use or for gift-giving. To order, click HERE to check for discounts and shipping perks.
Another Electric Steam bottle Sterilizer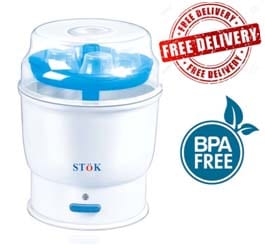 STok 3-n-1 BPA-Free Electric Steam Sterilizer (6 Bottles)
From the makers of some of the most multi-functional and durable travel bags, the STok 3-n-1 BPA-Free Electric Steam Sterilizer is currently rising in popularity among parents who want nothing but the best for their babies—without spending too much. Made from BPA-free plastic, it can accommodate up to 6 narrow- or wide-neck feeding bottles including teats or nipples, pacifiers, teethers or chewing toys, breast pump and shield, and nipple shells—killing 99.9 percent of disease-causing bacteria and viruses.
Like other electric sterilizers, it utilized steam sterilization to get rid of germs and microbes from baby feeding stuffs. But unlike other brands, the STok 3-n-1 BPA-Free Electric Steam Sterilizer automatically turns off after 6 minutes of deep cleaning. All you need to do is placed the pre-wash feeding bottles at the bottom chamber and add the ante-chamber to hold bottle cap, teats and nipples, and so on. Secure the lid carefully on top, plug it into an electric outlet, and push the button to start. In as short as 6 minutes, your baby now has squeaky clean feeding and playing elements.
Key Features:
kills 99.9 percent of disease-causing germs
fast 6-minute complete cycle
auto turn-off mechanism
versatile; can sterilize wide or narrow-neck bottles as well as nipples/teats, pacifiers, feeding bottle caps and drip stopper, teethers, and any small objects baby love to chew on
made of BPA-free durable plastic
3-in-1 functionality—sterilizer, cleaner and sanitizer
With such astounding features, it is no wonder the following reviews from certified users continue to hail this sterilizer as:
the best value for their money
must-have baby product for all new mommies
best protection from food-borne infections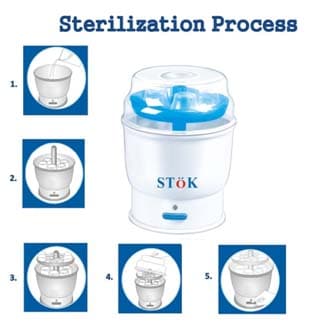 STok 3-n-1 BPA-Free Electric Steam Sterilizer (6 Bottles)
Needless to say, the STok 3-n-1 BPA-Free Electric Steam Sterilizer is one of the wisest choices out there. If you pick this one, feel free to grab its free delivery option from Amazon now!
What to look for in Electric Bottle Sterilizers
As the title implies, electric bottle sterilizers are virtually powered by electricity. Its main germ-killing system relies on heat from steaming. Here, bottles are pre-washed with soap and tap water. These are then, arranged inside a mini-chamber filled with a specific amount of water (usually 1 cup), plugged into an electric outlet and voila! A single touch of the button will heat the water inside producing hot steam that eliminates disease causing microorganisms. Definitely, no need to add any chemical formula! For best results, allow steaming to last for approximately 10 minutes.
Most brands today offer drying, storage and deodorizing mechanisms for a fully functional and convenient germ-killing sterilizer. Electric bottle sterilizers come in various designs and size. Some can even accommodate up to 10 bottles. Other brands also have programmable mechanisms allowing sterilization to continue even while you and the baby rest, and automatically stops at a designated time. By far, it's one of the simplest to use—place bottles inside chamber, plug in, press start button, and grab one for use later on.
Pros
convenient and easy to use
quick and effective sterilization
only needs water for hot steaming mechanism
no added chemical
multi-functional—sterilize, dry and deodorize
provide safe storage for feeding materials
some can be programmed
Cons
can be bulky
relies on electricity
more expensive type
What to look for in Microwave Bottle Sterilizer
Microwave bottle sterilizers work in the same way as electric types, only it requires another piece of equipment—a microwave. It still kills approximately 99.9% germs and microbes via hot steam without using any chemicals, only it must be placed inside a microwave. Lightweight and compact, microwave sterilizers make it easier to tag along when out and about on holidays or visiting family.
To use, simply place pre-washed feeding bottles, teats removed, and other feeding materials into the chamber. Add a cup (check manual for specific brands) of water, fasten the airtight lid and lodge in the microwave. Carefully double check the manufacturer's instruction usually included in the package. Some brands specify certain temperature and time for steaming. Often, it will take at least 5 minutes for hot steam to kick in.
Popular brands are known to be affordable and fit most microwave models in the market. When planning to buy online, it is imperative that you double check the microwave used in your home vis-à-vis compatibility chart on a desired brand to guarantee fit. In some cases, microwave sterilizers can also double as "cold water" sterilizers by simply placing sterilizing tablets or liquid to clean baby feeding stuffs, giving you another option in the event of a blackout. Keep in mind though that metallic items cannot be sterilized using this one.
Pros
fast sterilization via hot steam
kills 99.9% harmful microbes
convenient and portable
fits most microwave models
budget-friendly
can double as cold water sterilizer

Cons
requires a microwave
no automatic drying mechanism
can't sterilize metallic item.
UV Portable Bottle Sterilizer
The newly proclaimed queen of baby bottle sterilization, UV portable sterilizers are sweeping the world of new moms. Powered by the same smart LED technology used in hospital and aqua garden sterilization, this baby bottle sterilizer makes use of powerful UV light to eliminate approximately 99.9 percent of harmful disease-causing bacteria and viruses, including antibiotics- and chemical- resistant microorganisms.
A breakthrough in complete sterilization, this handy and rechargeable UV LED-powered sterilizer eliminates germs including salmonella, E. coli, staph, listeria, and even deadly MRSA in a matter of seconds. Lightweight and portable, most brands in the market today can fit in a purse or a diaper bag making it a perfect ally for new moms wherever, whenever. The perfect sterilizer when on-the-go!
UV portable sterilizers are powered by rechargeable lithium-ion batteries which can last for a week. It can be charged using micro-USB cable making it easier to use even when travelling. Most brands can fit 1 to 2 feeding bottles and works with just a touch of the button. When babies are past their toddler years, these UV portable sterilizers can also disinfect contact lenses, mouth guards, retainers and dentures, remote controls, toothbrushes, combs and brushes, mobile phones, keys and holders, headphones, earbuds, thermometers, miniature toys, kitchen utensils, CPAP masks, nebulizing kit, and other everyday things where germ easily resides. Some smart brands can even sterilize water.
Pros
powerful UV LED killing action
kills 99.9% of germs including antibiotic-resistant MRSA
lightweight and portable (fits in a diaper bag)
easy to use
can be used when on the go
rechargeable long-life battery
one-touch operation
versatile; can sterilize anything that fits
travel-savvy
can sterilize water
affordable
Cons
bigger feeding bottles won't fit in the sterilizing chamber
can take longer to sterilize
Do I have to use a sterilizer?
Using of sterilizers is purely of personal preference. If you prefer sweating out in a boiling saucepan-styled to sterilize baby bottles, teats, caps, and utensils used for feeding then, by all means do so. But if you want to make life easier and more convenient, these budget-friendly time-saving bottle sterilizers are the way to go.
Think about eliminating 99.9% of disease-causing bacteria and viruses off your precious babe's stuff—with nothing but water or UV LED light. Unlike old-school sterilization wherein you need to boil a sauce pan of water and risk deforming water bottles or melting teats, pacifiers and feeding utensils or even breastfeeding stuffs like breast pumps, shells and nipple shield. With sterilizers, you need not worry of added chemicals or deformations anymore. In just a matter of minutes, you can have germ-free things for baby to latch on.
When picking one, however, carefully consider the following—volume and size of bottles and baby stuffs to be sterilized, added mechanisms you wanted (like self-drying, deodorizing, etc.), your budget, and lifestyle. Sometimes, having one or all three types of baby bottle sterilizers can spell a lot of difference.