(Last Updated On: January 11, 2019)
A bouncer is a great way to keep your baby safe, secure and contented. This is because while a good bouncer will stay steady with a small baby in it, as the baby grows, and learns to kick his or her feet, the bouncer will respond with a bounce. But for the safety of your baby, you need to get a reliable bouncer, and we have got 3 recommendations for best baby bouncer – in various price ranges so you can find one that suits your needs!
Find here The Best Baby Bouncers of 2019:
Fisher-Price 4-in-1 Rock 'n Glide Soother

Fisher-Price Deluxe Bouncer, My Little Snugabunny

Fisher-Price Infant-to-Toddler Rocker, Bunny
Best Baby Bouncers Comparison chart:
And now we'll take a look at the 3 individually….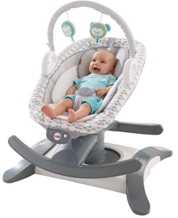 Fisher-Price 4-in-1 Rock 'n Glide Soother
This is by far the most expensive bouncer featured in this list. But it does come with a range of impressive features:
In addition to being a bouncer, this one is also a glider – so one investment takes care of both needs.
It provides calming vibrations – so in case you are busy and want your baby to stay comforted, just place him in this.
It comes with a number of tune options as well for the benefit of your baby.
Since the seat has a 360 degrees rotating function, no matter which part of the room you are working in, you can easily turn the bouncer around to face you – without having to lift the entire thing and replace it. It also attracts the baby with some distractions, so the baby stays preoccupied. There are others that you can check out at the product listing.
Of course, with so many features, the soother is bound to be a favorite. And it sure is – just check out the reviews:
It comes with an AC plug, so you don't waste money on batteries, but rather just plug it in and turn it on.
The seat is very comfortable and soon becomes a favorite with most babies.
Since the entire product disassembles easily, it can be used as a rocker, a cradle for traveling, as well as can be stored easily.
Besides there are of course a lot of other reviews that you should check out before deciding on one. And if you do decide on it – Amazon is the best place to order it!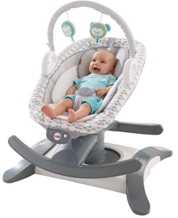 Fisher-Price 4-in-1 Rock 'n Glide Soother
But let's take a look at something a little less expensive now…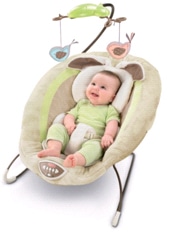 Fisher-Price Deluxe Bouncer, My Little Snugabunny
This one is another bouncer, though much simpler in design. But that also means that the price is less – so those on a budget can consider it. Now let's take a look at the features with this one as well:
The seat of this bouncer is at once both a cradle and a bouncer. So you know your baby is more secure and safe in it.
It doesn't have an AC plug, but it is very battery efficient, and the batteries last for a good amount of time.
This one also has the music function to keep your baby soothed and occupied.
Again, we are actually looking at a highly reviewed product. According to the manufacturers, it is super comfy and babies tend to love being placed in it! But now we'll check out if the facts check out according to the customers or not:
It has a soothing vibration feature that many parents actually used at baby's bedtime, with surprisingly good results!
The bouncer feature is pretty nice, and the baby's love kicking away when in it.
It comes with a pretty good toy bar – that is actually detachable.
Also, for the rest of the many reviews, do go and check out Amazon. And once you are done with that – to order, just get to Amazon.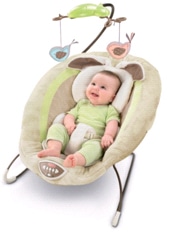 Fisher-Price Deluxe Bouncer, My Little Snugabunny
This one is by far the most affordable bouncer on this list – and also the most basic.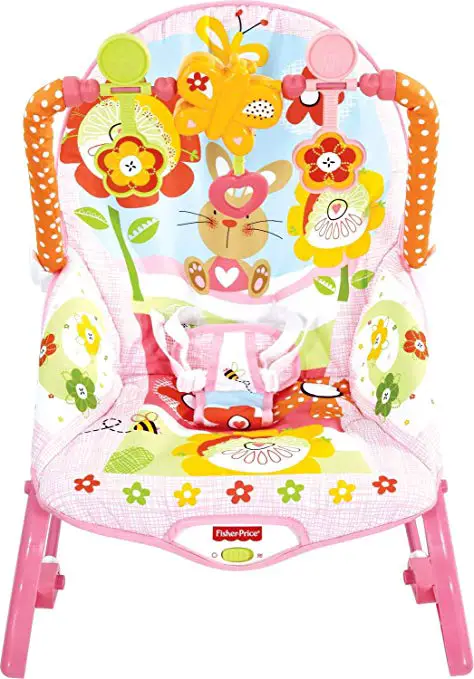 Fisher-Price Infant-to-Toddler Rocker, Bunny
But even though it is basic, it serves your purpose pretty well! This one is actually quite versatile. Let's check out exactly why:
It has a special kickstand – being a bouncer this is a great touch.
The seat actually reclines, so you can use it to let your baby sleep or feed.
The music options are quite soothing, and the toys keep your baby occupied and happy for long!
Another big plus point with this bouncer is that it actually comes in frustration free packaging – and that too for the same price! So, check out the rest of the details of the bouncer here.
And we'll now take a look at some of the reviews:
The bouncer actually grows with your baby – so you start using it when your baby is an infant, and keep using it till his toddler days!
Most babies who were placed in this loved the experience! And chances are you will also find success.
For its price, if you can get a chair that will keep your baby comforted, happy and safe, that will surely be a great bargain. And this one sure is!
You can always check out the rest of the scores of positive reviews on Amazon. And then once you do – don't worry about that tight budget – go ahead and order it!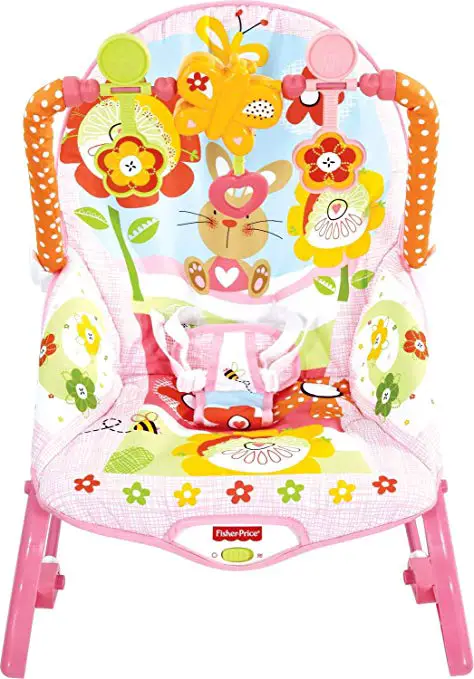 Fisher-Price Infant-to-Toddler Rocker, Bunny
So there you have 3 of the best baby bouncer options for you to pick from. And we did pick with your budget woes in mind – so nothing can limit you. Pick the one that suits you best and get ordering. And Amazon will take care of the rest!