(Last Updated On: January 11, 2019)
Changing a baby's diaper is definitely a challenge to first-time Moms but with the accessibility and efficiency that a diaper caddy for pack n play brings, those moments may actually become one of your fondest memories.
Have a look at the best diaper caddies:
Buzzy Babee Diaper Change Organizer

Car & Crib Diaper Caddy

Crib & Changing Table Organizer By 3BabyBears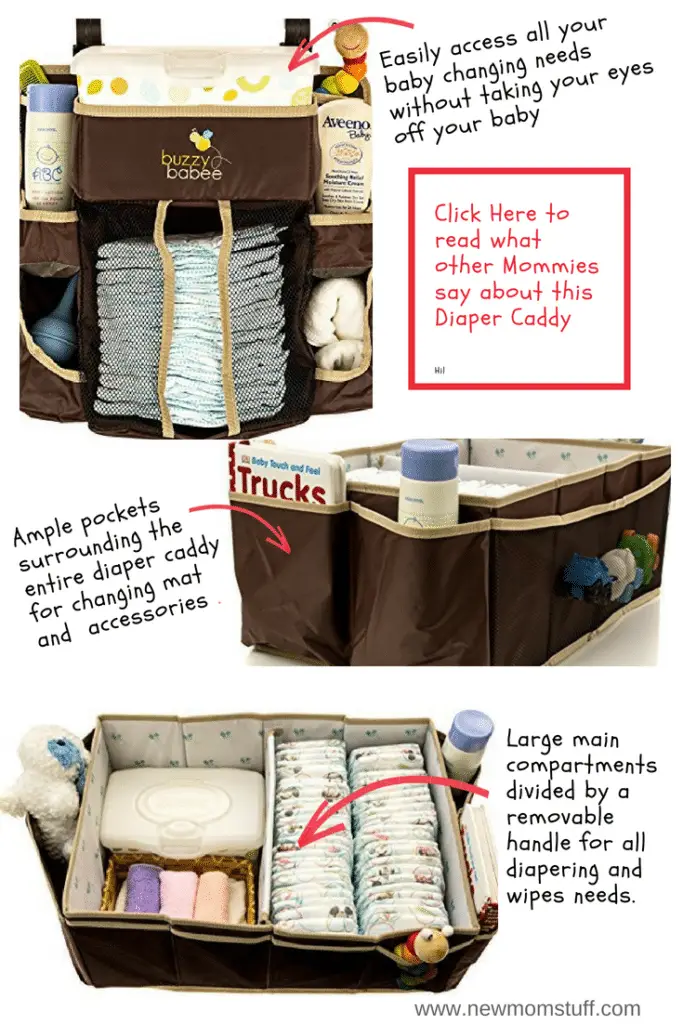 I love it. Apart from being convenient and handy it looks really cute at the side of her pack n play. And here's another reason I  adore it.  I can see Angelina keeping this for later on to hold her hair care products or toiletries 🙂
Get further details about it here
When thinking of having everything you need just when the situation arise, these diaper caddies below can truly lend a helping hand. So here's the comparison table.
Product
Image
Features






Buzzy Babee Diaper Change Organizer

Check out Price on Amazon here



* Large capacity at 14x17-inch size
* Velcro strap to prevent sagging
* Large mesh opening for diapers
* Roomy Side pockets
* Secured hook system
* Portable
* Can be used in car, stroller, crib, changing table, etc.






Baby Olga Car & Crib Diaper Caddy

Check out current price on Amazon Now


* Ample space at 11x18-inch
* Sturdy hooks for security
* Reinforced body
* Large diaper mesh compartment
* 3 mesh side pockets
* Upper platform for added storage
* Waterproof
* Portable
* Designed for travel






Crib & Changing Table Organizer By 3BabyBears

Check out Price on Amazon Now


* Roomy diaper storage at 16x14-inch
* 4 reinforced mesh compartments
* Large clips for secured attachment
* Velcro straps enclosure
* Reinforced with hard plastic
* No sagging
* For nursery, cribs, changing table, car, etc.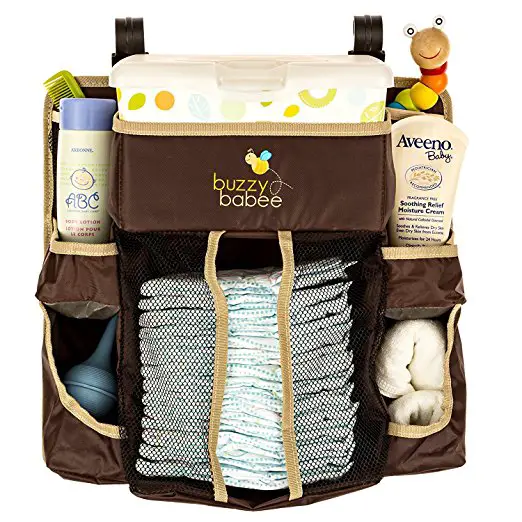 Buzzy Babee Diaper Change Organizer
Designed with twin babies in mind, the Buzzy Babee Diaper Change Organizer comes in a larger size at 14×17-inch. Now, you can pack everything you need into this caddy and simply hang it on the side of your baby's crib, in the car's backpocket, and even hang it over a tent's steel bar when the family goes out camping. This makes access to what baby's needs during diaper change easy and effortless– and safe.
The Buzzy Babee Diaper Change Organizer has a main shelf that can house diapers (cloth or disposable) regardless of size. It comes secured with a Velcro strap to prevent caddy from sagging or weighed down by little stuffs you think will be needed during every change. Taking out of new diapers is quite easy with the large mesh opening. Side pockets can also accommodate various stuffs to address baby's needs.
Portable and efficient, it also comes with a hook to easily latch on a sturdy structure like a crib, table or steel bar when changing diapers. Learn how to get a 20 percent discount each time you buy 2 sets here. This diaper caddy makes a great Mother Hen party gift, too!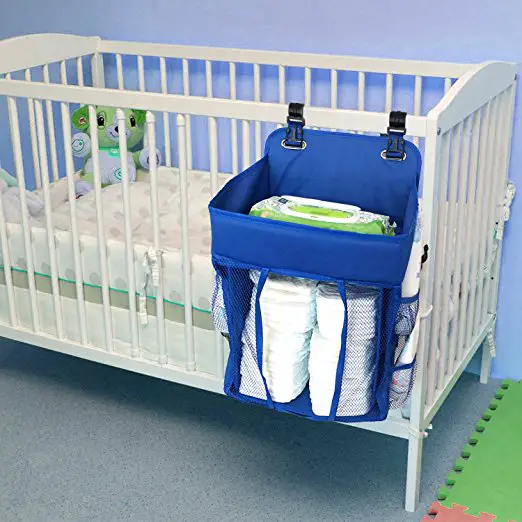 Olga Baby Car & Crib Diaper Caddy
Another excellent choice in Pack n Play diaper caddy for the ever-prepared Mommy comes from Olga Baby. This Car & Crib Diaper Caddy makes a great companion in saving time and effort for every diaper change done. A perfect storage not just for diapers, this caddy comes in an 11×18-inch size complete with 3 mesh pockets and a top storage– all reinforced with padded protection. Construction is verified durable and solid to carry enough weight of baby diaper change needs.
The Olga Baby Car & Crib Diaper Caddy is certified in terms of durability. Hook are designed to withstand being weighed down with up to 20 diapers and other baby stuffs. It is also waterproof and comes with a loop which you can tie around a car's headrest when traveling. Aside from the diaper pockets, the 3 side pockets and upper platform provide storage solution you need when traveling or even when in your own home's nursery. Definitely, this makes a great gift for new Moms, too.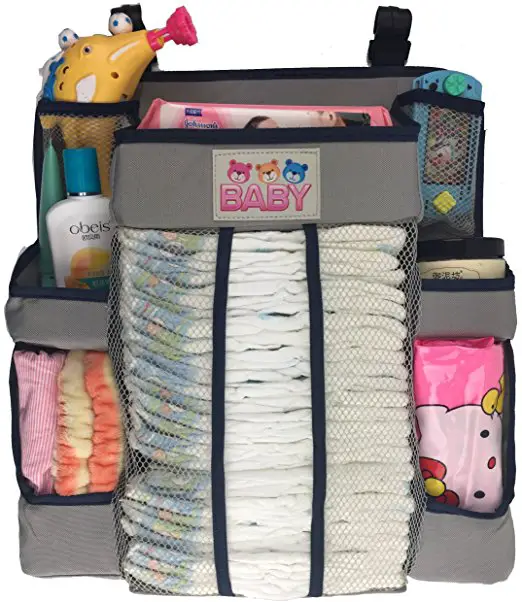 Crib & Changing Table Organizer By 3BabyBears
Yet, another excellent choice of diaper caddy is the Crib & Changing Table Organizer By 3BabyBears. Designed with portability and efficiency in mind, this product comes with just enough space at 14×16-inch to house your baby's diapers for the day and 4 mesh side pockets to store other items needed during a change. Instead of cardboard, this diaper caddy comes supported with hardbound plastic so it won't bend or sag easily. Like the other two caddies above, this one will make you avoid the usual tedious way of moving from one place to another when changing diapers, applying rash cream or changing baby clothes before going out.
The 3BabyBears Crib & Changing Table Organizer is also designed with efficiency in mind. You can simply use the large clips when attaching the caddy to baby's crib or any slim-type enclosures. Durable Velcro straps can also be used as a standalone means to fasten the diaper caddy or as a support to ensure that it stays in place. Perfect for nurseries, crib, and changing tables, it can also be stashed on a stroller or in a car. This one also makes a great gift to expectant mothers.

A Boon To Moms
Without a doubt, a diaper cadddy for pack n play can make life easier to Moms, both new and old. Aside from cutting down all that unnecessary running around or testing your patience on finding small items needed for diaper change, these caddies are built to keep your baby stuff neat, protected and organized. Any of these diaper caddies also makes an excellent choice as gifts for baby showers and Mother Hen parties. Buy one now!