(Last Updated On: January 7, 2019)
While a baby monitor's benefits cannot be contested, the number of brands offering the "best" products in the market can be overwhelming. After hours of research expressed by new moms and my personal experience, I have handpicked three of the most widely used dual baby monitors that comes highly recommended than the rest.
Here are the 3 Best Dual Baby Monitor in 2019:
Infant Optics DXR-8 Pan/Tilt/Zoom 3.5″ Video Baby Monitor with Interchangeable Optical lens

Babysense Video Baby Monitor with Two Digital Cameras

SereneLife Video Baby Monitor Dual System w/ Temperature Thermometer Sleep Camera
In a rush?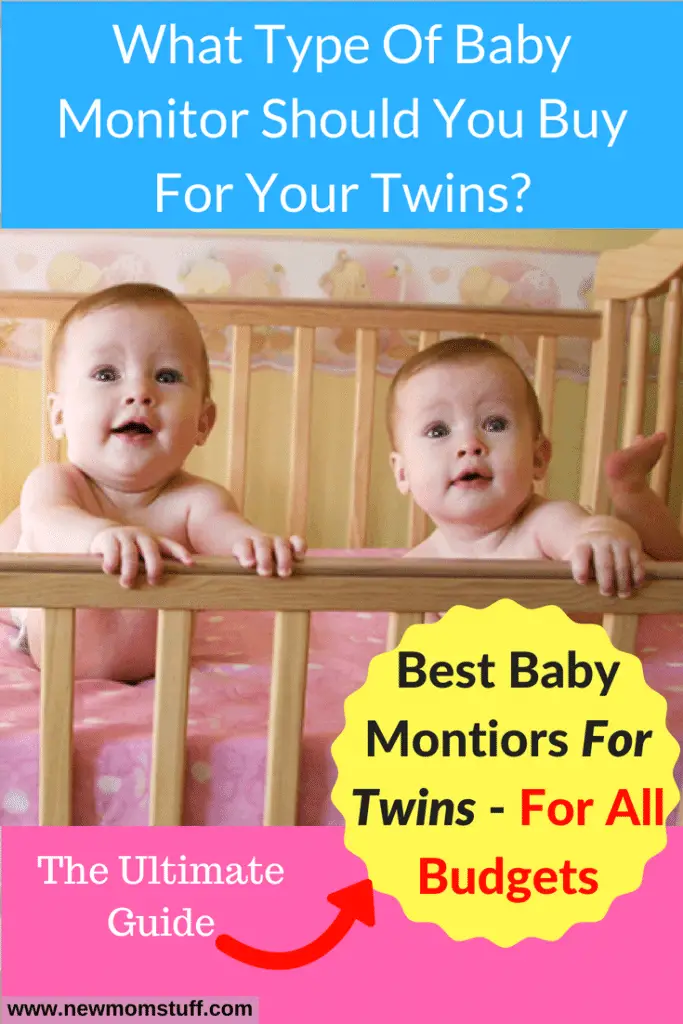 Now let's get to the details of…
BEST DUAL BABY MONITOR OR MULTI CHILD BABY MONITOR FOR 2019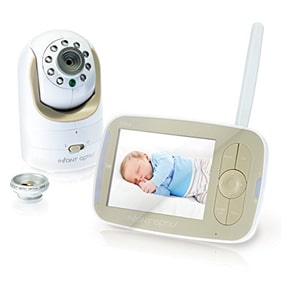 With interchangeable optical lens capability it allows you to customize the viewing performance by switching different lenses on the camera in just seconds. You are free to choose the best focal length and viewing angle for your baby, just like a professional camera system.
It is a good investment as it grows with your baby because you can use a close-up lens for intimate vision of your newborn when it's movement is limited and then get a panoramic lens (sold separately) when your child becomes more mobile in the crib or have a full view of your child's activity in the entire room (read below)
It has many more great features for example temperature reading so we know our little one is nice and comfortable.
Other important features of the portable video baby monitor are:
• 10hrs power-saving mode / 6hrs constantly-on screen time
• Plug-and-play set-up
• Invisible IR night vision
• Two-way talk
• Can expand up to 4 add-on cameras
Read about all its feature and benefits here
Each box of the Infant Optics DXR-8 Portable Video Baby Monitor comes with a normal lens that captures vividly clear moving images within mid-range coverage. Additionally, an optical zoom lens is also provided to give you perfectly close-up view of your baby as he or she sleeps.
When your baby grows and you want 170-deg panoramic view, get a wide angle lens which can also be bought to best guard an active baby or toddler as well as those with special needs.
Want to monitor multiple rooms or children in different rooms? All you need to do is buy this add-on camera unit .You can add up to 3 of this add-on camera to fully secure all rooms in the house.
Get both – the monitor and the wide angle lens – here
BABY MONITOR WITH DUAL CAMERA – LOWER BUDGET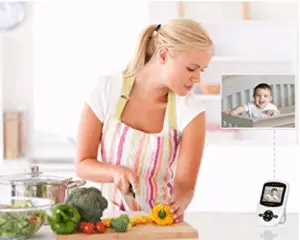 This baby monitor comes with Two Cameras allowing you to monitor twin babies or monitor two children in two separate rooms from one Parent unit.
You can move around with the portable parent unit as you complete your daily chores enabling you to hear, see or talk to your baby no matter where you are in the house.
Check out some 5 star reviews for this baby monitor here
It gets fully charged in 1-2 hours and last around 8 hours of continuous use.
Though not as versatile as infant optics dxr with interchangeable lens as described above, it is the next best option for comparatively lower budget. However, I've watched it's price fluctuate and will opt for it only if the price is below $100. Check out its current price at Amazon
If you want something more affordable, check this…
BEST CHEAP DUAL BABY MONITOR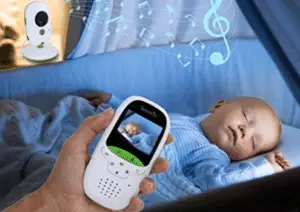 It's a basic dual baby monitor with decent picture quality as some of the parents say. Is easy to set up and have the 'talk back feature.
Check out all the five star reviews here.
But before you decide to pull your credit card , do read out some serious issues some parents have experienced. Like one parent complained that it worked only for 2 months and there after it works only off and on and when it works the screen shows just lines
Read all the 2 star negative reviews here
So ….
Which dual baby monitor should I buy?
The top pick is of course the Infant Optics DXR-8 Video Baby Monitor with full capability of tilt , zoom and wide angle lens panoramic . Check out both from here together and see if any discount is available currently.
If budget is really a constraint then I would go for the 2nd best option Babysense Video Baby Monitor with Two Digital Cameras for the twins. It costs considerably lesser but provides almost same level of security and convenience to parents who are cash-strapped.
Picking the right one, however, is all about personal preference and, of course, your budget. Hope you now have a better idea which one will suit you best!