(Last Updated On: January 9, 2019)
First you need to check the nipple shape and size. Next ensure there is no vacuum formation when the baby is sucking which results in the spit up.
These bottles are so shaped that the vent system of the bottle looks so similar like breastfeeding and therby when the baby breathe in the air while using the bottle, it helps eliminating gas and spit up as no vacuum formation happens here. While researching for Best Baby Bottles for Gas and Spit up Solution, most of the new mothers choose Comotomo bottle over Avent bottles.
With the number of brands in the market, however, finding the best baby bottles for gas and spit up prevention can be quite overwhelming.
To help you on this quest, we took 2 of the leading baby bottle brands and compare them to help you come up with a more informed buying decision.
After several researches our decision is that Comotomo bottle is far more suitable than the popular Avent bottles.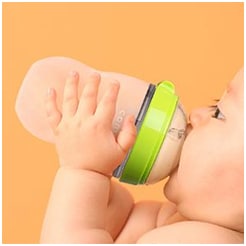 What is the Comotomo Advantage?
One of the highly recommended baby bottles for gas and spit up prevention is the Comotomo Baby Bottle. The only bottle that's designed with 100 percent safe hygienic silicone material (both bottle and nipple) with the nipple shaped/worked like a lactating mother's breast, it guarantees easy latching mechanism for babies to effortlessly develop sucking ability or shift from breastfeeding into bottle-feeding.
The silicone bottle is also soft and squeezable allowing it to mimic the natural letdown reflex of a woman's lactating breast. When gently squeezed, it allows the milk to flow faster letting the baby feed.
This mechanism doesn't just develop the baby's natural sucking/latching ability but also stimulates psychomotor development.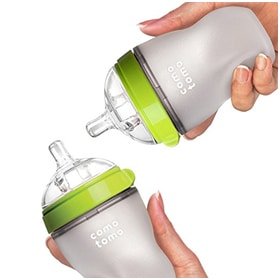 Additionally, this silicone material is free from hazardous BPA, PVC and Phthalate common in other brands.
To prevent colic, reflux, painful gas and the usual spit-up babies do during feeding are also prevented with the Comotomo baby bottle. It's nipples two double air valves on the sides prevents vacuum formation while a baby is busy consuming the milk.
Additionally, these air vents are designed to flow in a single direction preventing any form of leakage even when held upside-down.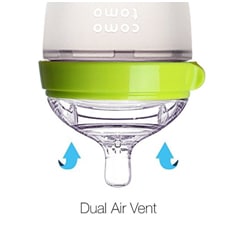 Cleaning up is also easy with these bottles. Design with a wide neck and easy-to-squeeze body and bottom, one can easily permeate the inside portion to brush and scrub milk remains preventing formation of deadly microbes. All three elements– bottle, nipple and ring– of the Comotomo baby bottles are also microwave- dishwasher- sterilizer- and boiling water- friendly.
As your baby grows and start actively moving around, the all-silicone elements of Comotomo baby bottles can save the day. Even if a baby throws a fit or accidentally drops it after feeding, the bottle will not smash, shatter or get deformed like other brands such as Philips Avent
Philips Avent baby OR Comotomo Baby Bottle?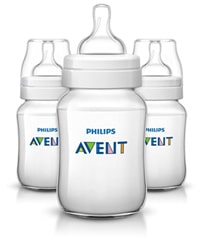 Philips Avent Anti-colic Baby Bottles
Comotomo is favored by many experienced moms over popular Avent because of its unique nipple system. While Avent's nipples are also wider than others, Comotomo nipples (from slow flow to variable flow) definitely mimics a woman's breast allowing baby to develop sucking/latching while minimizing leaking, choking and spit-ups in the process.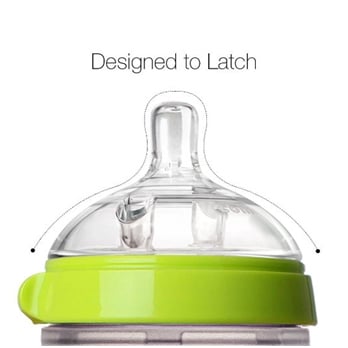 The all-silicone body is also a far cry from Avent's plastic-type bottle design which degrades through constant use and can succumb to leaks and breaks when smashed or thrown at a hard object like the floor.
Bottom line is: Though a little on the pricey side, Comotomo offers astounding comfort, ease of use and clean-up, and healthy development for babies during their developmental stage. With a cool 100 percent hygienic and hazard-free body and breast-like dual-vent nipples in various flow-types mechanism, few parts wide-neck design and heat resistant mechanism for effortless clean-up, it is no wonder Comotomo Baby Bottles are considered the best baby bottles for gas and spit-up prevention even when placed side-by-side with popular brand like Philips Avent.
Check this video