(Last Updated On: January 11, 2019)
So your baby has established breast feeding – and you enjoy the intimate time you spend with your baby while nursing. But then, you career won't exactly wait for too long. Within a few months, which seem very short, your maternity leave is up – and you have to get back to work. But breast milk is like 'liquid' gold' and extremely healthy for your baby. So at no cost should you stop lactating or giving your baby this 'elixir'! And to help you to achieve just that we have brought you these 2 picks for breast pump bag.
The Best Breast Pump Bags of 2019:
Juno Blu Esalen Breast Pump Tote Bag

Sarah Wells "Lizzy" Breast Pump Bag

Lansinoh Breastmilk Storage Bags
On an average, expect to pump about 8 times in a day – and you are likely to have to do it a few times while at work. And what do you do with the milk you produce then? You need to store it. And these bags actually also help to store the milk in a cool and hygienic atmosphere in addition to the pump. And that way – you can take your milk back to your baby at the end of the day!
Now that you have had a peek at the bags, let's check them out in greater detail:
This first one is a stylish bag – and one that you can easily carry around as a regular bag. If you are the sort who doesn't want to advertise that you are lactating – then this bag will help you to mask it right away.
With the looks of a top end designer bag, this one doubles up as both a bag for your regular supplies as well as your breast pump. It's special features are as follows:
The external side pocket ensures that you can keep your breast pump inside and away from plain view, even as you use it.
Outside, it also has another pocket that has a special insulated thermal controlling feature. Here is where you store the milk after it has been pumped.
Besides these obvious facts, there is also a pair of reusable ice packs. In case you will be out for long, and the weather outside is too hot – these will help to keep the breastmilk cool and stable.
Besides these obvious factors, you should also take the trouble to check out the reviews. After all, it is women who have actually used it who can give you a complete picture:
Since this is one stylish bag that can hold all – breast pump, milk, laptop, wallet and even the occasional makeup – it was a big favorite with the new moms.
Once you have no need for it, you can also collapse the pump pocket, and use it as an ordinary tote!
The leather used is of the top quality, making it well worth its price.
As for the rest, do go check out the listing – and then if this is the one you absolutely need – then go ahead and order it!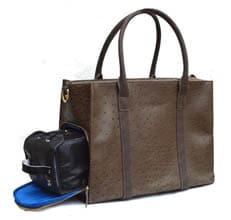 But the second one is better suited if you are working with a tight budget:
While this one does not have the sleek and elegant leather look, it still does look really nice. And again a bag that will help you to mask the fact that you are carrying a breast pump effortlessly.
This bag too helps to conceal the breast pump even as you are using it. And the thermal insulation inside ensures that you can keep the milk cool. However, if you live in warmer climes, consider investing in some reusable ice packs, just to be on the safe side.
In addition to the above, this bag is quite spacious and large – allowing you to carry more than just breast pump and bottles!
Also note that this one actually comes with an extendable strap. If you want to use it as a sling bag, you can make the change quite easily!
And as for the customers and their opinions:
This bag being very large is a great choice for new moms! You can even use it to carry your supplies when you are traveling with baby!
Some moms even got complimented on the looks of the bag, including the contrasting purple lining inside!
It is also built to last and extremely easy to clean. So once you buy it, it will last you for quite a long time!
And of course, you can check out the rest of the reviews here. And once you do – if you are worrying about the price – don't. Trust Amazon, they'll give you the best prices!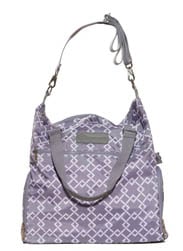 And while you can always carry spare bottles to store the milk in, these can become somewhat difficult to store, not to mention, carry around. To simplify your problem, we also have these:
This is actually a 100 pack set of storage bags for breast milk. Using them is simple – just tape them to your breast pump, where the bottles would normally go. They are clean and completely sterilized – ensuring that the milk is completely safe and uncontaminated.
Also they will take up less space in your breast pump bag, so that you have more place left over for the rest of your stuff as well!
Another advantage with these breastmilk storage bags is that they make storing the milk in the fridge easier. Even if you are freezing the milk, you can do it in these – but not in the bottles!
Thawing them is also easier. Plus, they also have a special spout that makes pouring the milk out into the bottles very easy.
And as for customer satisfaction – check out the reviews. We have brought you a few snippets here – but do check out the rest:
These do not add any synthetic smell to the milk.
They have a larger capacity than standard breast milk bags.
They are made of completely BPA free plastic that is thick and leak proof.
Once frozen, the milk in these bags is easier to stack up in the freezer.
So if you are looking to buy some freezer safe breastmilk bags as well, then these are the best that money can buy!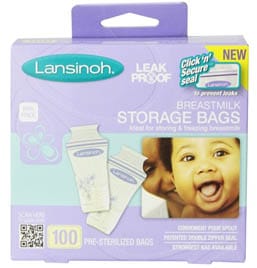 And with that you have it – not just breast pump bag – but we have also given you a very convenient bag option for storing breast milk in! So now, all you have to do is order these and be all ready for your baby!