(Last Updated On: December 6, 2018)
As you near the end of your maternity leave, suddenly the need for switching your baby to bottles arises. Since you cannot be there physically, your baby needs to get his or her milk from a bottle. Even if you use a breast pump and continue to bring the breast milk home, be prepared for some problems. Why, you say? Primarily because the feel of ordinary bottles is very different from the feel of your breast – and your baby may not take to this. However, with the help of some of the best bottles for breastfeeding moms, you can actually manage this.
However, keep in mind that the bottle can only mimic the real feel – and therefore, your baby will need some getting used to. Often what mothers are advised to do by lactation experts is to start transitioning your baby to bottles slowly, a few weeks before you will actually make the switch completely. And while this takes some perseverance and practice – these bottles can actually make the task easier for you!
Now, the reason for narrowing it down to these three is that these most closely mimic the motion and the flow of milk. And also to a very large extent, the feel. In fact, you can check these out in detail now before you actually decide:
#1:
As you can see, in design, these most closely resemble breast feeding. The tops are dome shaped and the unique shape of the nipples makes it super easy for babies to latch on drink. In fact, the experience is so similar that most babies have no problem transitioning between breast and these bottles.
The entire bottle is made of completely safe BPA, lead, phthalate and latex free material. As for the unique nipple, it is made of the best quality silicone. This replicates the actual breastfeeding experience for the baby. There is also the presence of integrated venting. This allows for the air to escape, preventing colic.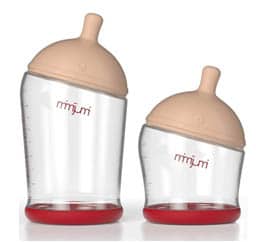 Mimijumi Breastfeeding Baby Bottle, 2 Pack
So, it also provides the advantage of breastfeeding. And finally, the design is such that assembling it one-handed while you carry your baby is also quite easy.
And now to just take a look at some opinions from customers:
The first thing to mention here is that at the moment all the reviews for the product are 5 star ones!
All the people who left reviews said that these worked wonders with babies who were normally refusing to take to bottles.
In fact, in one case, the parents had tried 15 different bottles before finding success with this one.
These bottles also allow the baby to control the flow – much like breast milk.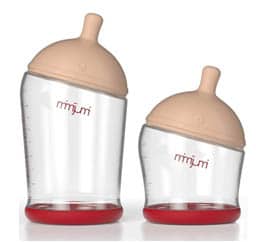 Mimijumi Breastfeeding Baby Bottle, 2 Pack
All in all, this bottle managed to do the job pretty well and soon became a favorite with both moms and babies. Check out the reviews so that you can get ordering!
But yes, while this worked for most moms, it is also the most expensive bottle here. And in case you are looking for something a little more economical, consider this:
#2:
Phillips AVENT is a very well known brand in baby supplies, especially where feeding is concerned. So when they came out with a design that was specially made keeping breastfed babies in mind, many people did want to give it a try. And the best part is that a majority of them were very happy with it!
Now let's look at what features makes this just right for breastfed babies:
The nipple has a wide breast-like shape and it also has these unique petals around it. These make the bottle very comfortable for the baby.
Philips AVENT Natural Polypropylene Bottle, Clear, 9 Ounce, 4 Pack
These come with special twin valves that make anti-colic feeding very easy.
The nipple is also highly flexible – giving babies the breastfeeding feel.
And besides these, there is of course the completely safe material and can be washed in the dishwasher with ease. Also the wide neck makes it quite roomy so that your bottle brush can go in just fine.
And as for the reviews, let's check out a few samples:
The new and improved design prevents nipple collapse under vacuum – making these long lasting.
These bottles can also be directly pumped into.
These bottles are easy to hold when feeding.
The baby tends to transit well between breast and these bottles.
And of course, you get 4 bottles for a great price!
Philips AVENT Natural Polypropylene Bottle, Clear, 9 Ounce, 4 Pack
And of course, there is a lot more information you can find in the reviews – information that can help you to pick. So do go check them out. And once you do – you know where to order it for the best prices, don't you!
And finally we have these bottles that are actually the cheapest.
#3:
Design wise, these are quite a bit like ordinary bottles. But there are a few features that can make these a good choice of bottles for babies transforming from breast to bottle feeding. The main points are:
The vent system that expels air. This not only prevents colic, but also helps to maintain the essential Vitamins A, C and E in the milk.
These bottles are specially designed to prevent liquid build up in your baby's ears.
These bottles also help to reduce spit up.
There is also a special positive pressure flow that closely replicates the breast feeding experience.
Dr. Brown's BPA Natural Flow Bottle Newborn Feeding Set
Over all, these bottles are also pretty good. And you should check out the reviews for the rest of the details:
Most babies took to this with ease.
These come with size 1, newborn nipples in addition to the size 2 ones in the package.
Since the milk flows slower, your baby is able to realize he's full sooner than with other bottles.
Since there are no leaks and clean up is easy, most parents gave it a very good rating.
Dr. Brown's BPA Natural Flow Bottle Newborn Feeding Set
And of course, if so many parents found success with this, chances are that you may too. So do check out the reviews and if you decide on this – order from Amazon for the best price!
So, finding the best bottles for breastfeeding moms isn't all that difficult a job. But then, do be prepared to try out more than one. Every baby is different, and a bottle that may work for some babies, may not work for yours. So, start at least a few weeks before you want to make the complete switch – and give your baby some time!