(Last Updated On: December 6, 2018)
In the present day and age – more and more people are moving towards making a statement and owning something that creates a splash. At the same time, you also have those that set a lot more store by products that are great value for money and that too without sacrificing looks. And today we have brought you two unique baby cribs – one for each kind of buyer!
Here's a snapshot of both:
And now let's look at each of them in greater detail!
For parents who are big fans of sci-fi, this is one crib that is bound to make a great impression. It has a modern almost futuristic look to it – and it is going to fit right into your home.
It looks almost like a baby sleeping pod straight out of some sci-fi novel or book – and that may appeal to many parents. But on the downside, this one is a little on the expensive side – so if you are working with a budget, then maybe you should check out the other one.
Now as for this crib, here's why this is a lot more than just a fancy looking expensive baby crib:
The fancy looking acrylic covered cut out sides aren't just for show. They also offer you a view of your baby.
The mattress has 2 different adjustable levels. So depending on the age of the child you can raise or lower it.
It is modular in design, and once your baby grows into a toddler, you can easily convert this into a bed for them. And all the tools you will need to make that conversion are included in the package!
The cot is made of eco friendly wood, and the whole thing matches CPSC as well as ASTM International Safety Standards.
And as for customer review – at the time of this review, there is just one. But nevertheless, it is someone who spent over 2 grands on a crib and loved it! You should check out that review as well as the details of this bed and the pictures and then make a decision. And if it is this one you choose, do get it from Amazon, as their service is indeed exemplary!
Now if you were looking for another crib to compare notes with – then here is our second pick:
This one is a more stately and old fashioned design for a crib. But that doesn't mean that it is old in functionality too. In fact, this great crib actually has a special 4 in 1 feature. It converts to 4 different styles of beds – from crib to toddler bed – to even pull out young adult bed! And considering you can keep using it for years to come, the price really seems extremely reasonable.
The only thing you will need to keep in mind, however, is that the kit for making the conversions is sold separately – and when the time comes for it, you will need to buy it.
Now to talk a little about the crib:
It has a very gender neutral design – so boy or girl – you can use this crib.
Also it has a steady and safe construction that will pose no risks to your infant.
And just for décor purposes, you can get it in any of the 3 available colors: white, espresso and vintage grey – whichever goes better with your décor.
The fact that it effortlessly goes from crib to cot to bed really does make it a unique choice and that too for less than $500! But just to get some validation, we checked out the reviews left by customers:
Most people agreed that the finish was great and the construction of these cribs and the related accessories was very steady.
In fact, as a customer put in – it was steady and utilitarian enough to last all the way into the teenage years.
Also it was fairly simple in assembly – which makes it a great crib to order!
And these are just snippets – but you can always go and checkout the reviews that have given it a great overall rating – and then go ahead and buy from Amazon. Because think about it – only Amazon will give you a great discount AND top quality customer service!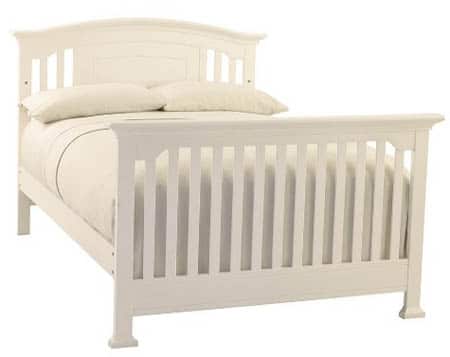 And there you have it – 2 of the top rated unique baby cribs available on Amazon right now. Not only are they totally worth their price, they are also great additions to any nursery, anywhere in the world! So – have you made your choice yet?