(Last Updated On: December 6, 2018)
Round baby cribs are a very popular choice for nursery buys among parents these days. Not only do they add a modern touch to the nursery, breaking away from convention, they also offer a few other benefits too. Firstly, they serve as a talking point for people visiting the nursery. At the same time, they also offer a full round 360 degree view to your child as she or he grows slowly. And of course, consider for a minute that a round crib is a lot more versatile in terms of placement than a regular rectangular one – which you would mostly place against a wall. And with that in mind, we have brought you a number of different options right here…
| | |
| --- | --- |
|   |   |
As you can see – there are a pair of cribs featured here. And at the end of the2 cribs, we also have bedding sets that you can consider if you already have a standard crib and are just looking to either replace or get a spare bedding and mattress set for it… Now let's first check out the cribs – and we'll then look into the bedding sets! One thing we must mention though – when choosing all of our products, we went for ones that had been tried and tested and given good reviews by people on Amazon – so quality of the cribs is assured.
This first one is a full set – with the wooden crib as well as the mattress set. The crib here is available in 3 color options:
Espresso brown
White
Cherry red
Though this one is a listing for the cherry crib. While the color varies according to model – all three are sturdy and solid wood construction cribs. Also the finish – color or otherwise – is non-toxic and therefore completely safe for your baby.
Also the level of the mattress is adjustable and there are 4 heights. So depending on the age of your child you can adjust the height of his or her crib.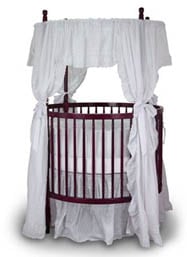 Round Crib and Mattress Set – Espresso Color
The crib is easy to move around –with wheels having locking casters. So you can just roll around the crib – but then lock it in place. This round crib comes with 4 turned posts for the canopy. However, do note that the canopy does not come with it – just the crib and the mattress does. But for the canopy and whole bedding set – just check below. We have the right product for you!
And now to take a look at what customers have had to say about it:
It is super easy to put together – with clear instructions and not needing a lot of time or effort.
In this case, the espresso color is really nice and the finish is very smooth.
And of course, the buyers were happy with the overall quality and service enough to give it a full 5 star rating.
So if this is the round crib you are looking for then do go check out Amazon. Yes, it is a little on the expensive side, costing over $400 – but that is already a highly discounted price on Amazon. So if this does catch your fancy, realize that you are getting it for a great deal and grab it right now!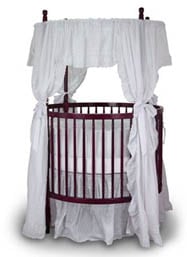 Round Crib and Mattress Set – Espresso Color
Now, in case you are working with a tight budget, but still want one of these cute cribs – then this second crib is just the one for you…
This one costs a lot less than the first – and that is probably because it does not come with the mattress. This is just the wooden crib – complete with the canopy posts. However, as with the last set – you can find the mattress as well as the bedding set if you just scroll down. And those are also pretty reasonably priced. But more on that later. Now to take a look at this crib:
This one is available in 4 color options – cherry, white, espresso and natural wood finish. And each looks good in its own right. So pick the one that goes best with the rest of the décor.
Again, the wood is solid as is the construction.
This one also has a special non-toxic finish, making it safe for your baby.
The side rails do not drop – another safety feature, with small babies.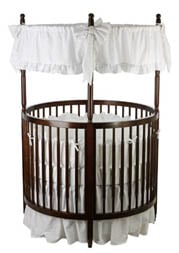 Dream On Me Sophia Posh Circular Crib, Espresso
This crib is also quite easy to put together – and all the tools needed come with the package. As for putting together tips, there is some great info included in a customer review – do check that out.
And speaking of customer reviews, being listed for longer on Amazon, there are a greater number of reviews for this. Most to the tune of:
This crib was well worth its price.
Easy to assemble, and doesn't take too long.
The finish is great.
And for more information, just go check out the details. Now, we did say that this one costs a lot less than the first. However, when you add to it the price of the mattress, it works out to just a little less than the first. So, if you are going to order both then you can pick either depending on which you like best. But if you already have a round mattress – or you are getting a great deal on a mattress and getting it cheap – then buy this – and you will end up saving. Look wise, it is in no way behind the first. But price wise, the discounted is really economical.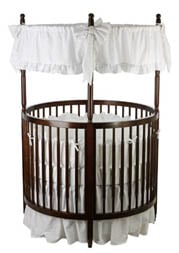 Dream On Me Sophia Posh Circular Crib, Espresso
And now that you have seen the cribs, it's time to check out the crib bedding and mattress set options:
As you can probably tell – these are both round baby cribs accessories – but they are not the same thing. Let's find out the details right now…
First we have a crib bedding set for you. This set is a 65% polyester and 35% cotton blend. That makes it a comfortable fabric, without making it difficult to wash and maintain. And as you know – with a little baby, you will need to keep washing this often. As for what comes in the set:
Bumper
Comforter
Fitted sheet for a round mattress
Drapes
Canopy
Dust ruffle
Bows to make it look pretty.
And not only is this a good buy for your own baby – it also makes for a great and not very expensive gift for new parents! They'll appreciate it, especially if they already have a round crib.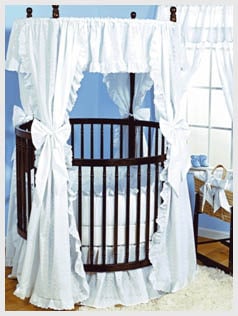 Baby Doll Bedding Carnation Eyelet Round Crib Bedding Set
The material quality ensures that it can be washed in the machine. And another great thing is that this one is manufactured completely in the USA! So you can be totally assured about the quality of the products used, as well as the construction.
And as the customers say – this one is something that people who have babies will definitely appreciate. So if you are considering this – especially with one of the cribs above – do not think twice. Whether you go for the blue set or the ecru set – they'll both go just as well with any crib you may have.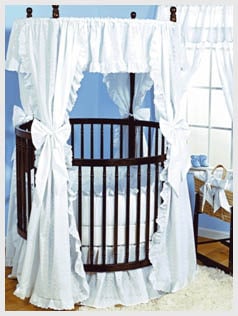 Baby Doll Bedding Carnation Eyelet Round Crib Bedding Set
Now so much for the bedding set for the crib – but there may be the case where you want to replace even the mattress… or you have bought the crib sans mattress… in which case here is a standard sized round crib mattress to consider…
#2: Dream On Me 5″ Round Crib Mattress  (Not in stock)
Here is a crib mattress that is of a standard size – so it should fit all regular round cribs for babies. And that is not the only great thing about it. Check out the rest now:
It is super easy to store or to travel with – if you will be carrying your crib along. Just as the crib can be disassembled, this mattress can also be deflated!
It is super easy and simple to clean – just use regular soap and water.
Also the crib filling material is fire retardant, hypoallergenic, and also will keep away bugs or bacteria; therefore ensuring complete safety for your child.
It even comes with a 15 year warranty from the manufacturer…
Dream On Me 5″ Round Crib Mattress (Not in Stock)
Surely that's all very impressive credentials for this mattress. And as if that wasn't enough, it has an impressive range of customer reviews – with good ratings to its name:
Most people were happy with the 5 inch depth of the mattress.
They also thought that the feel of the mattress was just right and very comfy for baby!
It is much better in quality than many other commonly available mattresses in the market.
Overall, if it has managed to make parents who bought and used it quite happy – it is sure to serve your purpose too. And as for the price, it is quite reasonable on the pocket. And if you still need more reasons to choose this crib over all others – just check out the reviews. They are sure to convert you!
Dream On Me 5″ Round Crib Mattress (Not in Stock)
And with that we come to the end of our list of top rated round baby cribs products from Amazon. If there is one thing that you can take as guaranteed it is impeccable Amazon customer service and total comfort and safety for your baby. So now all you need to do is pick the ones you want to get – and get ordering!